Meghan Markle and Prince Harry's First Official Royal Wedding Photos Do Not Disappoint
The 10 under-10-year-olds involved kept up Meghan Markle's untraditional ways with a touch of charming chaos.
---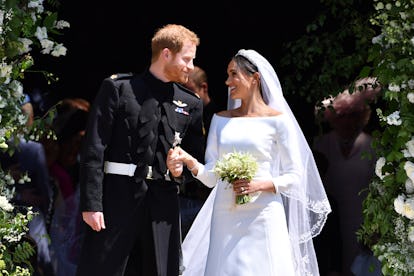 WPA Pool/Getty Images
If you thought that after her long-awaited royal wedding to Prince Harry on Saturday, the nonstop news about Meghan Markle would come to an end, this week has already proved that it's not over yet. It turns out that there's more of the details and developments that naturally trickled in over the weekend, from the micro fashion and beauty moments you may have missed—like Markle's mother Doria Ragland's nose piercing—to further insight into Markle's choice to work with Givenchy's Clare Waight Keller on a surprise gown that took 3,900 hours to make—which may or may not have also included embroidering the 50-plus symbolic flowers that accented Markle's 16-foot veil.
Now, it turns out that amid all the chaos of the big day—and before her veil got too dirtied, as the page boys didn't return to their posts of holding it up when Markle and her husband made their exit from St. George's Chapel—she managed to squeeze in a few photo ops, the most adorable of which of course feature her and Prince Harry's coterie of adorable royal children, their official picks of bridesmaids and page boys. All under 10 years old, the 10 of them, including Prince George and Princess Charlotte, plus two children of Markle's close friend and notable non-royal, the stylist Jessica Mulroney, managed to band together for a perfectly imperfect couple of portraits in the green drawing room of Windsor Castle. (There's no word on whether they took up Kim Kardashian's tactic of bribing them with offers of lollipops to repeatedly pose.)
The 10 kids also obliged to pose for even more portraits, which called for royals and family members like the Queen, Prince Philip, Prince Charles, Camilla Parker-Bowles, Prince William, Kate Middleton, and Doria Ragland to make time to show face, too. Prince George managed to snag a seat this time, while Princess Charlotte nabbed a spot on her mom's lap, though beyond that, this shot is especially worth zooming in on: Royal devotees have already found delight in how disparate the twin Mulroney brothers, who can be found on either side of the gathering, appear, from ghostly to charmingly toothlessly grinning.
Lastly, the Duke and Duchess of Sussex, as the couple is now known, released a much simpler portrait: one of just themselves, which is pared down in black and white, and which Kensington Palace posted with their comments that they'd like to thank everyone who took part in the wedding celebrations, and how lucky they felt to share their day with all of those gathered and tuned in from afar. This last shot is definitely more casual—Markle took the risk of sitting down in her white couture on some steps, and took off her veil to showcase yet another masterful messy bun. Here's hoping the less formal tone continues for the pair, who at this point must be just like the rest of us in need of a break.
Related: Everything We Know About Harry and Meghan's Royal Wedding Reception and After-Party
All the Fashion and Beauty Micro Moments You Missed at the Royal Wedding, From Doria Ragland's Nose Piercing to Prince George the Goth