How Prince Harry and Meghan Markle Paid Tribute to Diana During the Royal Wedding
Harry's mother, Princess Diana, wasn't left out of their wedding day.
---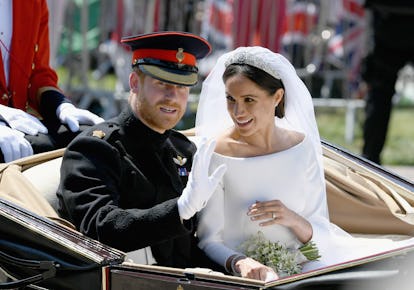 Jeff J Mitchell/Getty Images
On Saturday, Prince Harry and Meghan Markle finally tied the knot in what can only be described as the most over-the-top romantic wedding of the year. During the ceremony, the couple was surrounded by family and friends but were undoubtedly feeling the presence of Harry's mother, Princess Diana, all around them.
To make sure Princess Diana, who died a little more than 20 years ago in a tragic car crash in Paris, was a part of their special day the couple chose to honor her in some small but rather touching ways.
The ring:
When Harry and Meghan announced their engagement to the world last fall, Harry explained that he proposed with a ring that contained two precious side stones from his mother's personal collection. The main stone is a piece Harry hand-selected from Botswana, where they vacationed first early in their relationship.
"The little diamonds [on] either side are from my mother's jewelry collection to make sure that she's with us on this … on this crazy journey together," Harry told the BBC at the time of their engagement.
"It's incredible," Markle added of Harry's engagement ring choice. "Everything about Harry's thoughtfulness and the inclusion of [Princess Diana's stones] and obviously not being able to meet his mom, it's so important to me to know that she's a part of this with us."
The flowers:
The couple reportedly worked very closely with their floral designer, Philippa Craddock, to create the stunning display seen at Windsor Castle today. The choice of all white flowers, many speculate, was in honor of Diana's deep love for the simple color. Moreover, the entryway to St. George's chapel was covered in white peonies and white garden roses, which happen to be Diana's favorite flowers.
"The process has been highly collaborative, free-flowing, creative and fun," Craddock said in a press release prior to the wedding. "The final designs will represent them as a couple, which I always aim to achieve in my work, with local sourcing, seasonality and sustainability being at the forefront."
In 2017, the palace even planted white peonies and white garden roses in their White Garden in Diana's honor and to mark the 20th anniversary of her death.
Beyond these flowers, the palace confirmed that Prince Harry handpicked several forget-me-nots from him and Meghan's private garden. These too are also another favorite of Diana's.
"The spring blooms include Forget-Me-Nots which were Diana, Princess of Wales' favorite flower," the palace said. "The couple specifically chose them to be included in Ms. Markle's bouquet to honor the memory of the late Princess on this special day."
The reading:
Prince Harry asked his maternal aunt, Lady Jane Fellowes, Diana's younger sister, to give a reading from the Song of Solomon at the wedding. And truly, it was an emotional moment to watch.
In a statement earlier this week, Kensington Palace shared, "Prince Harry and Ms. Markle both feel [honored] that Lady Jane will be representing her family and helping to celebrate the memory of the late Princess on the wedding day."
In a previous statement, the Palace also confirmed that Harry was "keen to involve his mother's family in his wedding." Indeed, he invited all three of Diana's siblings: Lady Sarah McCorquodale, Lady Jane Fellowes, and Earl Charles Spencer.
The hymn:
In a subtle nod to his mother, Prince Harry and Meghan chose to include the hymn "Guide Me, O Thy Great Redeemer" in the service, which was sung at Princess Diana's funeral in 1997. The hymn was also sung at Prince William and Kate Middleton's wedding in 2011.
The charities:
Like Princess Diana, Prince Harry and Markle are both avid supporters of several charitable organizations. Instead of asking for gifts for their wedding, the couple asked the public to give to many different charitable organizations instead. Those charities included CHIVA (Children's HIV Association) and Crisis, a nonprofit dedicated to ending homelessness.
As Good Housekeeping noted, Princess Diana campaigned on behalf of these very issues, working with several HIV charities and famously shaking the hands with AIDS patients to help people better understand the disease. Additionally, much of Diana's charitable work centered around youth homelessness and the charitable organization Centrepoint, where she was their Patron before her death.
The reception jewelry:
Meghan wore Diana's emerald-cut aquamarine ring en route to the evening's second reception. This sparkler, which Diana once wore to an auction of her own clothes, is beyond gorgeous.
Elton John's performance at the first reception:
Elton John, who played at the newlyweds' lunchtime reception, was close friends with the late princess—and famously played "Candle in the Wind" at her 1997 funeral. "Sir Elton performed for the newly married couple in recognition of the close connection he has with Prince Harry and his family," the palace said in a statement. According to People, the singer dedicated his performance of "Tiny Dancer" to Meghan.
Royal Wedding Photos: All the Celebrity and Royal Arrivals at Prince Harry and Meghan Markle's Ceremony at Windsor Castle
Meghan Markle with her mother Doria Ragland (unseen) drive down the Long Walk as they arrive at Windsor Castle ahead of her wedding to Prince Harry on May 19, 2018 in Windsor, England.

Richard Heathcote
Meghan Markle (R) with her mother Doria Ragland drive down the Long Walk as they arrive at Windsor Castle ahead of her wedding to Prince Harry on May 19, 2018 in Windsor, England.

Richard Heathcote
Meghan Markle arrives for her wedding to Prince Harry at St George's Chapel, Windsor Castle on May 19, 2018 in Windsor, England.

WPA Pool
Meghan Markle arrives for the wedding ceremony to marry Prince Harry at St George's Chapel, Windsor Castle on May 19, 2018 in Windsor, England.

WPA Pool
Queen Elizabeth II arrives at the wedding of Prince Harry to Ms Meghan Markle at St George's Chapel, Windsor Castle on May 19, 2018 in Windsor, England. Prince Henry Charles Albert David of Wales marries Ms. Meghan Markle in a service at St George's Chapel inside the grounds of Windsor Castle.

Shaun Botterill
Queen Elizabeth II arrives at St George's Chapel at Windsor Castle before the wedding of Prince Harry to Meghan Markle on May 19, 2018 in Windsor, England.

WPA Pool
Queen Elizabeth II arrives at St George's Chapel at Windsor Castle before the wedding of Prince Harry to Meghan Markle on May 19, 2018 in Windsor, England.

WPA Pool
Doria Ragland arrives at St George's Chapel at Windsor Castle before the wedding of Prince Harry to Meghan Markle on May 19, 2018 in Windsor, England.

WPA Pool
Meghan Markle arrives at St George's Chapel at Windsor Castle before the wedding of Prince Harry to Meghan Markle on May 19, 2018 in Windsor, England.

WPA Pool
Prince Harry (left) walks with his best man, Prince William Duke of Cambridge, as he arrives at St George's Chapel at Windsor Castle for his wedding to Meghan Markle, on May 19, 2018 in Windsor, England.

WPA Pool
Prince Harry and Prince William, Duke of Cambridge the wedding of Prince Harry to Ms Meghan Markle at St George's Chapel, Windsor Castle on May 19, 2018 in Windsor, England.

Shaun Botterill
Prince Harry (left) walks with his best man, Prince William, Duke of Cambridge as they arrive at St George's Chapel at Windsor Castle before the wedding of Prince Harry to Meghan Markle on May 19, 2018 in Windsor, England.

WPA Pool
Prince Philip, Duke of Edinburgh rrives at St George's Chapel at Windsor Castle before the wedding of Prince Harry to Meghan Markle on May 19, 2018 in Windsor, England.

WPA Pool
Princess Anne, The Princess Royal and Vice Admiral Sir Tim Laurence arrive at St George's Chapel at Windsor Castle before the wedding of Prince Harry to Meghan Markle on May 19, 2018 in Windsor, England.

WPA Pool
Amal and George Clooney arrive at St George's Chapel at Windsor Castle before the wedding of Prince Harry to Meghan Markle on May 19, 2018 in Windsor, England.

WPA Pool
Sarah, Duchess of York arrives at St George's Chapel at Windsor Castle before the wedding of Prince Harry to Meghan Markle on May 19, 2018 in Windsor, England.

WPA Pool
Abigail Spencer and Priyanka Chopra arrive at the wedding of Prince Harry to Ms Meghan Markle at St George's Chapel, Windsor Castle on May 19, 2018 in Windsor, England.

Chris Jackson
Serena Williams and Alexis Ohanian attend the wedding of Prince Harry to Ms Meghan Markle at St George's Chapel, Windsor Castle on May 19, 2018 in Windsor, England.

Shaun Botterill
David and Victoria Beckham attend the wedding of Prince Harry to Ms Meghan Markle at St George's Chapel, Windsor Castle on May 19, 2018 in Windsor, England.

Shaun Botterill
David and Victoria Beckham (both right) talk with Sir Elton John (L) and David Furnish (C) as they arrive in St George's Chapel at Windsor Castle for the wedding of Prince Harry to Meghan Markle on May 19, 2018 in Windsor, England.

WPA Pool
Julia Carey and James Corden attend the wedding of Prince Harry to Ms Meghan Markle at St George's Chapel, Windsor Castle on May 19, 2018 in Windsor, England.

Shaun Botterill
Idris Elba and Sabrina Dhowre followed by Oprah Winfrey (fourth right) arrive at St George's Chapel at Windsor Castle for the wedding of Meghan Markle and Prince Harry on May 19, 2018 in Windsor, England.

WPA Pool/Getty
Lady Kitty Spencer arrives at the wedding of Prince Harry to Ms Meghan Markle at St George's Chapel, Windsor Castle on May 19, 2018 in Windsor, England.

Chris Jackson
Cressida Bonas arrives at St George's Chapel at Windsor Castle before the wedding of Prince Harry to Meghan Markle on May 19, 2018 in Windsor, England.

WPA Pool
Actress Gina Torres (Markle's former costar on Suits) arrives at St George's Chapel at Windsor Castle before the wedding of Prince Harry to Meghan Markle on May 19, 2018 in Windsor, England.

WPA Pool
Oprah Winfrey arrives at St George's Chapel at Windsor Castle before the wedding of Prince Harry to Meghan Markle on May 19, 2018 in Windsor, England.

WPA Pool
Socialite Delfina Blaquier arrives at the wedding of Prince Harry to Ms Meghan Markle at St George's Chapel, Windsor Castle on May 19, 2018 in Windsor, England.

Chris Jackson
Charles Spencer, 9th Earl Spencer and Karen Spencer arrive at the wedding of Prince Harry to Ms Meghan Markle at St George's Chapel, Windsor Castle on May 19, 2018 in Windsor, England.

Chris Jackson
Sofia Wellesley and singer James Blunt arrive at St George's Chapel at Windsor Castle for the wedding of Prince Harry to Meghan Markle on May 19, 2018 in Windsor, England.

WPA Pool
Chelsy Davy, Prince Harry's ex, attends the wedding of Prince Harry to Ms Meghan Markle at St George's Chapel, Windsor Castle on May 19, 2018 in Windsor, England.

Shaun Botterill