Meghan Markle's Mom, Doria Ragland, Is Having Tea With the Queen Before the Royal Wedding
She had tea with Prince Charles and Camilla Bowles on Wednesday.
---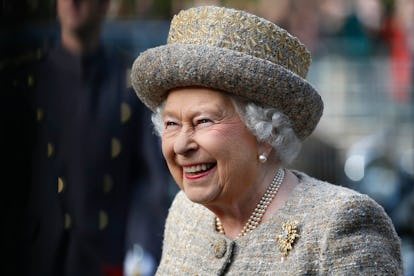 Stefan Wermuth/WPA Pool /Getty Images
The in-laws-to-be on both sides of the royal wedding have now met, and now, all that's left before the big day is for Meghan Markle's mom, Doria Ragland, to meet the queen. CNN reported Friday that Ragland will be having her tête-à-tête with Queen Elizabeth II in the afternoon, and she'll be doing it Windsor style: over tea at Windsor Castle.
The Queen of England isn't the only member of the royal family making Ragland's acquaintance this week. Previously, the mother of the bride had tea with Prince Charles and Camilla Bowles at Clarence House, and on Thursday, CNN reported, she met Prince William, Kate Middleton, Prince George, and Princess Charlotte during wedding rehearsals. (And of course, before leaving for England, she had a six hour summit with American royal Oprah.)
According to CNN, Ragland, who seems to be the only member of Markle's extended family to be in her good graces at the moment, will be spending Friday night with Markle at Cliveden House Hotel, which is about 30 minutes from Windsor, before driving up to the castle with her daughter on Saturday morning for the wedding. (Perhaps in her Burberry outfit?) Then, she will get off at the castle, and some members of the bridal party will get in the car, which will deliver its passengers to St. George's Chapel.
Unfortunately for Meghan's dad, Thomas Markle, who's unable to make it to the royal wedding due to open-heart surgery, Ragland will not be walking their daughter down the aisle. CNN reported Friday that Markle will kick off the bridal procession with just her bridesmaids and page boys for company, and once she reaches the Quire (where the royal guests will sit), Prince Charles will accompany her the rest of the way down to the altar. According to the outlet, this is the first time in British history that a royal bride has walked herself down the aisle. We adore an independent duchess!