Meghan Markle's Picks for Her Bridesmaids Are Just as Unusual as Her Decision to Forgo a Maid of Honor
The oldest of the four who'll serve as her coterie on the big day are all under the age of 10.
---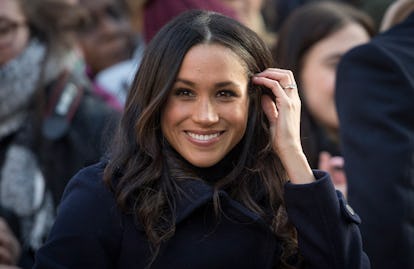 Getty Images
In a convenient break from the drama surrounding Meghan Markle's father, Thomas Markle Sr., on Wednesday morning, the Royal Family officially announced the lineup of the bridesmaids and page boys who will star alongside Markle and Prince Harry in their long-awaited royal wedding this Saturday. (A quick recap of the drama that they've refused to comment on in the meantime, even though it apparently has the Queen furious: After being caught for staging those charming paparazzi photos, Markle Sr., who was set to walk his daughter down the aisle, reportedly decided not to attend the wedding after all, due to his embarrassment and a recent heart attack, only to change his mind about wanting to attend just a day later.)
Anyway! On a lighter note, unsurprisingly, given her unusual but diplomatic decision not to have a maid of honor, Markle's picks for her bridesmaids are a bit unusual by modern wedding standards; to start, they're all under 10 years old. The same is true, it turns out, for the page boys, who'll join three of Markle's goddaughters, including Princess Charlotte, as well as the daughter of her close friend Jessica Mulroney and her husband Ben Mulroney, who range in age from just two years old to seven, at Windsor Castle this upcoming weekend. They include two sons of Mulroney's, as well as Prince Harry's godson, and, of course, Prince George, who'll be the youngest at age four, compared to his six- and seven-year-old counterparts. (You can see the full list of names here.) Though Kate Middleton had chosen her sister Pippa as her maid of honor, wedding parties made up mostly of children aren't particularly unusual for the Brit royals. Princess Diana's bridesmaids were also all kids.
While Markle may not have chosen Mulroney as her bridesmaid, she's certainly made up for that by putting so many of her children in the company of so many royals—a bold move especially, seeing as the couple are no doubt considered commoners in the royals' eyes. Mom works as a stylist while Dad is a TV host (though, he's also admittedly the son of a former Canadian Prime Minister). Markle's friend Priyanka Chopra, who was also rumored to land the role of maid of honor—and who even wrote an essay for Time proclaiming Markle to be the future "princess of the people"—doesn't have any children to star in the ceremony, though she'll certainly be attending it herself. (And, given her close relationship with Markle, she'll hopefully be adding at least some levity to the ceremony for the bride-to-be, especially since the Spice Girls didn't end up coming through.)
Prince Harry, on the other hand, has stuck to tradition by choosing his brother, Prince William, as his best man. Whether untraditional or not, one thing they all, from the bride and the groom to their toddler partners in crime, have in common, is maintaining strict secrecy when it comes to their outfits for the big day. Sure, it's no surprise that Markle's wedding gown, which is reportedly £100,000 worth of couture, won't be revealed until the day of, but not even the tots involved have deigned to whet any of the media or royal fanatics' appetites in the meantime; details about even their dresses and uniforms will remain under wraps until the ceremony. (Though there's definitely enough past evidence to guarantee that Princess Charlotte and Prince George, at the very least, will look adorable.)
Princess Charlotte and Prince George Are the Ultimate Kid Jet-Setters
Catherine, Duchess of Cambridge, Prince William, Duke of Cambridge, Prince George of Cambridge and Princess Charlotte of Cambridge depart Victoria on October 1, 2016 in Victoria, Canada.

Getty
October in Victoria, British Columbia, can be a bit chilly, and young Princess Charlotte demonstrated that she knows the art of layering. Trading white ankle socks for warmer tights, the little Princess paired a burgundy cardigan over a floral printed dress (a signature of hers!) with of course, matching Mary-Janes.

Getty
Princess Charlotte of Cambridge and Prince George of Cambridge look out of the window of the plane as they arrive at Warsaw airport during an official visit to Poland. Prince George wears a blue and red checked button down shirt for his arrival in Europe.

Getty
A few days earlier, the young royals arrived in Warsaw, Poland, which was the first leg of their royal tour.

Getty
Prince George may be past his terrible twos, but the young royal did not seem as eagar as his younger sister to practice his royal wave and shake hands with German diplomats. However, he still looked the part by wearing on of his go-to pairings, a button-down shirt tucked into shorts, worn with a belt and black shoes.

Getty
Duchess Catherine looked fresh and lovely in an all-white ensemble, while Princess Charlotte stole the show in a red printed high-waist dress, with little white socks and red mary-jane shoes.

Getty
Last fall, the young royals performed had their first overseas adventure, accompanying Mum and Dad on an official Royal Tour of Canada. Charlotte's bow was a sweet touch, while Prince George's knee-socks were the perfect accessory for a growing toddler.

Getty
In Canada on her first Royal Tour last fall, Princess Charlotte received her first lessons in the royal wave, while dressed in a blue printed dress, white ankle socks, and blue mary-jane shoes.

Getty
The royal family is currently touring Germany, with stops in Berlin, Heidelberg, and Hamburg. Here, Prince William, little Prince George, Duchess Catherine, and Princess Charlotte arrive in Berlin to a red carpet welcome.

Getty
Prince George and Princess Charlotte arrive at Berlin's Tegel Airport during an official visit to Poland and Germany on July 19, 2017 in Berlin, Germany.

Karwai Tang
Duchess Catherine holds the hands of her two children, and walks with the young royals down the red carpet. She may have opted to dress Prince George and Princess Catherine in matching shades of blue in honor of Germany's flower, the cornflower.

Getty
Prince George and Prince William, Duke of Cambridge arrive at Warsaw airport ahead of their Royal Tour of Poland and Germany on July 17, 2017 in Warsaw, Poland.

Karwai Tang
Prince William, Duke of Cambridge, Catherine, Duchess of Cambridge, Prince George of Cambridge and Prince William, Duke of Cambridge arrive at Berlin Tegel Airport during an official visit to Poland and Germany on July 19, 2017 in Berlin, Germany.

Franziska Krug
Prince George, Princess Charlotte of Cambridge and Catherine, Duchess of Cambridge coordinated in pastel pinks and purples before departing from Hamburg airport on the last day of their official visit to Poland and Germany on July 21, 2017.

Karwai Tang
Prince George boards the helicopter in a button-down shirt and shorts.

Samir Hussein
Prince George, Princess Charlotte of Cambridge and Catherine, Duchess of Cambridge coordinated in pastel pinks and purples before departing from Hamburg airport on the last day of their official visit to Poland and Germany on July 21, 2017.

Pool/Samir Hussein
Related: A Letter of Condolence to Meghan Markle, Whose Own Extended Clan May Be Even Nuttier Than the Windsors