Sorry Folks, The Spice Girls Will Not Be Performing at the Royal Wedding
If what you really really want is a reunion, you'll have to wait.
---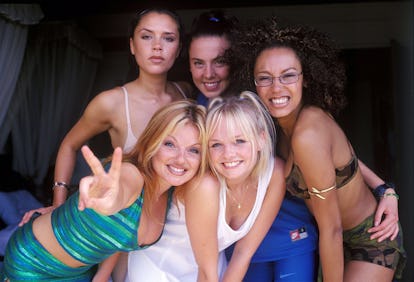 John Stanton/Getty Images
Mel B may have gotten a little ahead of herself when she seemed to imply that the Spice Girls would be performing at Prince Harry and Meghan Markle's royal wedding reception. If you recall, in February, Scary Spice threw up her hands at being asked if the iconic girl group would perform at the reception by The Real host Loni Love, leading everyone to believe that it was a guarantee. But on Friday, TMZ reported that the Spice Girls will not be performing after all, nor have they been asked to by Kensington Palace.
Not all of Mel B's facts were off, though. All five Spice Girls will reportedly be in attendance on May 19, so maybe we'll be able to catch a little something to satiate our need for Spice World nostalgia.And who knows, maybe they'll take the stage after all—surprise wedding performers certainly aren't unheard of. The last time the group performed together was at the 2012 London Olympics, so they have been known to put love of country above all else. That being said, the wedding is only a week away so the chances that they'll be able to sneak in a rehearsal among all their busy schedules seems slim.
The royal wedding performance isn't the only thinly veiled hint Mel B has been dropping lately. The Spice Girls alum told ITV earlier this week that "All five of us have signed with Simon Fuller," their former manager, and that they're "figuring the stuff out." Thus, a reunion could be coming soon after all. Fans have always been eager to speculate about a reunion tour, and Victoria Beckham has always been just as quick to shut down those rumors. Posh Spice [told British Vogue](http://www.vogue.co.uk/article/spice-girls-reunion-victoria-beckham) in February point blank: "I'm not going on tour."
However, Instagram posts from Posh like this one only add fuel to fan's fire for a reunion.
"If it were up to me, we'd go on tour immediately," Scary Spice also said this week. "Maybe we will soon." From your mouth to Queen Elizabeth II's ears, Mel B.
Meanwhile, the Spice Girls are far from the only group to have offered to perform at Harry and Meghan's wedding. Ed Sheeran, Sam Smith, and English hip-hop star Stormzy have all offered up their services, so there's still a chance for a high-profile performance, after all.
Related: Victoria Beckham Designed a Limited-Edition Spice Girls T-Shirt for Red Nose Day
16 Pointers From Victoria Beckham's Instagram
Always post photos with your husband (if he's David Beckham.)
Photo by @victoriabeckham.
But keep a safe distance when posing with fans.
Get your dog camera-ready from head-to-paws.
Photo by @victoriabeckham.
Take time to stretch while checking social media.
Photo by @victoriabeckham.
Let your kids make an appearance.
Photo by @victoriabeckham.
Know that it's okay to brag sometimes.
Photo by @victoriabeckham.
Wearing sunglasses inside doesn't count if you're in the air.
Photo by @victoriabeckham.
Show some leg in mirror selfies.
Photo by @victoriabeckham.
Photos of David Beckham in Birkenstocks always please.
Photo by @victoriabeckham.
Show that you can have some fun.
Photo by @victoriabeckham.
But never let them see you smile.
Photo by @victoriabeckham.
Look your best while doing chores.
Photo by @victoriabeckham.
Even Victoria Beckham can't be Insta-ready all the time.
Photo by @victoriabeckham.
Show that you woke up like this.
Photo by @victoriabeckham.
Spice up your life, obviously.
Photo by @victoriabeckham.