The Spice Girls May Be Performing at Prince Harry and Meghan Markle's Royal Wedding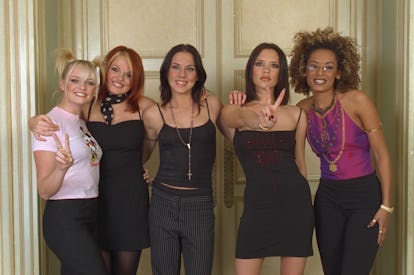 Photo by Eric Robert/Sygma/Sygma via Getty Images
Forget the Oscars or the Met Gala. This year's biggest party is going to be Prince Harry and Meghan Markle's wedding. Sure, technically it is an important royal affair with plenty of unbreakable age-old traditions and rules to abide by, but we all know Harry can't resist a good time (even if he is soon to be a married man). And the one key ingredient to a good party? Music that will get people on their feet well into the early hours of the night. Well, it certainly seems that Harry and Markle have that under control, booking perhaps the U.K.'s greatest musical gift to the world of all time. No, not the Beatles. We're talking about, yes, the Spice Girls.
On today's episode of the daytime talk show The Real, Melanie Brown (aka Mel B. aka Scary Spice) all but confirmed that she and the rest of the gang—Victoria Beckham, Geri Halliwell, Emma Bunton, and Melanie Chisholm—would be making a musical appearance at the upcoming nuptials, scheduled for May 20. The major reveal started with an innocuous question from the show hosts: "Do you know anybody who is going to this wedding?" Brown nodded, and quietly mouthed that she herself would be attending. From there, she felt compelled to reveal that not only is she going, but all five Spice Girls would be there. "I probably shouldn't have said that on camera," she then admitted.
Co-host Loni Love quickly put two-and-two together, asking, "Will the Spice Girls be performing at the reception?" Perhaps caught off guard—or just excited about booking the gig—Brown essentially issued a nonverbal confirmation that they would be, shaking her head and saying, "I swear, I'm just… I need to go. I'm going to be fired."
See for yourself:
It certainly checks out. The Spice Girls are a national treasure in Britain. Plus, Markle was a teenager at the height of Spice Girls mania, so what better way to celebrate her new marriage than with a nostalgia bomb from her childhood? Plus there are all those reports that she and Beckham are becoming fast friends while across the pond.
Of course, nothing is 100 percent true until the Palace confirms with an official statement. But Brown did have insider information on the invitation, saying it was "proper" and came in a box. And that is confirmation enough for us to start imagining the Queen rapping the breakdown in "Wannabe." Zig-a-zig ah.
Related: Prince Harry Is Reportedly Inviting Two of His Ex-Girlfriends, Chelsy Davy and Cressida Bonas, to His Wedding