Turns Out Meghan Markle's Father Staged Those Charming Paparazzi Photos of Himself Prepping for the Royal Wedding
Markle's troublesome half-sister says she's "entirely the culprit" for getting him to thumb through photo books of Britain.
---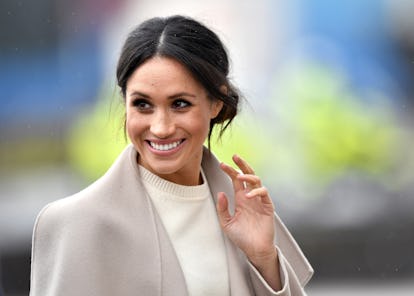 Charles McQuillan/Getty Images
With a week to go before the royal wedding, by now you would have thought that we'd already know everything there is to possibly know about Meghan Markle. But there's been an apparent new development—though to be fair, it concerns not Markle but her dad. (Not exactly a surprise, given that we did already know that as disparate as her and her fiancé Prince Harry's backgrounds are, they have one thing in common: a pack of relatives with a penchant for over-the-top dramatics that's enough to make anyone cringe.)
Despite a nephew who's selling a strain of weed he's calling Markle's Sparkle, and a half-sister who decided to publish a reportedly false tell-all memoir about their relationship, Markle has at least seemed to have her mom and dad on her side through it all. Her parents have been successfully vetted by the Windsors, and are even spending the week before the wedding with Prince Harry's family, including the Queen. (Markle's mother, Doria Ragland, touched down in England last week.)
Now, however, it seems Markle's apparently estranged father, Thomas Markle Sr., hasn't been so innocent of profiting from the royal union as once believed. Those charming, ultra-zoomed paparazzi photos of him appearing to earnestly prepare for acquainting himself with the royals? It seems those have been staged.
A former TV lighting director who divorced from Ragland, a yoga instructor, in the '80s, Markle Sr. has been spending the past few months prepping to prove he's worthy of walking Markle down the aisle himself at Windsor Castle. The public first found out about his efforts in early April, when photos of him hanging out by the window at a Starbucks in Mexico, prominently studying up on the book Images of Britain: A Pictorial Journey Through History, were published—the first of several paparazzi photos to follow, making for an endearing fairy tale thatthe Daily Mail made an attempt to shatter over the weekend.
To start, the Mail posted stills from exclusive CCTV footage of Markle Sr. entering the Internet café (yes, apparently those still exist) where he was seen scrolling through stories about his daughter and her fiancé—conveniently enough with his head slightly to the side, so that his screen could be seen—with the photographer who took his photos, Jeff Rayner. The Mail also tracked down tracked down the café's manager, who went on the record to say that the pair were only there for "about 10 minutes," and that they left together. ("I thought it was strange that they were taking pictures in here. It's an unusual place to take pictures," she said, noting that at some points, Rayner was only about six feet behind Markle Sr.'s screen.)
The Mail also spoke with the man who was seen taking Markle's measurements for a tux, who turns out not to have been a tailor at all, but a 17-year-old who didn't even work at the tailor shop, but a party supply store next door. He's now saying that he used a measuring tape that Markle Sr. handily provided him after approaching him, leaving him quite perplexed: "I just went along with it. I was telling him the measurements, but he didn't write them down or anything. It was really strange." Meanwhile, there have also been photos of Markle Sr. making like Prince Harry and working out to get in shape before the fated day, though according to the Mail, that was on a "remote hill" littered with discarded mattresses, i.e., not exactly the likeliest choice for a workout spot.
If it's inevitable that he's going to be photographed, we can't exactly blame Markle Sr. for wanting to get his own photographer to do so and maintain a semblance of control over his public image—a tactic famously favored by Beyoncé. Indeed, that turns out to have been exactly the thinking of Markle's troublesome half-sister, who minced no words in her appearance on the British talk show called, um, Loose Women: "I have to say I am entirely the culprit," she said on Monday. "As we know, the media can take very unflattering photographs of people on their casual days and blow it way out of proportion. I said, you know, the world has no idea you're getting in shape, doing healthy things. They don't photograph you buying vegetables and pH water. They photograph you as unflattering … as they can."
"So I suggested it," she continued. "I said, really you need to show the world that you're getting in shape and doing great healthy things." As for the fact that the photos have reportedly raked in around $135,000? Most of that seems to have gone to Rayner, the photographer, but of course there's been speculation that Markle Sr. has also profited. "There's a lot of scrutiny that it was money-motivated, it was not," Samantha Markle claimed. "It was my suggestion that to benefit him and to benefit the royal family that everyone looked good and they depict you as you are—in shape and doing healthy things."
Markle Sr. has only recently emerged in the public eye, whereas Prince Harry's communications secretary released a rare statement defending Markle's mother, who's had "to struggle past photographers in order to get to her front door," and pled for a halt to the "wave of abuse and harassment" she and her daughter have faced, all the way back in 2016. Meanwhile, Markle Sr.—perhaps with a little help from Samantha—came to his own defense over the weekend, when his reps reached out to editors around the world to say that he "was suffering as a result of media intrusion and did not want to participate in photo calls or interviews." This statement came just hours before the Mail published its story claiming that its reporters have "established" that Markle Sr. staged four photo shoots.
Meanwhile, Kensington Palace opted to follow typical royal protocol by staying away from the matter and declining to comment. As for Samantha? She won't have to face any of the monarchy's wrath, thanks to the fact that she wasn't even invited to the wedding.
Related: A Letter of Condolence to Meghan Markle, Whose Own Extended Clan May Be Even Nuttier Than the Windsors