Prince Harry and the Palace Reportedly Caught Off-Guard by Thomas Markle's Decision to Skip Royal Wedding
They didn't see this coming.
---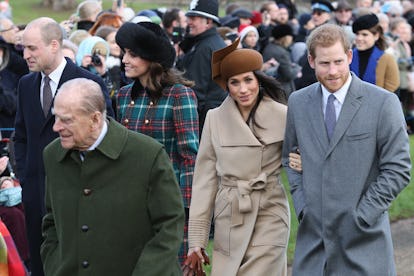 Chris Jackson/Getty Images
Royals fans everywhere were shocked on Monday when the news broke that Meghan Markle's father, Thomas Markle, was backing out of his wedding duties so as not to cause his daughter any further embarrassment. Perhaps most confused of all were Prince Harry and the rest of the royal family, who found out that the father of the bride would be skipping the royal wedding when the rest of the world did, from news reports, according to TMZ.
The outlet, which was also the first to break the news of Thomas's decision, reports that Kensington Palace was completely "blindsided" by the decision. The palace and royal family had reportedly made "elaborate plans" for his stay in the UK, including a dedicated security detail, access to exclusive pre-wedding events, and comfortable accommodations. A source told the Daily Express that Harry's grandparents, Queen Elizabeth II and Prince Philips are "very angry" with Thomas, and are holding a meeting with the palace's communication office to discuss his involvement — if any — in the wedding.
After Thomas's choice to stay in Mexico instead of traveling to England was announced on Monday, the royal family released a statement about the matter. "This is a deeply personal moment for Ms. Markle in the days before her wedding," a palace spokesperson said. "She and Prince Harry ask again for understanding and respect to be extended to Mr. Markle in this difficult situation."
As confirmed in a royal press release earlier this month, Thomas was supposed to walk his daughter down the aisle. While Markle's mother Doria Ragland's role in the royal wedding was originally supposed to comprise riding with the actress from the hotel where they'll stay the night before the wedding to St. George's Chapel at Windsor Castle, Ragland is now rumored to be the one to accompany Markle down the aisle. According to the Daily Mail, British bookies have given Ragland the highest odds to step in for Thomas (followed by Prince Harry's father Prince Charles and brother Prince William), while Thomas himself told TMZ on Monday night that his ex-wife is the right person for the job.
Related: Turns Out Meghan Markle's Father Staged Those Charming Paparazzi Photos of Himself Prepping for the Royal Wedding