George Clooney Brought to Tears by Wife Amal's Speech About Their Relationship
Amal Clooney spoke publicly about her husband for the first time.
---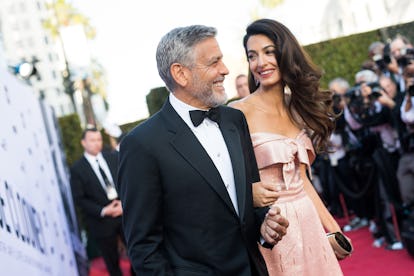 Emma McIntyre/Getty Images
Marking the first time the human rights lawyer has commented publicly on her marriage, Amal Clooney gave an emotional speech about her husband, actor and philanthropist George Clooney, on Thursday at the American Film Institute's 2018 Life Achievement Award Gala Tribute. "It's somehow easier for me to address a court on behalf of a detainee than to speak publicly as I am doing for the first time tonight about my husband," Amal said to open her remarks, as seen in video captured at the event. "I do so out of immense pride of all he has achieved."
While George is, of course, most known for his acting career, his wife took the stage to praise her husband's achievements that are less known to the public, starting by calling him "a gentleman in every sense of the word" who "has not forgotten his Kentucky manners" and always uses his voice to "stick up for the most vulnerable." She continued, saying that George's "incredible talent and character" has brought him success in his career, and that these qualities are also what makes him an "amazing husband and father."
Amal then opened up about the romance that led to their partnership, joking that she was "quite resigned to the idea that I was going to be a spinster" by the time they met when she was 35, but that shortly after finding each other, "It felt like no matter what happened, I would never want to be with anyone else." The 40-year-old said she was smitten with George from the beginning, remembering that she "couldn't sleep when we were apart" and had a "particular grin and head-tilt when reading his text messages or the letters he would hide in my bag."
"Five years later," she continued, "none of that has changed." George's smile, she added, still "makes me melt every time."
Amal then ended her tribute by praising George as a father to their twins, getting emotional before the crowd. "My love, what I have found with you is the great love I always hoped existed. And seeing you with our children, Ella and Alexander, is the greatest joy in my life," she said. "You fill our home with laughter and happiness, and that's even before the children have worked out that 'Da-Da' is Batman, a talking fox, and friends with Mary Poppins. I'm proud of you, but I also know that when our children find out not only what you have done, but who you are, they will be so proud of you, too."
The whole speech can be seen below. Bonus points if you can spot an emotional George getting teary-eyed as he takes in his wife's words from his place in the audience.
Related: George Clooney Reveals His Cinematic Crush