If Justin O'Shea Can't, Can Anyone Make the Tailored Suit Cool Again?
Justin O'Shea's attempt to remake the image of the tailored suit comes to an end. Maybe Alessandro Sartori or Haider Ackermann can figure it out.
---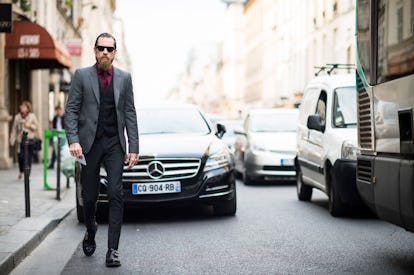 FilmMagic
If anyone can figure out how to successfully lead the creative side of a menswear brand known for its high-end tailoring there are some very rich businesspeople in Europe who would appreciate your insight.
Because it seems absolutely no one at the moment can quite figure out to solve that puzzle.
Fashion retailer and street style star Justin O'Shea's six-month tenure as creative director of Brioni unceremoniously ended today. It's unclear what was behind the breakup (or even, necessarily, who did the dumping), but it's telling that accompanying stories talk more about an odd series of ads featuring rock band Metallica than any of the clothes produced under his tenure.
O'Shea's appointment came in the middle of what seems like an existential crisis for tailored menswear. No one needs to be reminded that most of today's self-made young billionaires, particularly the tech ones (are there any other kind?) would prefer to show up to work in a hoodie rather than an expertly tailored suit.
It might not have helped O'Shea that, on this continent at least, the political press was reminding everyone at least once a month that Brioni is the preferred suiting supplier of Donald Trump. (To be fair and balanced, Barack Obama is also a customer).
Trump aside, many of these brands do rely on a core clientele of C-suite businessmen that just want a go-to label for their suits, and likely may not know or care who is actually designing the clothes or who is in the ads as long as they keep to tradition in the product. Figuring out how to please those clients while building a bridge to a new generation seems to be the problem.
O'Shea's directive from Kering, Brioni's parent company, seemed to be not so much to design cool suits as it was to figure out how to make the very idea of wearing tailored suits cool again. After all, he had no experience at designing suits, but did have experience in both wearing them (as street style photographers can attest) and selling them (his previous gig was at e-retailer My Theresa).
He was basically supposed to do all those things a successful designer does aside from actually designing. Things like bringing a sheen of cool to a label, reconfiguring its logo, choosing its advertising, cultivating a clique of celeb fans and serving as an ambassador.
It was one attempt to solve the problem of tailored menswear. Brioni's competitors are all trying their own.
Berluti recently announced it will attempt another. It recently announced the appointment of Haider Ackermann, the particularly hip designer known best for relaxed fit clothing and who only recently started designing menswear full-time. Ackermann's charge seems to be bringing tailored menswear into direct conversation with the modern fashion world.
Zegna has taken the more conservative approach. Earlier this year, the label appointed Alessandro Sartori, a menswear master who cut his first suit as a teenager and had previously been at Berluti.
Essentially three different approaches: making tailored suits cool again, making them modern, or just sticking to what works.
Brioni and O'Shea couldn't seem to figure it out. Maybe someone else can.