Forever Imelda
The former First Lady of the Philippines has bounced back from exile and court battles to become one of her homeland's beloved matriarchs. And believe it or not, she's still got a thing for shoes.
---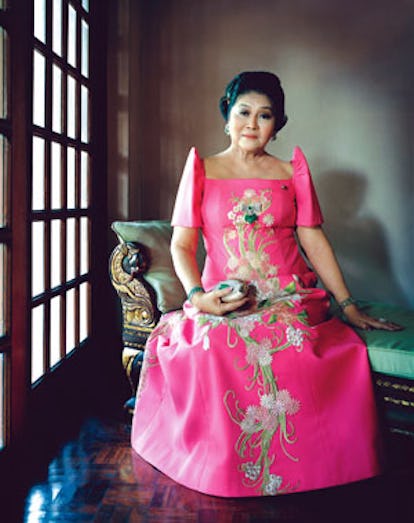 Imelda Marcos is more than a legend in her own time, she's an adjective. "Imeldific," according to Wikipedia, denotes "excessive vanity," while Word Spy defines it as "ostentatiously extravagant to the point of vulgarity."
On a recent morning in Imelda's spacious, faux Louis XVI-style apartment, 34 floors above downtown Manila, the woman lives up to both definitions. It is early January, and her abode is festooned with enough holiday decor—including huge plastic garlands—to outfit Macy's Santaland. Hundreds of framed photographs crowd every wall and horizontal surface. The lady herself appears at the end of a long hallway and sweeps in, dressed in a fluorescent green suit and dyed-to-match pumps, her signature black lacquered beehive shining. The drama of her entrance is heightened by the clicking away of her own personal photographer, one of about a half-dozen staff members on hand, all of them dark-haired, middle-aged, expressionless men wearing what look to be navy blue leisure suits.
At 77, Imelda is remarkably well preserved, appearing much the same as she did during her 21-year reign as first lady. Her tenure in the presidential palace, of course, ended rather dramatically in 1986, when she and her husband, Ferdinand, were whisked away by U.S. military helicopters—just before mobs stormed the gates—leaving behind now infamous troves of shoes and jewelry. Exiled to Hawaii, she was forced to come to New York in 1990 to stand trial on U.S. charges of fraud and racketeering. (Ferdinand had died in 1989.) To the surprise of many, she was acquitted. In 1991 Imelda pressured the Philippine government into allowing her to return—even though she would have to face some 900 civil and criminal suits there. (She lost or settled a number of these cases and says that by the end of this month she'll be "rid of all of them.") The next year, she ran unsuccessfully for president and launched a campaign to win her husband a state burial, which has also been fruitless. His body rests Lenin-like in a refrigerated glass vault in the north of the country while Imelda continues to lobby for him.
After all these years, it's still not clear what happened to their immense fortune. Accused of treating the Philippine treasury as their personal piggy bank, they're widely believed to have looted at least $5 billion from the country. One U.S. congressman observed that the Marcos regime was "not an aristocracy, not a meritocracy, but a kleptocracy." Imelda, however, maintains that her husband amassed his fortune through legitimate speculation in gold. The Philippine government thus far has extracted more than a billion dollars in reparations, including about $650 million from Swiss accounts, but many observers claim there are bundles still hidden. Though her roomy apartment, large staff and bulletproof BMW suggest otherwise, Imelda's official position is that she's poor.
Meanwhile, the Marcos clan appears to have regained popularity. Ferdinand Jr., 49, known as Bong Bong, is a governor of one of the country's northern provinces; daughter Imee, 51, is a member of congress; and daughter Irene, 46, is a popular socialite. Imelda herself seems to have become a sort of Queen Mum figure, comical but nonetheless largely beloved. Who else, after all, can matter-of-factly drop into coffee conversation, as she does today, that "in five minutes, I terminated the Cold War"? Seated on a gilded settee, she makes this remark after being asked about a photo of Chairman Mao kissing her hand, which was taken on a visit to the People's Republic of China in 1974. She remembers sizing up the situation as she arrived on the tarmac, with the elderly leader waiting to greet her. "He was old; I was young. He was a man; I was a woman," she says. So instead of the usual handshake, she gave the leader the traditional Philippine "mano," taking his hand and placing it on her head. He in turn kissed her other hand, shocking his comrades. "Later, he said, 'When Mrs. Marcos showed me respect, I showed her love,' " she remembers.
What this story has to do with the end of the Cold War is unclear, but it does serve to illustrate the tremendous access and power Imelda enjoyed during her husband's reign. Indeed, during the later years of Ferdinand's presidency, when his health was declining, many speculate that she was more or less in charge. And after all of her encounters, Imelda could easily win the gold medal for name-dropping. Her circle was eclectic. She casually mentions, for example, the time she and her great friends Charles Lindbergh and Margaret Mead dropped in on the Tasaday tribe in the southern Philippines. But heads of state are her forte, as the photographs on display attest. She is pictured with every imaginable mid-20th-century chief, including Nixon, with whom she shares a piano bench while the president tickles the ivories. "He used to drop by our suite at the Waldorf and entertain us," she says. Then one finds her with Reagan, Ford, Johnson, Brezhnev, Pope Paul VI, Queen Elizabeth II, the Shah of Iran.
But, revealingly, pride of place on the piano goes to Mao, Castro, Qaddafi and, yes, Saddam Hussein. There seems to be a pattern. "All the bad boys are here," she says, laughing. "But they were nice to me. The newspapers were so nasty about these people! When a leader is there for more than 10 years, he must have been doing something right for his country."
Curiously, in recounting her conversations with these despots, Imelda adopts a little-girl voice. When she visited Iraq in the mid-Seventies, she recalls, Hussein asked her what she was interested in seeing. "And I said, 'I want to see the Hanging Gardens of Babylon,'" she chirps in the voice of a 10-year-old asking for a lollipop. In no time at all, she says, they were hovering in a chopper above the fabled site. "'Imelda, this is the Garden of Eden, the cradle of civilization.'" According to Imelda, he also took the opportunity to complain about how his oil revenues decreased when Kuwait annexed coastal land that he claimed was historically Iraqi. "Imelda, we are imprisoned by our cousins," she remembers him saying. "If we don't act now, we will never get it back."
Equally charming was Qaddafi when Imelda journeyed to Tripoli in 1976 on one of her many diplomatic missions. Muslim rebels in the south of the Philippines—the only Catholic country in Asia—were becoming increasingly violent, and she headed to Libya to negotiate a settlement with the nations of the Islamic Conference, known as the Tripoli Agreement. The visit didn't start out well. The Marcos delegation sat in their hotel rooms for four days, as the mercurial Libyan leader refused to see them and unrest gripped Tripoli. After threats to blow up their plane surfaced, the Filipino emissaries fled to Rome—all except the first lady. According to Imelda, when Qaddafi heard that she'd stayed, he summoned her. "I like your courage and commitment to peace," she remembers the dictator saying. He went on to say that "Islam is peace" and proposed, "Why don't you become a Muslim?"
"Mr. President," Imelda replied, "I wouldn't even know how to read the Koran." Within a day, she received a stack of Korans, with significant passages underlined. The next day at the negotiating table she says she opened one of the holy books. Here, again, she adopts her little-girl voice: "Mr. President, Koran says Islam is peace. Cease fire, Mr. President. No more fighting between Christians and Muslims." To which, she says, he speedily acquiesced. She then scanned further in the book. "Islam is generosity," she quoted, as a prelude to her next request: "Oil, Mr. President. We have no oil." He quickly promised the Philippines a hefty delivery, she says. Before she left the table she went on to extract, she boasts, numerous other promises, including a pact to allow Filipino laborers to work in Libya. "I had one mission, but I came home with 10!" she says triumphantly now, quickly losing the little-girl voice and adopting the commanding tone that surely inspired her sobriquet, the Steel Butterfly.
To this story, daughter Imee adds an anecdote: Ferdinand was home at the palace, worrying about his wife's being alone in Tripoli. "He was calling and calling, trying to reach her," Imee remembers. "When he finally got her, she said, 'I can't talk, Mrs. Qaddafi is teaching me to belly dance. Bye.' "
Despots, Imelda insists, turned out to be loyal friends when her own troubles began. After the U.S. government indicted the Marcoses and set bail at $5 million, her first phone call, she says, was from Qaddafi, who said, "I'm paying." Then Hussein was on the line: "Whatever you need," she recalls him promising. In the end, her friend Doris Duke put up the cash.
Imelda goes on telling these stories—and repeating them—for hours. She talks nonstop, and her energy never seems to flag, to the eventual consternation of a jet-lagged journalist. And she performs such feats of oration, she claims, on two hours of sleep a night.
Besides the kindness of dictators, there is nothing Imelda enjoys talking about more than beauty. She eagerly offers her theories and pronouncements: "Beauty is God made real. Beauty is my religion." And then she's off on a lecture about geography and physics. "Come, I want to show you my vision," she says, leading the way into her dining room. Not far from where a Gauguin and a Picasso hang, there is an alcove lined with charts and aerial photographs. Imelda grabs a bamboo pointer and is suddenly discussing heavy water, which is used to make nuclear power. Gesturing to a map, she points out the Philippine trench, which she says is the largest and deepest deposit of heavy water in the world. This is somehow going to translate not just into cheap, pollution-free power for the whole world but "ultimate beauty" and "paradise regained." It is all very bewildering.
Fortunately it's time to drive to what is referred to as Old House, a villa about 30 minutes away, which Ferdinand bought in 1946. We pile into a convoy of cars, including two vans filled with the blue-suited gentlemen and Madame's Beemer. Imee follows in another car with her eldest son, Martin, known as Borgy, a 24-year-old national heartthrob and occasional underwear model.
When we arrive at the stone colonial-style villa, a red carpet has been extended from the front door down the porte cochere. Vandalized during her exile, the house has been restored but retains a faded, somewhat sinister air. "Every politician was always happy to come here," Imelda says, smiling. "This is where we gave them cash for their campaigns." Imelda doesn't sleep here anymore but keeps it as a sort of museum. Huge, kitschy portraits of the Marcoses—mostly her—line every wall.
The place also serves as a warehouse. When it is time to shoot Imelda's photograph, maids haul out racks and racks of heavily embroidered ternos—the traditional puff-sleeve Filipino dress—for her to select from. Then, of course, it's time to choose the shoes. A glance down a corridor reveals that it's filled floor to ceiling with hundreds of those fabled pairs, all carefully lined up on shelves and wrapped in plastic. And apparently there's more where these came from. "Trust me—this is nothing," Borgy says, laughing. And Imelda is in on the joke. After pretending to pull me out of the hall in mock alarm, she pushes me back in, happy to show off. She wants to clear up charges that all this footwear was frivolous or extravagant. When she was first lady, she says, she was expected to change seven times a day. She couldn't possibly receive one "VIP," as she calls them, wearing the same outfit in which she'd met another. "It was a sign of respect for them," she insists.
Then it's time for the jewels, and things get even weirder. Imelda, it turns out, is now hawking her own line of costume jewelry—which she proudly describes as "recycled junk"—and her maids have organized a trunk show-like display of items from the Imelda Collection. Unique is the only way to describe them. The pieces are sprinkled with small, cast-off faux gems from Imelda's own trove and cobbled together with a variety of found materials, including debris from a recent typhoon: mango-tree bark, pieces of rubber tire treads, bits of tin roofing. According to Imelda, the pieces are "guaranteed to tarnish…even disintegrate," but when they do, customers are instructed to "be Imeldific" and recycle them.
Launched last fall with a press conference in a Manila hotel, the collection is "such a homegrown operation," according to Imee. There are no retail prices as yet and one can't purchase anything on the Web site (imeldacollection.com), though interested parties are invited to book an appointment to see the wares at an office in Mrs. Marcos's building.
Imelda's life is a rags-to-riches story. She grew up poor in the eastern province of Leyte during World War II and witnessed some of the most gruesome fighting of the war. After peace came, she says, she sewed dresses from old parachute fabric. In 1954, after winning a beauty contest, she caught the eye of an up-and-coming congressman, Ferdinand Marcos, who was 36 to her 24. The two were married 11 days later. Eleven years after that, he became president.
The comparisons between Imelda and Evita are inevitable—much to the former's chagrin. "After she became first lady, perhaps. Not before," she huffs. (In other words, "I wasn't a hooker.") Imelda says she would spend an hour dressing for the "VIPs" who visited her at the palace. But when she made appearances before the masses, she spent two hours,"because they need a star, to bring light to the dark of their nights," she says melodramatically.
Imelda also claims Andrew Lloyd Webber came to her first about a bio musical, but she demurred. More recently, David Byrne and Fatboy Slim have collaborated on a show based on her life. Titled Here Lies Love—after the epitaph Imelda wants on her tombstone—the work in progress, which was previewed this past February at Carnegie Hall, ends with the Marcoses being airlifted from the palace.
The events of 1986, which Imelda refers to as "the thing," still seem raw to her. She claims that she was tricked into exile by the U.S. government. After being helicoptered from the palace to an airbase, she says that she asked to be transferred to a small plane, reasoning its range wouldn't be farther than the northern provinces, where the family wanted to go. They arrived instead in Guam, and the entire clan was then flown to Hawaii in what she says was an unpressurized transport plane, resulting, she claims, in "busted" eardrums for most of the party. But Imelda is nothing if not a survivor—and a ham. After her acquittal in New York, she proceeded to Saint Patrick's Cathedral, where she walked down the center aisle on her knees.
Perhaps the eeriest room at Old House is Ferdinand's study, which is now a shrine to the U.S. trial. Some 350,000 pages of documents sit in endless piles, all meticulously labeled. In Imelda's view, these papers are proof of her innocence. Even though she was acquitted, most of the world still considers the Marcos regime to have been one of the most corrupt of modern times. After Ferdinand declared martial law in 1972, the press was silenced and many of his opponents were jailed. There have even been accusations of murder.
But recently a degree of revisionism has taken hold of the Marcos legacy. Under successive regimes, partisanship in congress has led to endless deadlocks, chaos and economic stagnation. There's now a nostalgia for the Marcos years—the order, the relative economic success and the glamour.
On the final day of my visit, in fact, I witness full-on Imelda adulation. Decked out in another terno, with matching pink Hermès bag and pumps, she strolls into a bistro at a popular upscale mall, followed by her personal maid—who is ready with makeup for touch-ups—her photographer and the blue-suited men who carry shopping bags printed with Imelda's cameo. Heads swivel as Imelda makes her entrance, and a buzz spreads through the restaurant. Groups of lunching ladies soon descend on her table for autographs, photos and chitchat. The former first lady happily obliges and calls for the shopping bags, from which she extracts trinkets from the Imelda Collection and passes them out as gifts. The ladies squeal with delight.
But the reception pales in comparison to what she gets at the next stop, a heavily downmarket mall that she says she visits regularly. (En route, we take several detours. "I built this highway," she notes, then points out other major projects constructed on her watch: her cultural center, convention center, film center, hotels, hospitals.) Finally, we pull into the 168 Shopping Mall, in an area of Old Manila that Borgy describes as the local equivalent of East Harlem. She applies a quick layer of powder from her gold Buccellati compact and steps regally out of the car. Immediately, shoppers swarm. Her security detail steers her up an escalator to the food court, where Imelda, indeed, holds court. For about 45 minutes, shoppers approach her, asking her to pose with them for pictures, which she very happily does while soaking up the acclamation. "Thank you for everything you did for us," says one woman. "We love you so much," says another. One gentleman pulls a 1968 pocket calender with the Marcoses' picture on it out of his wallet. A little girl approaches and says, "I'm Imelda too."
As the masses take their photos, Imelda's photographer robotically snaps them snapping, and W's photographer, in turn, records that—a surreal scene, to say the least. Imelda's photographer has seemingly been shooting away on his old-fashioned 35mm camera constantly for two days now, and it occurs to me that I haven't noticed him change film once. Is the camera even loaded? Maybe. Maybe not. But that's not the point. For Imelda, it's the attention that matters.