Artists Turn to the Skies to Bring Awareness to Detention Centers Around the Country
For "In Plain Sight," a national project organized by the artists Cassils and Rafa Esparza, more than 80 artists will share skywritten messages over jails, ICE facilities, and places of significance to the history of immigration in the U.S.
---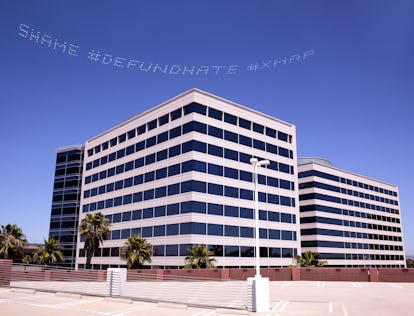 Skywriting in Los Angeles, June 2020. Photo courtesy of In Plain Sight.
When you think of skywriting, chances are your mind brings up memories of the blandly commercial variety: a vaporous ad for a local appliance store over a crowded beach, or an inspirational message about car insurance hovering over a city skyline. Or maybe an embarrassingly public marriage proposal that smears quickly in the wind.
Artists have harnessed the medium before: In the early 90s, the Chinese conceptualist Niu Bo used skywriting planes to draw abstract loops above Tokyo; and in 2001 Vik Muniz produced a series of cartoonish clouds over New York City.
Starting today and continuing through this 4th of July weekend, a coalition of more than 80 artists around the U.S. have decided to use skywriting for explicitly political purposes, taking over fleets of purpose-built planes throughout the country to make visible the detention facilities, immigration courts, borders, and former internment camps that are present in (but often obscured from) our communities by calling them out from the sky. The project, In Plain Sight, is led by the artists Cassils and Rafa Esparza, and includes contributions by Black Lives Matter co-founder Patrisse Cullors; former Minister of Culture for the Black Panther Party Emory Douglas, Dread Scott, Mary Kelly and many more. In addition to individual artists, there are also several partner organizations involved in the effort, including the ACLU of Southern California, RAICES, Mijente, and Make The Road New Jersey.
Speaking with Cassils and Esparza over the phone as they finalized plans for the activation, the pair expressed their hopes for how the artwork would impact those who interacted with each message. "These detention facilities are interwoven into our urban landscapes, and people don't know," said Cassils, whose message SHAME #DEFUNDHATE will appear over the West Coast headquarters of for-profit prison operator Geo Group. "I believe that if people did know, that they would speak up, and they would say no, not in our name."
Other messages include "ESTOY AQUI (I AM HERE)," which the Colombian artist Carlos Motta has chosen to pair with the Otero County Processing Center in New Mexico; "CARLOS ERNESTO ESCOBAR MEJIA," the name of the first immigrant to die of COVID-19, which Scott will fly above Ellis Island; and "NOSOTRAS TE VEMOS (WE SEE YOU)," which the artist and producer Zackary Drucker is installing above the South Texas ICE Processing Center.
In addition to highlighting how close these facilities—some of which are places where people are held in cages and children are separated from their families—exist alongside the more mundane aspects of American life, the messages will also serve as direct calls to action. Each one will conclude with the hashtag #XMAP, which has been seeded with posts that lead people to In Plain Sight's website and social media channels; there, viewers will find a map that locates ICE detention facilities in the immediate vicinity and links to donate to various organizations, including national bond funds run through the nonprofit Freedom for Immigrants.
"We're making a pipeline using art to capture people's imaginations," Cassils said. "Our job is to leverage the subconscious … How can we, as artists, use the sky to help elevate the boots on the ground?"
Both Cassils and Esparza were inspired by their own experiences with the immigration system in highlighting the injustices suffered by those who cross the border looking for a better life. As a trans person who immigrated to the U.S. from Canada, Cassils understands both how difficult it can be and how comparatively easy they had it. "I witnessed firsthand just how bureaucratic, financially motivated, and unjust the immigration system was," they said. "And so, knowing about the folks who have it much worse than I do and realizing how incredibly difficult and impenetrable it is to navigate, this issue has been front on my mind."
For Esparza, a first-generation American whose parents came to the U.S. from Mexico in the 1970s before opening up their home as a place for recent arrivals to stay, immigration issues and serving the community have always been deeply intertwined with his work, even if it adds a layer of challenge to his process. "I think there's been some tension in the art world in terms of how artists relate to social justice and how those works intersect, and I think this project is able to harness and align itself with the legacy and the history of where those worlds are always connected and working together," he said.
Collaborating with other artists has also always been integral to Esparza's work, he said, although never on a scale this large. Bringing in the voices and experiences of dozens of other collaborators made for a stronger, more intersectional project, aligning the liberation of immigrants with the struggles faced by the LGBTQ community, Black and Indigenous people and religious and ethnic minorities in a country built on systemic racism.
And although the idea for In Plain Sight has been in the works for more than a year, the most recent uprising in the Black Lives Matter movement helped clarify how closely tied these issues are, while adding a sense of urgency to their work. "Migrant detention is part of a larger issue of mass incarceration, and these intersections have been present from very early in our thinking about this project," Esparza said. "The things that we've been experiencing, specifically in 2020, have made these intersections more clear."
Cullors, who joined the project both as an artist and a member of the advisory committee, chose the words "CARE NOT CAGES," which will hang in the air above the LA County Jail, the largest county jail in the United States. The site has a personal significance for her as a site of trauma where her father, brother, and uncle have all been incarcerated.
"In 1999, my brother Monte Cullors was beaten, brutalized, and tortured by LA County Sheriff Deputies. His abuse changed my life and my family's life," Culors shared in an email. "I want to reimagine the jail site as a place of power. And remind folks in the LA community our resilience can live from and inside our art practice."
In response to a question about how she hoped this project would impact its viewers, Cullors wrote: "I hope this work fills people up with agency and clarity that art right now is so incredibly necessary."
Another important layer of the project is how each message will be received by those who are currently incarcerated in these facilities. While Scott's text above Ellis Island in New York Harbor might be seen by thousands of bystanders, some detention centers are isolated in the desert. That makes the messages all the more important, Cassils said. "These are things that the artists are making directly to those people, to encourage them, to let them know that they're not invisible, to let them know that they're being seen, that we know they're there and that we care," they added.
The choice to stage this ephemeral artwork on the 4th of July was intentionally subversive, "an inversion of the terms of patriotism," as Cassils put it. "We see it as a way of artists coming together, to speak about what this country can be. What we feel this country should be, and what we want this country to be," they said. "We dream this country to be different."
Related: Wolfgang Tillmans's 2020Solidarity Project Approaches Aid in a New Way