Paradise Island
India Hicks chats about her homewares collection for HSN, her father's stylish influence and how anyone—even us landlocked city dwellers—can have a taste of island life.
---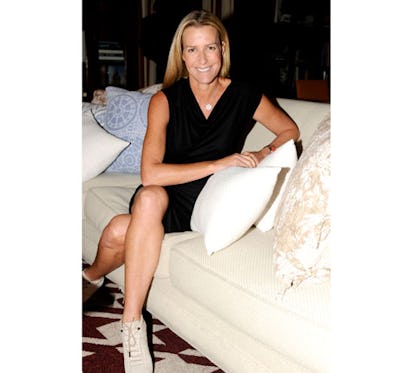 British-born and raised Bahamian India Hicks has made the phrase "island living" worthy of capitalization with her eponymous brand India Hicks Island Living, distilling her Harbour Island style into jewelry, accessories, beauty products and fragrances. Now the statuesque designer (daughter of famed interior decorator David Hicks and second cousin to the Prince of Wales) has expanded to homewares with an expansive collection for HSN, which drops April 8. Tuesday afternoon, an intimate group gathered for a luncheon in the Stanford White Studio of the Lambs Club, decked out with Hicks's wares, including wooden sailboats, patterned pillows and framed prints of seashells. Before tucking into the three-course meal, Hicks chatted about her affinity for late night Red Bull sessions, her father's stylish influence and how anyone—even us landlocked city dwellers—can have a taste of island life.
You redid the room? I India-ed it. Or Island Life-d it. And what I think is so interesting is because I've done Island Life so many times, in so many forms from fragrance to jewelry to now a home collection, the question is how does it work in the city? And this is the perfect example. We're in the city, we're in a small room, there's a fire going and it's cold outside and yet the collection looks absolutely fine. I hope!
So how was it approaching the collection for a mainstream audience? The whole experience was a very natural one. For a few reasons. I did it already with my Crabtree & Evelyn collection and I know that kind of frenetic, 3 am-Red-Bull-drinking feel that you've gotta sell the customer and you're all half asleep. And I kind of enjoy that, I'm quite competitive, so that's fun. And the price points are incredible. We have not compromised at all on the actual materials. It sounds like I've drunk the Kool-Aid, but I really have. I was also very keen that whatever I put into it, I would want it in my home, I would want it on my website, I would want it in my shop [on Harbour Island], which is the first time they've done that. Normally it's only exclusive to HSN.
Aesthetically, how do you strike that balance between having it appeal to an urban customer and an island one? It's a very understated collection. I veer away from the Bahamas feel of Boom! in your face. And I think because of this it can translate into different countries, different atmospheres, different ways of living. And another thing, of course my father was THE great decorator of the Sixties and Seventies and I grew up under his imposing eye. And I have all of that in me. But I was never formally trained. So what I really want to enforce is you, too, can do this. You don't have to have a huge amount of money. You don't have to have been to design school. You can make your home lovely very easily.
You mentioned your father. Your designs are very different, how much are you influenced by his taste? More and more. When he was alive, I was very intimidated by the fact that I had this sort of iconic design figure looming over me. So I stayed very much away and was modeling and doing other things. And having had 17 years on the island, I felt I could really have a voice. And I'm not the daughter or goddaughter or bridesmaid anymore [India was famously one of Princess Diana's bridesmaids]. And now because finally I've been recognized as someone who has a point of view of her own, now I see more and more of father's influences coming in. For instance, tablescapes: I can't leave a table alone. I have to make it into a tablescape like my father did. Kitchen drawers are immaculate. Shocks of color. He was all about color. Color was everything. Never clashing, only vibrating. And I certainly have shocks of color always. And I think the feeling of "I'm doing something that's for me." And I don't mind who else responds to it. My father was very much that way, as well. He designed for himself. And if the world came along on that journey, that was an additional plus.
Coming from Harbour Island, was it a shock to come here? What do you normally wear on the island? I dress in flip-flops and cut-off denim shorts. But I'm a very good traveler. I travel constantly, so I pack very small. This dress is Helmut Lang, it's wool, it folds up into a little ball. I only take hand luggage now because my time is so precious I don't want to be standing waiting for the luggage.
And you're British, so you can handle this weather. Oh the weather's fine. Sometimes it's quite nice to get a shock of cold.
Photos: PMC