Inside a Surprising New Meditation Center that Appeals to Even the Most High-Strung Fashion Editors
Inscape, a stunning new meditation studio and mindfulness center in Manhattan, makes Soul Cycle look really stressful.
---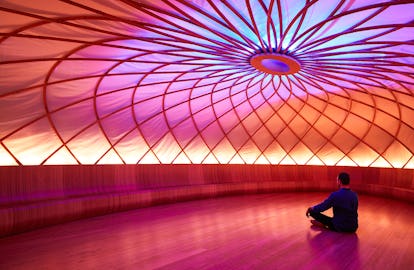 Christian Harder
It's only when you're instructed to clear your mind that you become acutely aware of just how many thoughts you have bouncing around in your brain at once.
I was given such a prompt by a friendly audio recording at the start of a 33-minute meditation session last week, which took place in the womb-like, cushioned Dome Room at the new Inscape studio in Flatiron. It all sounded simple enough: Breath in through your mouth, out through your nose, and look inward. Yeah, okay.
But when I closed my eyes, my thoughts lit up: "My breath smells like coffee… I think I'm getting a cavity… The jeans I'm wearing are too tight… I should stop eating so many of those chocolate-covered almonds from Prêt à Manger… What time is it?"
I opened one eye and looked at my watch. Not even three minutes had passed. The other meditators were smiling. They looked so peaceful. Would I ever be able to reach that place of calm? Were they even calm, or where they just pretending? I closed my eyes again and tried to focus on my breathing, but in doing so discovered that I'm incapable of even controlling the one thing I've been doing since birth.
Enter Khajak Keledjian, the Armenian co-founder of Inscape and former owner of the boutique chain Intermix, who is here to help anxious fashion industry folk like myself learn how to take a deep, deep breath. Ten years ago, before he began meditating, he was just like the rest of us — clocking in long hours, always on his phone and computer, and working out like a madman in an attempt to combat it all. And then along came a hedge fund manager friend who introduced him to the power of meditation one afternoon, and he felt instantly better.
"I felt such a state of calmness," he told me following our Inscape session in a soothing almost-whisper. He sat in a bean bag chair in the lobby drinking cucumber water and wore a white Hanes t-shirt. "It was like I had gone on a personal vacation. And you're talking to a guy who would go on vacation and spend the whole time planning another vacation."
This was in 2012, when Keledjian was in the middle of selling Intermix to Gap for $130 million. He started relying more and more on meditation and yoga techniques to get him through the day, even going as far as sticking a napkin up his right nostril during meetings in order to calm his nervous system. This was also around the time of his wedding, his father's death, and an eye-opening visit to a communal temple at Burning Man. After finalizing the deal with Gap, he checked himself into a 10-day silent retreat, which he recalls as one of the most enlightening experiences of his life.
"The speed of life is changing," he said when asked why meditation is so important for everyone today — not just CEOs and hedge fund managers. "I remember when I was a kid, there used to be newspapers in the bathroom. Now, I go to the men's bathroom and everyone has one hand on their phones. The moments we have on our own have almost vanished. How can someone really shut down, especially in noisy, crowded major cities?"
An inability to find an answer to this seemingly-simple question is what make Keledjian decide to start Inscape. The same hedge fund manager friend also posed a similar query early-on in Keledjian's mediation days, but in the form of a challenge: He said he would give Keledjian $15,000 if he could sit for 15 minutes in complete silence in New York City. "It took me six months," swears Keledjian. He tried his apartment, the bathroom at his gym, and finally resorted to the sanctuary of a small church. However, he refused to take his friend's money in the end, because even though he found quiet, he didn't yet have the tools to find peace.
Fast-forward to 2016. Keledjian is 20-pounds lighter and a meditation guru in his own right. "I turned 'have to' into 'want to,'" he says. "I have a family and an apartment in New York, I have a house in the Hamptons, and I drive a Range Rover, but I do everything in a mindful, balanced way." And with Inscape, (which opened last Monday), not only is he providing a 5,000-square-foot meditative space in the heart of Manhattan, but he and his partner Lew Frankfort have launched an app as well, making Inscape the first multi-platform meditation brand.
And while it may seem strange to practice meditation via your phone, Keledjian has always had a mind for pairing the unexpected. When he started Intermix as a 19-year-old, he was one of the first to curate different looks from different designers on the same rack. He's since moved on from clothes to weave together technology and introspection in a balanced way. "Inscape takes ancient methods and translates them for a modern experience," he said.
Inscape also offers a relaxed and realistic, non-granola approach to meditation that doesn't make you feel like you're in a cult. "It's impossible to completely shut down your thoughts," said Keledjian after our session, in which I was told multiple times that it was "okay" if my mind wandered. "If you shut down your thoughts, you die!" he continued. "The way it's marketed isn't necessarily correct. The only thing you can do is tame your thoughts down."
Lastly, what makes Inscape stand out from the rest is its high level of taste when it comes to design. The Dutch architect Winka Dubbeldam designed the space, the pillows are by CDS in collaboration with Lignet Roset; and each participant is provided with an alpaca blanket from Ecuador. There's also the "Alcove Room," which in addition to housing sound bath sessions, also features installations by a rotating group of artists — most recently Tini Courtney.
After my phone-free meditation session and conversation with Keledjian, I felt relaxed. And though I still had plenty of thoughts and questions running through my mind, the one that stood out was, "Why the heck not?"
Inscape classes lengths are 33, 44, 66, and 88 minutes, starting at $18 each. The app can be downloaded for $12.99 a month or an $89 annual fee.