Inside 108, the Exciting New Restaurant from the Celebrated Noma Team
If you can't score a reservation – or afford the prices – at Denmark's most high-profile restaurant, consider the new eatery from Noma alum Kristian Baumann.
---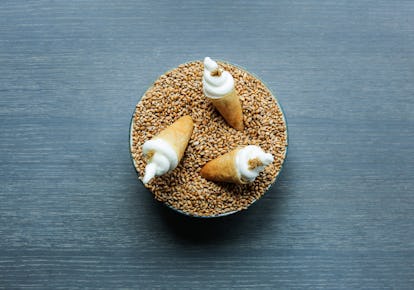 Hannah Grant
When acclaimed Noma chef René Redzepi moved his team to Australia earlier this year for his ten-week pop-up restaurant in Sydney, Kristian Baumann took over Redzepi's kitchen back in Copenhagen. That was the testing ground for what has officially become 108, Baumann's brand new restaurant, located just around the corner from the Noma on the historic Christianshavn Harbor in the Danish capital.
Naturally, the restaurant has Noma's DNA running through it – Baumann, 29, started as an intern at Noma while he was still in culinary school a decade ago and Redzepi is now his business partner. In keeping with the Nordic manifesto, Baumann is dedicated to foraging and fermenting, but there's another 'f' word he's embraced: fun.
"There's still lots of focus on details and the food and we are still very progressive in that way, but we want people to sit closely together and choose their own night and have fun," said Baumann, a 29-year-old who was born in Seoul and raised in a small village outside of Copenhagen called Ganløse, in a recent interview. "We want to make life easy for our guests."
The vibe at the airy space along waterfront, open since the end of July, is relaxed and inviting. And not only that, but the food is more affordable than its neighbor, Noma. The dishes, like the stems of romaine salad with aged turbot roe, start at 96 kroner (about $15) and some of which are even served family-style can be ordered a la carte. (Noma, by comparison, is a 16-course tasting menu at $285.)
Perhaps the best news of all? You can actually get a table here. They don't take reservations months and months in advance, and they have have (limited) space for walk-ins each night. As word continues to spread about 108, which won't take long, it likely won't be so easy to waltz right in. (They are already filling up quickly each day, seating about 150 guests per night, Baumann claimed.)
Just before the 13th day of service, with an hour until go time, Baumann sat down to talk about his debut restaurant and what it's like to have one of the world's most esteemed chefs at his side.
You really started your culinary career at Noma. How old were you when you started there? I was a very young apprentice, 19. That was the first time I had heard of René. At one point, I went there with my resume and they didn't need any new apprentices back then so I never heard from them. But then at one point I got in there as an intern while I was doing my apprenticeship at another restaurant. Being an apprentice here in Denmark is a great education. It's four years and 80 percent of the time you are in the restaurant cooking and then you are in school, so it's great. When you are in school, you go to school. from 8 a.m. to 12 p.m., 2 or 3 p.m. at the latest, but what was I supposed to do with the rest of my day? I was just coming on my days off and helping out at Noma. I think it's very important you do that as a young chef.
What was that like, walking into Noma for the first time as a 19-year-old? It felt great! You knew this was a place doing something big and making a huge impact. There were so many people walking through those doors at that time. I remember the first time I met him and he was like, "Hey, I'm René…" He always was, and still is, a very kind person. He really thinks a lot about how people feel and the atmosphere of the restaurant. He cares how people are doing in their private lives. That's inspired me a lot. I also came back at one point as a CDP when I was waiting for [acclaimed Danish chef] Christian Puglisi's restaurant to open, and then I opened up Manfreds and Relae with him. Those people mean a lot to me, they are still like family!
How did 108 come about? René and I have always talked and Copenhagen is very small so people talk. We went to the Melbourne Food Festival, René was there too, and we all did a dinner together. We have always just kept in touch over the years. When I wanted to open a restaurant, we had similar ideas of what a casual restaurant could be and it was important to be able to cook to a wider audience. Still, there's lots of focus on details and the food, and we are still very progressive in that way, but we want people to sit closely together and choose their own night and have fun. I think it's great if you can just come with three of your girlfriends and drink champagne and just share all the different plates. You can also come with your spouse and two kids if that's what you want. We want to make life easy for our guests.
How long has this been in the works? To me, personally, I have been working on this for four and a half years. But between René and I, we have been at this for around three years. It's been a long time coming and it's crazy that we are now here. It feels like being in a dream, but it's great.
I know your interest in cooking first came about at boarding school when you would occasionally help the chefs out in the kitchen, but I am curious, did anyone in your family cook a lot when you were growing up? My mother is an amazing cook. She always used to cook a whole pot roast at home and very classic stuff, like stews and very traditional, classic Danish cooking. I think sometimes as a kid you don't really appreciate it. But then you decide you want to enter the cooking world and at one point you realize and see how much has actually affected you. My grandmother is very old now (she's in her 90s) and she is an amazing cook. She always went looking for amazing products. We would drive three kilometers just to get potatoes, and that's just potatoes! Then we would go three kilometers in the other direction looking for strawberries and raspberries. She set the standard and I think that's important. It's important to show your kids that you should follow quality.
What are some of your early food memories? My mom used to take us out to restaurants – not Michelin star restaurants – but to good restaurants. I remember one day where we had a crème brûlée trio and I still remember that as a very special food memory. Growing up outside Copenhagen really exposes you to nature and if you want to, that can become a very big part of your life even though it's just 20 minutes outside Copenhagen.
It seems like it was very important to you that 108 be distinctly different from Noma. Tell me more about those specific distinctions… No, it's not Noma. René is my business partner and my investor. He is here to show support and that's so great. Everything else is me, down to the design of the napkin holders. I am super happy about it. It's a restaurant which is completely different from Noma, but the Noma gene and the Noma DNA is still in us.
Explain… We believe in the Nordic manifesto. We call our kitchen a Copenhagen kitchen because we respect the traditions and all the chefs who have come before us and we want to continue to build on that. We work so closely with Noma and they have the fermentation facility so we can ferment whatever it is, whether it's leftover bread scraps or squid guts or beef. That is one pillar of the kitchen, then we also have foraging. It means a lot as a chef to be connecting to nature. Whether you are out picking berries or mushrooms, it really connects you a lot. It allows you to think differently about food, or at least to me. That's another key pillar in our kitchen, so to speak. We also have over 195 different crops this year, next year we hope to have even more, and the idea of this is to have the plants of the past and the future. We have 13 different types of Jerusalem artichokes, three different types of shiso, five different types of cucumber, and every morning, I get up and drive to the farm. I go there and harvest with the gardeners we have hired for the restaurant.
You have been a part of this evolution of Nordic cuisine. How has it evolved over the past five to ten years? Did it reach a point where it just too fussy, hence your focus on casual dining here? I don't think so. I think Noma and René changed the game. It's very rare you see a restaurant come in and impact gastronomy on such a global scale. Of course, a lot of people are going to follow that and it's great to see the support from the mother ship has been shown to everyone who has walked through Noma and onto different paths. It's all within the same category, they are just doing different versions of it. What is so great about Nordic cuisine is the fact that it's approachable. It shows a lot of respect towards the produce. Before, there was no clear definition of what it [Nordic cuisine] was exactly. Of course, we compete with each other here in Copenhagen, but it's indirectly. Everyone wants to help everyone out. You can always call up a colleague and ask if they can spare a little bit of this or whatever. It's very nice and I think the competition is healthy.
Is there a dish you are particularly proud of on the menu? Or, something that really took a long time to perfect? Well I'm very proud of all them. Some of them we tested like 25 times, others we only tested a couple of times it just depends on what is new to me. Our new blueberry dish is so amazing! We just lightly marinate them in birch syrup and season it with mint flowers, anise flowers, corn flowers from the farm, a little bit of pine salt that we picked in the spring time, then it's served with a heavy scoop of double cream made with toasted seaweed and reduced ale. It's a fund dessert and something you don't see that often.
Let's talk more about the atmosphere. What did you do to create the casual vibe? Putting the tables close together creates a special atmosphere. Sometimes they will even share a bottle of wine or taste their dishes. They will talk to each other. But if you don't want to talk to other tables and you are on a romantic date, maybe this isn't the place for you. [Laughs]. Well, we have a few tables that will work for a date night. But most of all we want people to just have fun.
Speaking of other restaurants, where do you like to dine when you are off-duty? When I have time and it's very casual, I like to go to Christian Puglisi's Mirabelle to have a pasta dish for lunch or rye bread with chicken salad. It's very comforting. Also, it feels like home to me. I also love going to Baest. When it is about going out and dining, I like to take it easy or go to a very very nice restaurant. It's not just about the food it's about the service and the ambience. That is the equivalent of relaxation or me, I don't have to do anything!
108, Strandgade 108, 1401 Københaven K, Denmark. Booking details: Reservations can be made online at www.108.dk. Diners without reservations are welcome to enjoy the same menu at the walk-in table.