Inside a 17th Century Roman Palace Fit for Modern Princesses
Lucia Odescalchi and her daughter, Sofia, are royally down-to-earth.
---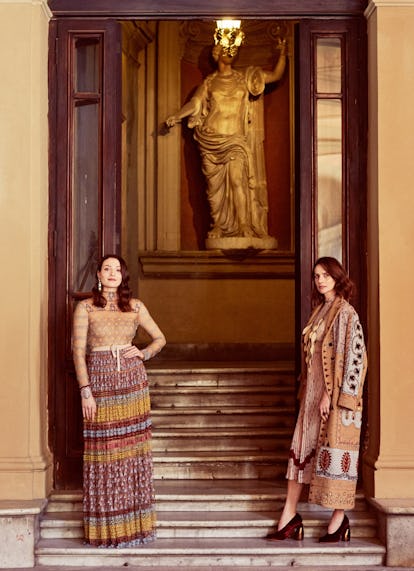 Photograph by Laura Sciacovelli, Styled by Gianluca Longo
Changing of the Guard Lucia Nalli was a university student in Rome when she met her future husband, Carlo Odescalchi, at a party in the mid-1980s. "He's a good dancer, and I noticed him and started dancing with him," she recalls. "It was love at first sight." The daughter of an engineer from Genoa, she was gimlet-eyed even then: It turned out that Odescalchi was a Roman prince, and a descendant of three popes. That ochre palace in central Rome designed by Bernini in the 17th century? The one with all the Caravaggios? That's his family pile. (Credit its construction and continuous inhabitancy to centuries of Odescalchi success in banking.) After Nalli married Odescalchi, in 1987, the palazzo became her home. "It was strange when I first moved in," she says. "One of the statues in the courtyard, by Antínoo, it's like he knew what I was doing—he seemed to be thinking, Oh, you're late! My husband's great-uncles and -aunts didn't go outside much and used to just walk around the palace. They'd say hello when I passed through, but sometimes I'd wait for them to make their rounds before leaving because they scared me! The people who have lived inside that palace all have their own stories. And now it's us."
The Jewel in the Crown Princess Lucia Odescalchi has since carved out an unusual life as chatelaine. After working as an in-house model to Valentino in the '80s and '90s, when the couture studios were still in Rome, she took up jewelry design. "I studied architecture, because I never had a feeling for fabric, more for things you could hold in your hand." She developed slowly, at first reproducing antique and Roman jewelry for museum shops, until her own creativity took over. Odescalchi's jewelry is bold, with oversize proportions and bright colors. She pairs age-old techniques with precious and industrial materials: Diamonds are set in steel and carbon fiber, and pearls are dipped in PVC. "My jewelry isn't minimalist," she says with a chuckle, stating the glaringly obvious. Her tiny flagship boutique is hidden within the palace walls, its original frescoes accented by mismatched chandeliers, a blue-painted floor, and steel furniture. It's one of Rome's most insider addresses, but her pieces get exposure on the wrists and earlobes of women as diverse as Princess Caroline of Monaco and Eva Mendes. "My clients already have fantastic jewels and only buy from me if I do something they don't have." Since there aren't a lot of designers hand-making chain mail studded with semi­precious stones, to be worn Khaleesi-style on top of an overcoat, business is thriving.
Inside the Roman Palace of Lucia and Sofia Odescalchi
Sofia and Lucia Odescalchi (from left) at home in Rome, both wearing Valentino clothing and Lucia Odescalchi jewelry. Lucia wears dries van Noten pumps.

Photograph by Laura Sciacovelli, Styled by Gianluca Longo
The palazzo is among the grandest residences in the city.

Photograph by Laura Sciacovelli, Styled by Gianluca Longo
A painting of Pope Innocenzo XI Papa Odescalchi, 1670, in the entrance to the Odescalchi apartment.

Photograph by Laura Sciacovelli, Styled by Gianluca Longo
Lucia updated the decor with modern pieces, like these steel tables by the artist Coralla Maiuri in the sitting room.

Photograph by Laura Sciacovelli, Styled by Gianluca Longo
Lucia, with her husband, Carlo, in 1988, wearing a Lancetti haute couture dress.

Courtesy of Lucia Odescalchi
Odescalchi's showroom within the palazzo walls.

Photograph by Laura Sciacovelli, Styled by Gianluca Longo
Aluminium chain necklaces of her design.

Photograph by Laura Sciacovelli, Styled by Gianluca Longo
A steel necklace with a gold and steel Victorian brooch.

Photograph by Laura Sciacovelli, Styled by Gianluca Longo
Statues in the arcade gallery.

Photograph by Laura Sciacovelli, Styled by Gianluca Longo
Odescalchi, wearing an Ermanno Scervino dress and her own jewelry.

Hair by Giulio Ordonselli; makeup by Martina D'Andrea at Atomo Management; Photography assistant: Anna Brignolo; digital technician: Elisa Marchegiani; fashion assistant: Alessandra Filieri

Photograph by Laura Sciacovelli, Styled by Gianluca Longo
A work by Cristiano Pintaldi hangs in the apartment.

Photograph by Laura Sciacovelli, Styled by Gianluca Longo
Lucia, modeling in a catalog for Cartier, late-1980s.

Courtesy of Cartier
An ornate chandelier is offset by a photograph of a Christmas ornament by the artist Maria Cristina Finucci.

Photograph by Laura Sciacovelli, Styled by Gianluca Longo
Mother Knows Best A little more than a decade ago, when her daughter, Sofia, was 12, Odescalchi overhauled the family's private apartments. "I got rid of the dark fabrics on the walls, the heavy curtains, and gold-framed paintings," she says. She painted the walls white and added contemporary pieces like a steel sectional coffee table, and bubblelike glass sculptures by her friend the designer Coralla Maiuri. She also opened things up, putting in big doors between the kitchen, where her husband does all the cooking, and the contemporary main dining room (he designed the leather arabesque table). While life in a palazzo has its perks, including formal dinner parties featuring classical musicians, the family is surprisingly down-to-earth. When Sofia was a teenager, Lucia would hire her and her friends to wait on dinner guests for pocket money. "My mother is a real worker," says Sofia, who has modeled and interned as a fashion PR in Paris, renting an apartment in the very unaristocratic neighborhood around the Gare du Nord. "People think just because I have this title, I sleep on a golden bed. But the only real princess in my family is my grandmother."
Watch W's most popular videos here: