Inside Artist Athena Papadopoulos' Little Butcher Shop of Horrors
The London-based artist's new installation at New York gallery Shoot the Lobster is a bloody fright.
---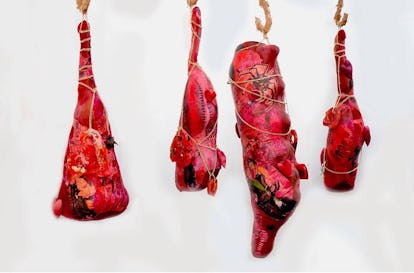 Courtesy of @comagallery
A packed, narrow gallery on the Lower East Side can often be tricky to navigate on opening nights, but visitors to the unveiling of Athena Papadopoulos's exhibition "Wolf Whistles" at Shoot the Lobster had to be especially cautious. Until December 11th, the Canadian-born, London-based artist has transformed the space into more of a butcher shop than a gallery, suspending a spread of low-hanging, bloody-looking masses from the ceiling with cords adorned with disembodied animal claws whose nails have been painted red.
Self-tanner, red wine, lipstick, and more everyday materials are responsible for the bloody hue on Papadopoulos's soft, hand-stitched sculptures, which are accented with faux frog legs, freeze-dried bloodworms, G-strings, and images from the artist herself, including of her own head. Luckily, visitors seem to be minding their own as they weave their way through the carnage, making it out alive to post it all on Instagram.