Inside Marilyn Minter's Colorful, Irrepressible, Art-Filled Hideaway in the Woods
In Cold Spring in upstate New York, the artist has built a house for herself, stuffed full of art that isn't her own.
---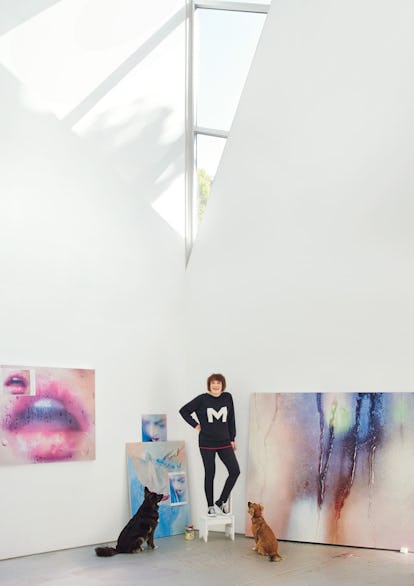 Photographs by Jason Schmidt; Hair and Makeup by Tinna Empera for Cloutier Remix; photography assistant: Kyle Knodell;
Marilyn Minter has to be the friendliest provocateur you'll ever meet. "I'm considered controversial," she declares. "But I'm Southern and sociable. I'm a bad girl, but I'm always polite about it." A bubbly, welcoming figure in person, the artist seems a far cry from the firebrand who challenges cultural perceptions of the female body (take her "Plush" series of photographs of women's pubic hair, a commission for Playboy that never ran), and the fashion and beauty industries (in erotically charged, lush yet disquieting paintings like 2007's Blue Poles, a close-up of heavily shadowed eyes). Those works—along with many others, like the 1969 photographs Minter took of her alcoholic and pill-addicted mother, or I'm Not Much But I'm All I Think About, a 2011 video in which the letters M and E, along with a pair of silver M&M's, are repeatedly dropped into an oozing mixture of vodka and silver food coloring—are currently on view at the Brooklyn Museum, in "Marilyn Minter: Pretty/Dirty," a retrospective that originated at the Contemporary Arts Museum Houston.
"The ongoing theme in my work is fashion and glamour," Minter says, adding that she takes a lot of flak for her depictions of women's bodies, clothing, shoes, and jewelry, which comment on fashion photography and our attitudes toward female sexuality. "I'm always looking for the paradox. The idea of glamour is so shallow, so debased, and yet it gives people so much pleasure and is a huge industry. I have a love/hate relationship with it."
The relationship she has with the weekend house she shares with her husband, Bill Miller, in Cold Spring, New York, on the other hand, is decidedly less complicated. The clean-lined, airy interiors, with their contemporary furniture and works by fellow artists—like Mary Heilmann, Lawrence Weiner, and Jeff Elrod—are as cheerful as Minter herself. "I come up here to chill," says Minter, who also has a studio in Manhattan, as well as a loft in which she has lived since the 1970's. "There's no art world up here, but we can dip in and go to Dia:Beacon or Hudson." Most of the time, she says, "I garden, and Bill landscapes." For Miller, a retired investment adviser, moving large rocks and shrubs around is "my relaxation." The couple enlisted the landscape designer Edwina von Gal to help them with, among other things, designing a succulent garden filled with planters made of tufa, a rugged-looking, porous limestone. "You can't grow flowers here," Minter notes. "They're like candy bars to the deer."
The house itself is, as Minter aptly describes it, eccentric. "People think I did the house because I'm an artist," she says. The couple hired Stan Allen, the former dean of Princeton University School of Architecture, who had renovated their Soho loft in the 1990s. Allen likens the structure, which was completed in 2000, to "a loft in the country." The modest board-and-batten house originally had an open living-dining-kitchen space, two rather small bedrooms, and a basement. A few years later, Allen added two guest rooms to the basement and, more recently, a proper studio for Minter, so she could work undisturbed. That towering, five-sided outbuilding has a sloping ceiling with a gridlike pattern of ­fluorescent- and incandescent-light fixtures, allowing Minter to re-create the conditions of a particular gallery or museum; two almost-30-foot-high walls accommodate her large-scale paintings.
And since Minter didn't want to have to go outside to get from the ­studio to the house, Allen bridged the two spaces with a two-story structure they call "the link." The link's ground-floor foyer is lined with silver ­­leaf–flecked wallpaper designed by the photographer Bing Wright for ­Maharam Digital Projects, and, in a nod to Minter's Florida upbringing, the upper level creates a sort of enclosed breezeway. Overlooking the succulent garden and a wooded, rock-walled hillside that is Miller's ongoing project, the space is furnished as a sitting room, with a long tufted banquette designed by Giancarlo Valle, a young architect who worked for ­Allen before going out on his own; Valle also designed the elegant jumble of angled oak cabinets that Minter and Miller refer to simply as the coat closet, as well as the fountain in the garden. (Valle, who is working with the couple on further renovations, is also engaged in projects with fashion brands like Jason Wu and Thakoon.) Lounge chairs by Patricia Urquiola mingle with a pastel-pigmented sand stool by Kueng Caputo and a string stool by Anton Alvarez—the latter two are represented by Jeanne Greenberg Rohatyn, who is also Minter's New York dealer. "I don't want to live with anything that seems precious or nostalgic," Minter declares. "I like to live with things that look like the times I live in."
There's almost none of Minter's own work on the walls, except for the mural Kicksilver, a depiction of a woman's feet in high-heeled sandals (like Wright's wallpaper, it was done for Maharam). And she agreed to that only because "Bill insisted," Minter says. "I like looking at other people's art in my house. Art is the only thing I buy. I'm not interested in owning anything else. I'm a bad consumer."
Inside the Artist Marilyn Minter's Upstate New York House
The artist Marilyn Minter, in her studio in Cold Spring, New York, with her dogs, Finn and Bowie; on the left are two works in progress and on the right is Thigh Gap, 2016.

Minter wears Marni sweater; her own jeans and shoes.

Photographs by Jason Schmidt; Hair and Makeup by Tinna Empera for Cloutier Remix; photography assistant: Kyle Knodell;
The exterior of her Cold Spring residence.

Photographs by Jason Schmidt
Minter's husband, Bill Miller, in the back garden, with a lamp by Jayson Musson from 2014.

Photographs by Jason Schmidt
The "link" between Minter's studio and residence is furnished with pieces by Anton Alvarez, Kueng Caputo, and Patricia Urquiola. On the wall are, from left, Kara Walker's Untitled, 2009, and Kenny Scharf's Madoil, 2010. The jumble of boxes, designed by the architect Giancarlo Valle, conceals a coat closet.

Photographs by Jason Schmidt
In the entrance to the house, a chair by Heilmann from 2004 sits below a print by Sue Williams. The wallpaper is by Bing Wright for Maharam Digital Projects.

Photographs by Jason Schmidt
In the dog foyer, Andrew Brischler's Heaven
 Can Wait, 2013, hangs over the bench.

Photographs by Jason Schmidt
In the living area, a large shelf unit displays work by Marcel Dzama, David Mramor, Michael Ballou, Joyce Pensato, Cady Noland, and Mary Heilmann.

Photographs by Jason Schmidt
An exterior view of the house, with Minter's towering studio, at right.

Photographs by Jason Schmidt
A Look Back at All of Marilyn Minter's Pretty, Pathological Glamour
Collection of Danielle and David Ganek, courtesy of the Brooklyn Museum
Courtesy of the artist, Salon 94 New York, Regen Projects Los Angeles, and the Brooklyn Museum
"100 Food Porn #9," 1989-90.

Hort Family Collection, courtesy of the Brooklyn Museum
"Coral Ridge Towers (Mom Smoking)," 1969.

Collection of Beth Rudin DeWoody; courtesy of Brooklyn Museum
Courtesy of the artist, Salon 94 New York Regen Projects Los Angeles, and the Brooklyn Museum
Private collection, Switzerland; courtesy of the Brooklyn Museum
Private collection, Palm Beach, Florida; courtesy of the Brooklyn Museum
Collection of Gregory R. Miller and Michael Wiener, New York; courtesy of the Brooklyn Museum
Courtesy of the artist, Salon 94 New York, Regen Projects Los Angeles, and the Brooklyn Museum
"Coral Ridge Towers (Mom Making Up)," 1969.

Collection of Beth Rudin DeWoody; courtesy of the Brooklyn Museum
Collection of Jeanne Greenberg Rohatyn and Nicolas Rohatyn, New York; courtesy of the Brooklyn Museum
Collection of Bill Contente, New York, courtesy of the Brooklyn Museum
Still from "Green Pink Caviar," 2009.

Courtesy of the artist, Salon 94 New York, Regen Projects Los Angeles, and the Brooklyn Museum
Collection of Jean-Olivier Després, Paris; courtesy of the Brooklyn Museum
"Coral Ridge Towers (Mom Smoking Extra Long)," 1969.

Collection of Beth Rudin DeWoody; courtesy of the Brooklyn Museum
Private collection, courtesy of the Brooklyn Museum
Courtesy of the artist, Salon 94 New York, Regen Projects Los Angeles, and the Brooklyn Museum
"Not in These Shoes," 2013.

Courtesy of the artist, Regen Projects Los Angeles, and the Brooklyn Museum
Courtesy of the artist, Salon 94, and the Brooklyn Museum
Still from "Smash," 2014.

Courtesy of the artist, Salon 94 New York Regen Projects Los Angeles, and the Brooklyn Museum
Watch W's most popular videos here: