Inside Chinese Tuxedo, the New Hot Spot Shaking Up Chinatown with an Australian Twist
The new restaurant from Eddy Buckingham wants to remake your Sunday night Chinese take-out order: "We're not trying to revolutionize Chinese dining, we just want to bring it in step with 2016."
---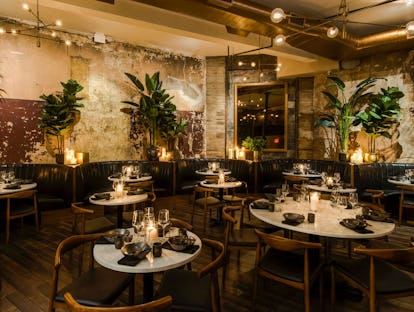 Growing up in Australia, Eddy Buckingham would spend weekends frequenting eateries in Sydney's Chinatown and summering in China. So when the 33-year-old arrived in New York in 2009 to open a bar in Midtown, he was determined to explore New York's Asian cuisine scene. Luckily, his contractor-turned-partner, Jeff Lam, considered himself somewhat of an expert on the subject.
As they toured Manhattan's downtown Chinese dining choices, a consensus emerged.
"East Asian cuisine is so exciting and dynamic," Buckingham said. "But I saw that Chinese food hadn't translated well in the U.S.; it's stuck in a time warp and stigmatized as a cheap eats option."
Over a dim sum lunch, the two began lamenting about the lack of sophisticated Chinese options and saw potential for a trendy, sit-down restaurant that had the style and atmosphere that lower Mott Street sorely lacked. Thus, Chinese Tuxedo was born.
Located in a famed Opera House building in the heart of Chinatown, the venue took nearly two years to renovate and opened last week.
"The street looks like it's from a film set and you typically don't find venues of this scale in Chinatown," Buckingham said.
"We didn't want to hit you over the head with Chinese-ness. Instead we wanted the history of the space to do the work, and just have subtle Chinese nods to bless the space," he explained of the black metal and brass color scheme, a color combination that symbolizes luck. He also accented the restaurant with geometric shapes inspired by the Chinese character for double happiness.
As for the cuisine, Buckingham recruited an Australian friend who headed the kitchen at an East Asian restaurant in Sydney. "Chinese is a huge part of our food culture in Sydney, and it was important that I had a locally engaged chef who knew the cuisine and would also focus on the quality of the food," Buckingham said, adding that he is commited to using fresh local produce rather than the heavily sauced cheap eats you find around Chinatown.
And while fried rice and noodle dishes are staples, Buckingham wanted to challenge his customers with more authentic dishes you find abroad, such as crispy skin squab and roast duck salad. Simpler dishes include egg noodles with kombu butter and vegetable dumpings, which are made by hand in-house.
His end goal is simple: "We're not trying to revolutionize Chinese dining, we just want to bring it in step with 2016."
Calling Card The cast iron door with Chinese characters on Doyers Street.
New York History The original Chinese Tuxedo opened in Chinatown at this very location in 1897.
The Menu With a menu in both English and Chinese, the prices range from $3.5, for the oyster and ginger mignonette, to $58, for a sirloin steak.
Music Eclectic and "a little bit obtuse." Think 80's era hip hop and nu disco, get ready for a good time.
The Basics 5 Doyers Street, New York, New York. For reservations, call 646-895-9301 or visit chinesetuxedonyc.com.
Denée Benton Loves Singing Whitney Houston at Karaoke