Inside Lalo, Chinatown's Newest Mexico City-Inspired Hotspot
Chef Geraldo Gonzalez, formerly of cult eatery El Rey, opens a new hotspot in downtown Manhattan that recalls the diners of Mexico City.
---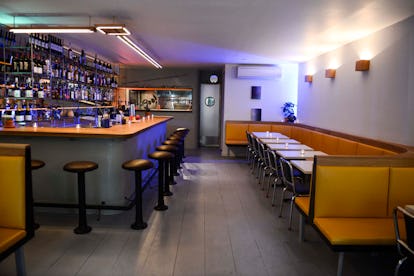 It was barely past 7 p.m. on a Monday night and Lalo, the newest addition to Chinatown's restaurant scene, was already packed. The eatery is the brainchild of 34-year-old California transplant Gerardo Gonzalez, who made a name for himself managing his first haunt El Rey, which quickly became a mainstay among models, stylists and the downtown demimonde.
In fact, it was at that restaurant where chef Gonzalez met his current business partners at Lalo: "This opportunity came and it's in a magical area…It was fate."
Lalo's menu is inspired by the local Mexican dishes Gonzalez grew up eating in San Diego. "Food-wise we always kept it simple. I would go on fishing trips with my dad, and if he caught a tuna, he would just smoke it. He would do very simple treatments to highlight the flavors," Gonzalez recalled, citing Lalo's beef carnitas as a dish inspired by the ones he would get at his favorite childhood restaurant.
But Lalo, which is Gonzalez' nickname, also incorporates a variety of flavorful vegetarian options, such as the cucumber salad, Gonzalez's favorite, which he adorns with mint, candied peanuts, and a brown mole vinaigrette, or the toasted kasha salad that comes with butter toasted kasha, lemon segments, raw crimini mushrooms, and caramelized onion. To accompany the meal, Gonzalez offers Mexican, California, and traditional Spanish wines, and eccentric cocktails like the Wilde Spritz, a refreshing brew of pamplemousse liqueur, fennel, lime, and cava.
For those with a sweet tooth, Gonzalez enlisted baker Lexie Smith, who believes dessert should be a continuation of the meal, rather than a mouth-wateringly yummy finish. Smith's favorite is the slow-candied kabocha squash garnished with shredded seeds and yogurt ("It's not that sweet").
But it's more than the food that is inspired by Gonzalez's Mexican heritage. "The design looks like it could be in Mexico City or Barcelona. There's something timeless but new to it," explained Gonzalez, who was inspired by the local art he saw during trips he took to Mexico City. The eatery's design is also a nostalgic ode to classic New York diners, complete with bar stools and banquettes, which Gonzalez modernized with a sleek minimalistic aesthetic.
While the eatery has barely been open a week and reservations already have to be made in advance, Gonzalez is determined to make it a democratic haunt. "Lawyers, tourists, and people just getting out of jury duty – everyone is welcome," he said.
Calling Card An unidentified door on Bayard Street.
The Door Make a reservation. Like now.
Tribes The fashion crowd (models, editors, stylists), fellow restauranteurs, and downtown movers and shakers.
Music Tropical meets alternative.
Basics Drinks start at $12, appetizers at $9, and mains at $15. 104 Bayard Street, New York, NY 10013.
All Aboard! The Holiday Shopping Train Is Leaving the Station