Inside the Reborn Union Square Café: A New York Icon Gets a Makeover That Retains Its Soul
David Rockwell's new design of Danny Meyer's first restaurant is a modern take on a classic.
---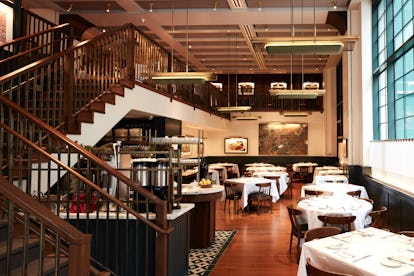 Chaunte Vaughn
When the Union Square Café announced that it would be leaving its longtime home on East 16th Street in Manhattan, loyal customers were heartbroken. Even though the restaurant — Danny Meyer's first, and arguably still most famous (outside of Shake Shack, of course) — would be moving to a new space, they'd miss the old one, in spite of its awkward layout and narrow, cramped bar. But fear not. Union Square Café's new home, at 19th Street and Park Avenue South, opened on December 8, and the space, designed by the Rockwell Group (who also designed Meyer's restaurant Maialino, at the Gramercy Park Hotel), pulls off an intricate feat by recalling some of the best-loved aspects of the original space while creating something that feels brand new and very lively.
For David Rockwell, a longtime patron of the restaurant and a friend of Meyer's, the challenge was taking those elements from the old space that he felt were "not visible to the eye, yet idiosyncratic," and evoking those "building blocks of experience" in the new one. That included everything from making the new walnut bar exactly the length — 27 feet, one inch — of the old one (but in a more expansive space), to replicating the restaurant's signature dark green paneling and wainscoting, to re-hanging its collection of American paintings, including works by Frank Stella, Claes Oldenburg, and Judy Rifka, among others.
But Rockwell was never driven by nostalgia. He was dealing with an entirely different space, and he makes the most of it. The generous dining room includes a main-floor area with tall windows and café curtains that frame views of the surrounding buildings while screening the foot traffic outside. There's a mezzanine with several distinct seating areas on two levels, two private dining rooms, and a cozy upstairs bar, whose wooden top was taken from the old space and which has its own tables. These seats already look like they're going to be, as they say, highly sought-after.
The new design's attention to detail produces an experience that's pleasurable on many levels: updated café chairs, with a Scandinavian-modern vibe, that are far more comfortable than most new restaurants these days; elegant hanging lights that imply a lower (and more intimate) ceiling plane in the double-height main space; acoustic fabric-wrapped panels in the ceiling to moderate the sound level; and terra cotta floor tiles at the entrance to evoke that of the original restaurant. A new menu from executive chef Carmen Quagliata maintains some classics, like the USC Burger and the New York strip steak with marrow mashed potatoes, while tweaking others (the yellowfin tuna burger is now cut by hand instead of being ground), and adds plenty of new items, like pappardelle with duck confit and chanterelle sugo, brussels sprouts and honeynut squash.
Rockwell even moved the entrance around the corner to make it friendlier: "Entering on 19th Street makes it feel like a neighborhood place, not a Park Avenue Place," he says. If only. Book now.