The Outsider: Interrupting the Clinton Global Initiative to…
I do my bit for the critters by buying as many leather-free shoes as possible, so while my office mates are lusting after Burberry and Isabel Marant boots this season, I opted for the far...
---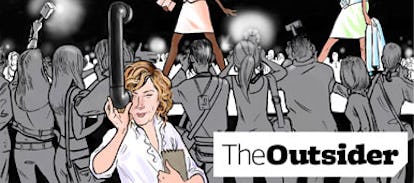 But try as I might, I kept coming undone. Well not completely; there's a chunk of Velcro that prevents that from happening. It's just that for a shrimp, I have long legs. And in my attempt to stretch my new boots to my knees (avoiding that universally unflattering mid-calf mark), I was creating a disheveled zig-zag effect, and flashing skin in the process.
Which brought me to the Clinton Global Initiative. After writing to the TOMS website in the hopes of connecting with a customer service rep, I received the following message: TOMS founder Blake Mycoskie (above right) was in New York attending the former President's annual power pow-wow this week. Perhaps I'd like some assistance from the creator himself?
So yesterday, I braved the Sheraton in midtown (soooo packed) to meet up with Mycoskie. Wearing a dapper vest and more jewelry than I've ever seen outside the vitrines of Bergdorf Goodman, he plopped down on a lobby couch to take a break from all the moving and shaking at the summit, which he's attended three years in a row. "It's great, but at this point, it's become like a family reunion," he says. "If I'm not careful, I get can stuck talking to a weird uncle for an hour."
TOMS Vegan Wrap Boot, $98.
Photographs by Christos Katsiaouni