Nikohl Boosheri & Sarah Kazemy
The provocative screen debut by two Iranian actresses.
---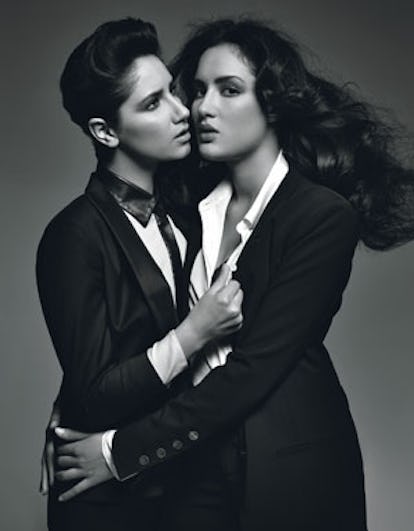 Actresses Nikohl Boosheri (left) and Sarah Kazemy claim that they're a bit baffled at characterizations of Circumstance—winner of an Audience Award at this year's Sundance Film Festival and opening this month—as "a hot, lesbian Persian film," despite its sensual depiction of two schoolgirls experimenting with their nascent sexuality in repressive Tehran. (That it was deemed "anti-Islamic" by the Iranian media didn't surprise them a bit, though.) "They have this kind of relationship that happens a lot with young girls," says Boosheri, a Vancouver native who plays the rebellious daughter of a wealthy liberal family. "You fall in love, and you create this safe place to experiment and grow, but I don't think they'd have this relationship with any other woman. We never saw it as a gay film." The movie—shot in Lebanon in Farsi with English subtitles—is also striking for its rare depiction of Tehran's pulsing underground club scene. Western dress is de rigueur at parties, and a pirated copy of Milk is dubbed into Farsi behind closed doors. It's a world that both actresses, making their film debuts, researched in depth: The Paris-based Kazemy visited relatives in Tehran to experience it firsthand, while Boosheri went online, only to encounter for herself the state surveillance that ultimately pulls the screen lovers apart. "I'd go to Google Images and find these pictures of boys and girls dressed in jeans, tank tops, and makeup—no scarves—smoking and dancing," she says. "But when I'd click on one of them, I wouldn't be able to find it. And by the time I'd refresh the page, it wouldn't be there anymore."
Hair by Gavin Harwin for Redken/Cutler Salon; makeup by Fulvia Farolfi for Chanel. Digital Technician: Joseph Borduin. Photography Assistants: Ian Rutter and Dave Barron. Fashion Assistant: Eva Lick.