As Ireland's Abortion Ban is Repealed, Celebrities Like Róisín Murphy and Tatiana Maslany Weight In
A historic referendum Friday resulted in the repeal of a long-standing abortion ban in Ireland.
---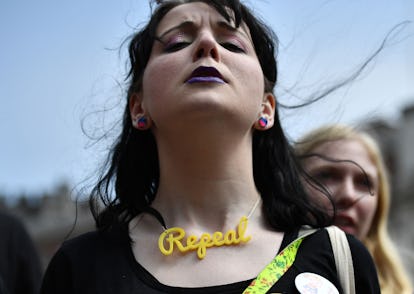 Charles McQuillan/Getty Images
On Friday, voters flocked to polls across Ireland to cast their ballots on a referendum to repeal the eighth amendment, which bans abortion. For the past month, a varied group of Irish celebrities, including Cillian Murphy, Saoirse Ronan, and the musician Hozier, have weighed in in support of repealing the ban, while reports emerged of Irish citizens around the world booking trips home to vote in the referendum. (This, as Jezebel pointed out, echoed a similar influx of voters who helped legalize gay marriage in Ireland in a 2015 vote.)
Throughout the day, many of those same celebrities took to social media to encourage voter turnout; late Friday, an early exit poll pointed to a decisive victory for the repeal vote, with 68 percent in favor of repealing and 32 percent against, according to Jezebel. (In Dublin, this number rose to 77 percent; among voters ages 18 to 24, the vote was 87 percent in favor of repeal.) Irish journalists provided rigorous, regular updates on the vote on Twitter, while non-Irish individuals offered words of solidarity.
And, later, as the results rolled in, celebrities from Ireland and beyond continued to express their support on social media. Musician Lisa Hannigan, for example, was struck speechless: "I've no words," she tweeted early Saturday. (Hannigan's Twitter avatar, at the time of publication, was overlaid with the logo of "Together For Yes," a pro-repeal campaign; others added "YES" in block capitals to their display names.) "My country is brilliant!!" Roísín Murphy tweeted on Friday, adding Saturday, "My country I love you." Actor Tatiana Maslany, the Canadian star of the BBC America drama Orphan Black, tweeted, "Go on, Ireland!!!!" accompanied by the Irish flag and fist emojis in all five Unicode skin tones. Former Planned Parenthood president Cecile Richards wrote, "This is a victory that shows overwhelming public support for the ability of pregnant people to make their own health decisions." Here, a few of the most notable celebrity reactions to the historic abortion ban repeal.