Is This a Fashion Week Party or a Film Festival? Stars Turn Out in Droves for New Cartier Mansion
Sienna Miller, Rooney Mara, Katie Holmes and more turned up to Cartier's glittering, renovated Fifth Avenue Mansion to kick off New York Fashion Week.
---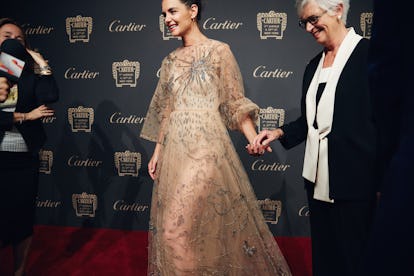 Katie Thompson
As legend has it, the Cartier Fifth Avenue Mansion was acquired by Pierre Cartier in 1917 for the price of 128 natural pearls. The seller was Morton Plant (son of railroad tycoon Henry B. Plant), who gifted the $1 million strand to his wife, Masie. It was this kind of fairy tale lore that imbued the six-story palace on Wednesday night, as Cartier reopened its flagship store after two-and-a-half-years of renovation. Boy, does it show.
Architect Thierry Despont – who also worked on the renovation of one Ritz Hotel in Paris – oversaw the redesign, which features salons dedicated to famous clients like Elizabeth Taylor and Princess Grace of Monaco, and culminates in a rooftop terrace, where the likes of Rooney Mara, Taylor Schilling, Ruth Negga and Katie Holmes settled at the opening event.
"To be honest, my experience of New York Fashion Week is from afar and online," said Mara, who wore Givenchy. This week would be no different – she's off to the Toronto Film Festival where she has three movies to promote: Lion, Una, and The Secret Scripture. Immediately following, she'll jet to Italy to begin filming Mary Magdalene; in the meantime, she was appreciating all that fashion week had to offer. "I'm wearing these tonight, I think they're from the 30s," she said, gesturing to two blinged-out cuffs on her wrists. "I don't really wear a lot of jewelry – everything I wear is subtle and quiet – so I keep looking down. I've never worn anything like this." Sounds like she would prefer the more subdued Cartier Love Bracelet, but she's still waiting on that particular gift. "Someone will have to get me one one day…" she quipped.
After touring the store, guests made their way across the street to an after party, where Beyonce protégé's Chloe x Halle performed, as well as Ellie Goulding. But like at many events during this busy week, the food stole the show, especially the mini grilled cheeses pressed with an old-fashioned iron, and the table overflowing with Momofuku Milk Bar cake balls. And after getting their fill, partygoers made their way out to Fifth Avenue to attempt to catch a cab. As Mara had summarized fashion week earlier: "There's a lot of traffic right now."
Inside Cartier's Fifth Avenue Mansion Grand Opening
John Demsey and Kelly Bensimon.

Photo by Katie Thompson.
Watch Jodie Foster and Priyanka Chopra Channel the Princess of Pop Britney Spears