Isa Tapia Designs Shoes Made For Dancing
"Always have a pair of dancing shoes in your closet, as you never know what the future will hold," says the designer.
---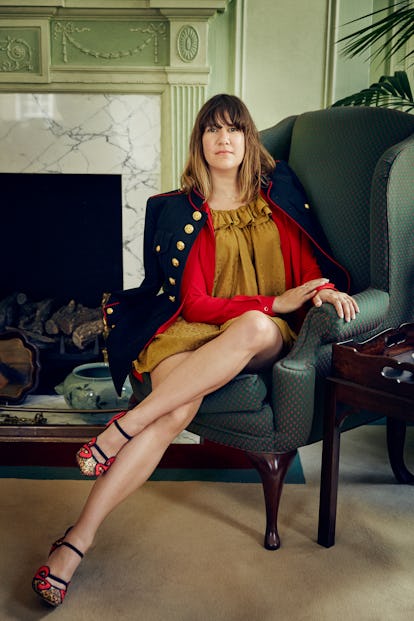 New York-based footwear designer Isa Tapia launched her namesake label in 2012, after working for fashion legends Marc Jacobs and Oscar de la Renta. Her signature style is colorful and eclectic, recently inspired by a trip through Spain as well as the late David Bowie. Here, Tapia talks her obsession with sketching, building a business, and designing heels for the modern woman.
How did you get your start in fashion? Why did you go into designing accessories? Ever since I was little I wanted to be a designer. My mother enrolled me in drawing and art classes early on. When my middle school was organizing a school play and I auditioned for the role of costume designer, I knew I wanted to work in fashion. I enrolled in Parsons to study fashion after high school. Shoes came later — I had started working with Oscar de la Renta, traveling to Florence and working with the shoe agents and at the factories and then I knew it was my calling to move from ready-to-wear to focus exclusively on shoes.
What was it like getting your business of the ground? Nothing really prepares you for owning your own business. I worked in various companies before I started my own, but as a creative person it was very hard at the beginning to be in charge of a business. If you're an entrepreneur you sort of morph into a different kind of creative type, you adjust and learn with every situation that comes your way. You have to manage people, budgets, targets…It's actually made me a better designer to go through the growing pains of starting a business.
What style do you find is most popular with your customer? My customers love color! I do better with bright color shoes than with black. It was a great surprise to learn this — throughout my career I have been trained to always have the black SKU because that will sell the most, but a bright blue or red does much better for me then an all-over black shoe would ever do! Low heels too — many women I know, including myself, are very busy. We need to move, to go, we have things to do during our day. We want to feel feminine, sexy, but not be crippled in teetering heels. That's why I spend a lot of time working on my lower heels patterns. It's not the easiest task — every pattern looks amazing in a 100 mm — but it's rewarding to wear something low or flat that feels flattering and sexy at the same time. I take pride in my mid heels and flats, and wear them a lot.
What accessories trends are you seeing among women right now? Many fun espadrilles and many fun sneakers. There's a good balance to how women are dressing now-a-days, with an elevated sense of ease. Its good to see women wearing a dressy outfit with white Stan Smiths, it's refreshing, chic and modern. I love a sneaker but maybe mine are in velvet or have embroidery. There's a constant balance between high/low that I really enjoy: an evening gown with a flat, a suit with a sneaker, a pair of cut off jeans with a sexy retro platform.
Has there been a favorite moment since you launched? Seeing my shoes at a store for the first time was a great moment and meeting customers. It really keeps me going to see people react positively to my work, it makes me inspired to keep creating. Its almost a disease how obsessed I am, I think about shoes everyday. I carry around multiple sketchbooks at a time and a set of these tiny pencils, its ridiculous!
Let's talk Fall 2016. Where did you get started, and what did you want to communicate? It all came together on a two week trip to Spain that started in Madrid and ended in Ibiza. (In case you were wondering where the crazy psychedelic Bowie platform shoes came from!) The use of color came from the flamenco dancers' dresses in Valencia as did some of the ruffle scallop ideas. Then there is some embroideries from 1800's matador outfits I found in Alicante — I used the patterns backwards to construct the shoes and recreated the bead work. The lace patterns came from the most beautiful hand painted vintage Spanish fans I bought in Denia. Then there was Formentera, filled with wild flowers and the colors of the sea, followed by some dancing nights in Ibiza. On the way back on the plane I started sketching these David Bowie shoes and calling them Starman, it was July 2015. The weirdest and strangest thing was unpacking the box of samples with those same shoes that arrived January 11, 2016 — the day after his death. Maybe at least it's a happy reminder to always have a pair of dancing shoes in your closet, as you never know what the future will hold. Hopefully it's as sparkly as the Bowie shoes.
Photos: Isa Tapia Designs Shoes Made For Dancing
Isa Tapia. Photo by Alexandra Leese. Produced by Biel Parklee.
Photo by Alexandra Leese. Produced by Biel Parklee.
Photo by Alexandra Leese. Produced by Biel Parklee.
"Starman," the David Bowie shoe by Isa Tapia. Photo courtesy the designer.