Isaac Mizrahi, Cabaret Singer, Thought La La Land Could Have Used More Glitter
The designer, theater enthusiast, and now cabaret singer took a break from his new gig at the Café Carlyle to share his culture diet.
---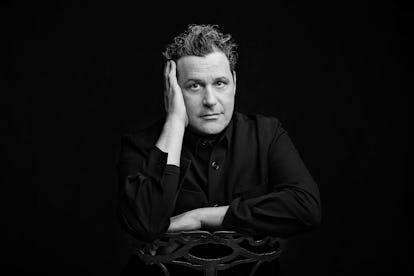 Jason Frank Rothenberg
Isaac Mizrahi may have just opened an already well-received cabaret show at the Café Carlyle a few days ago, but a recent morning found him regarding his latest foray into theater with a touch of regret. "I gave away this nail art that someone gave me in a swag bag last night, and I after did it, I thought, Damn, I could have used that!" he lamented of his performance the previous night, which, along with jazz covers and tales of his supermodel-filled '90s, has the designer gifting audience members his swag accumulated from decades' worth of galas and dinners. The show, called "Does This Song Make Me Look Fat?", runs until February 11, but Mizrahi, who's also optioning movies and writing a memoir, still squeezed in time to share his culture diet, featuring his favorite meme account and why La La Land reminded him of a Coca-Cola commercial.
What's the first thing you typically read in the morning? The obits in the New York Times. I've done it since I was in high school. I just have this weird, morbid streak: I want to know who died. Including myself, I want to see if I died. [Laughs.]
How often do you find someone that you know? Often. It's more and more these days, which is a little terrifying. Of course when Mary Tyler Moore died, I found out in a second on Instagram or something, but I also pick it up for those who are a little bit more obscure, who influenced you or who you actually knew. Yesterday, it was so thrilling because it was Brunhilde Pomsel who died at 106. She was [Nazi propaganda minister Joseph] Goebbel's assistant, Goebbel's secretary. That lady finally died, and it was this amazing obit. And how would you know that unless you read the obits first thing?
What are the books on your bedside table right now? First and foremost, there's Charles Jessold, Considered as a Murderer, by Wesley Stace. It's a novel about music in the early 20th century and it's great. I've optioned it, actually, and I'm hoping to make a movie out of it. There's also Troilus and Cressida by William Shakespeare, because I never read that and I feel like I have to read it. And I have a million memoirs that I've been reading and looking at because I'm writing a memoir. I just re-read Russell Baker's.
Which TV shows have been keeping you up at night? Well, I like everything. Here's the thing: I watch Chopped on loop because I'm out of my mind. It's so incredibly gratifying to watch these people do these incredible things with, like, chocolate-covered crickets. It's funny to me, and very soothing. If you're on network TV, you might get a drift of politics or national or global news and it's so depressing right now, so I have to keep my TV tuned on networks that have absolutely no bearing on the time continuum. It's either the Food Network or TCM or something, and it's only with great trepidation that I tune into NBC, ABC, or CBS, because I know I might be faced with the horrifying reality of our current situation. Seriously, I'm not kidding. So I watch tons of stuff on Netflix: The Crown, which is the greatest thing, and that show called The OA, which I didn't like that much but I still watched the entire thing to get to that silly ending. I watch all the Real Housewives, literally every single one because I love them. I'm not sure if there's anything else—I mean, how much more television can a person watch?
What about the last movie that you saw in theaters? La La Land, which I liked a lot. It got me by the end. When it first began, it felt like some kind of Coca-Cola commercial, but then by the middle it started to get at me. I didn't detest the music, and so it got to me, and Emma Stone can make anything work—she's just so, so, so great, I could look at her do anything. And I thought the ending was superb. I would have liked to have taken a big shaker of glitter and shaken it over the whole thing. I would have liked a little more glamour, just a little, but I know the point was it wasn't supposed to be glamorous. It was supposed to be quite everyday, and I get that. But you know me—I like some form of glamour. [Laughs.]
How about the last thing you saw at the theater? I saw the great, great, great Oh, Hello. I'm so sad it closed, because it was so funny and I could have seen it again. That was the best night in the theater. You know my mom, when I was little, she used to say, "Well, if it's too good, there's nothing to talk about." And it was so good that there's nothing to say about it.
What's the last piece of art that you bought, or fell in love with? The last piece of art I actually bought is by this girl called Holly Coulis, who shows at a gallery in Little Italy called Klaus von Nichtssagend. I by chance saw a show there with her work about two years ago, and I really loved it. You know, sometimes you go, Oh, do I love this as much as I think? And then cut to about three months ago, I was in one of the gallerists' office, because I was buying something else by another artist they represent, and I saw this little still life there of hers and was like, "You know what, I must have that." I just bought it, and I regret not buying a bigger piece of hers from that first show.
What's the last song you had on repeat? Can I just tell you—this is a sick thing—since the election, I only listen to comfort things, because I can't be challenged by music right now. So I listen to a lot of Bach. I've been listening to "St. Matthew Passion" a lot. I listen to "A Charlie Brown Christmas," the Vince Guaraldi record, literally on loop. I go from Bach cantatas to those great old jazz records like Cal Tjader on a loop, and that's it, that's all I can listen to. I can't listen to some fabulous, challenging opera or something right now.
What's the last concert you saw live? I don't go to concerts, sadly, but I went to the opera recently to see that thing at the Met, "L'Amour de Loin," by Kaija Saariaho, which was exquisitely beautiful, beautiful, beautiful.
Do you have any favorite social media accounts to follow? Here's my favorite account on Instagram: Big Gay Ice Cream. It's weird, it's not the most ambitious website, but looking at the ice cream makes me so happy. I don't know what that's about, but whoever's running that account has a good sense of humor and it makes me smile all the time. Big Gay Ice Cream at Instagram. Also, the Horny Nun. Have you seen that? It is hilarious. Very, very naughty and fun.
Are there any releases you're most excited about coming up? I want to see 20th Century Women because I love Annette Bening. I just like looking at her on screen. She knows how to work a camera.
I know it's changed a bit since the election, but how do you typically get your news? A few different ways, but mostly through Twitter. For some reason I can stand it because when you actually have to connect to a link to a story, you're kind of bracing yourself, as opposed to leaving the news on and letting it just happen. You're making it happen at your own pace, and that's why I love Twitter and prefer it to a lot of social networks. Even with Instagram, you have to look at images and you have to scroll. With Twitter, it's all interactive and not just coming at you, so you can kind of pass over things, unless you actually want to go and read the story. And it's madly, madly up to date. The minute anything happens, you know.
Right, like Beyoncé's twins just a few minutes ago. Uh, yeah! Hello!
Have you been going to any protests lately, like for the immigration ban? Well, I fully intended to go to the one in Washington, but then I had a booking so I had to be somewhere and work. Then I wanted to go to the one later that evening in New York City but my back went out, so I thought, marching is one thing, but limping is a whole other thing. This poor old queen limping for his rights. It seemed a little too pathetic, so I didn't, sadly. But I look forward to it. I think it's our only defense. I'm planning on it and planning on getting my back in shape to march.
What's the last thing you normally do before you go to bed? The last thing I do before I go to bed is coat my lips with Vaseline. [Laughs.] I like to have well conditioned lips. I think that's everything in life.
Kate Moss on How Photographers "Always Ask" Her to Take Her Clothes Off: