Isn't It Romantic Trailer: Rebel Wilson Dances Her Way Through a Subversive Rom-Com
Isn't It Romantic is both a spoof of and an homage to the cheesy genre.
---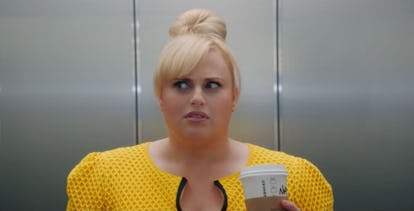 Warner Bros.
As a rule of thumb, the best parts of any romantic comedy are its most unbelievable: the massive apartment overlooking New York's Central Park that our plucky protagonist can afford on a fashion assistant's salary, the highly unlikely meet-cutes, and, of course, the unrehearsed yet perfectly synchronized dance scenes. Isn't It Romantic, starring Rebel Wilson, Liam Hemsworth, Priyanka Chopra, and Adam Devine, features all of those deliciously improbable elements and more—but only after Wilson's character Natalie, a vocal disparager of all things rom-com, experiences a major head injury.
As seen in the film's trailer, which dropped Wednesday, after hitting her head while escaping a would-be purse snatcher in a subway station, Natalie wakes up not with a completely new sense of self, but rather, in a whole new New York City. Her apartment is huge, with a Kardashian-esque closet the size of most Manhattan studios and a freezer stocked with a rainbow of Talenti gelato. Her formerly drab, gray-washed office is suddenly full of impeccably dressed millennials riding those exploding hoverboards around the open-plan layout. (Her job, it should be noted, doesn't have to be transformed, since she's already a rom-com-approved architect.) Even her sense of style, it seems, has been made over: Pre–head injury, Natalie wears muted business-casual separates, but steps into her new office in a bright yellow top and polka-dotted skirt that have no business being put together yet, of course, totally work.
There's also her jaw-droppingly attractive love interest, played by Hemsworth, who calls Natalie things like "beguiling," kisses her in the pouring rain, and, true to PG-13 sensibilities, can't have his clothes ripped off without forcing a smash cut to the following morning. And, of course, no rom-com would be complete without some impromptu singing or dancing; judging by the trailer alone, Isn't It Romantic features a minimum of four impeccably choreographed flash mobs—and you can bet we won't see anybody practicing those moves beforehand at any point in the film.
Watch Wilson, Hemsworth, and company send up every possible rom-com trope in the full trailer, below.
Isn't It Romantic is set to be released on Valentine's Day 2019, obviously, and reportedly counts among its producers the masterminds behind some of the genre's best, including 13 Going On 30 and What Women Want, so you know it's in good hands.
Related: Rebel Wilson