Issa Rae is Developing Two More HBO Series
In addition to working on Insecure and her upcoming '90s period drama, the Golden Globe nominated performer has quite a full plate.
---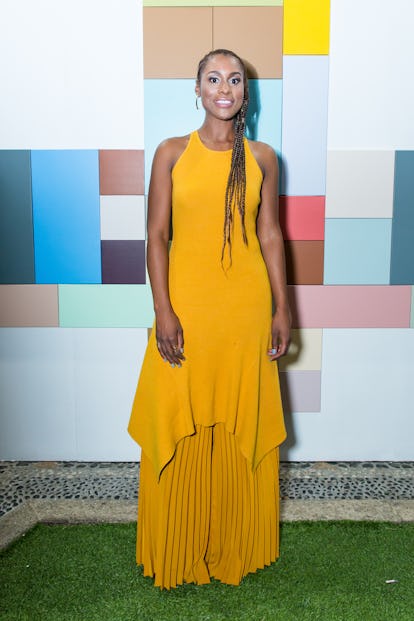 Sansho Scott/BFA.com
For any fans of Issa Rae's Insecure, it's officially time to rejoice. The creator and star of her own show will develop two more series for HBO to fill that void in between seasons of Insecure. The Covergirl's plate is already incredibly full (she recently announced she will executive produce a 1990s period drama for HBO about a black family in Los Angeles, with an up-and-coming writer), but she will move forward with an additional half-hour comedy and a one-hour drama.
Him or Her, the single camera half-hour comedy in development by Rae, focuses on a bisexual black man and his romantic encounters, and will be co-executive produced by Travon Free of The Daily Show. Viewers of Insecure might remember a subplot from the first season where Molly (played by Yvonne Orji) and her boyfriend Jared (Langston Kerman) wrestle with the double standards of bisexuality and the different perceptions of sexual fluidity among men and women. It is paramount that Rae will be developing a show about a bisexual black man, a community that is extremely underrepresented in mainstream media, and if Rae's depiction of varying perspectives on sex and relationships among young black millennials on Insecure is any indication of the level of hilarious insight into underrepresented communities she might give in her next comedic project, Him or Her could be a big hit for HBO and its sought after twenty-something audience.
The one-hour drama Rae will develop for HBO is called Sweet Life, about well-to-do black teenagers growing up in the neighborhood of Windsor Hills, a "Black Beverly Hills" in Los Angeles County. The title, Sweet Life, could be a nod to the 2012 Frank Ocean track of the same name, in which he croons about wealth within black communities and references the "Black Beverly Hills" neighborhood of Ladera Heights, a neighboring community of Windsor Hills. Rae has been known to include Frank Ocean's music on the soundtracks for both seasons of Insecure (and hopefully she won't stop in the show's upcoming third season), so it's a safe bet that the Channel Orange singer's vocal stylings may have had a hand in the naming of this upcoming series.
For those wondering how the Golden Globe nominated performer has been able to churn out show after show, remember that Rae has a first-look producing deal with HBO that began in 2016, which means that through 2018, in addition to producing and starring in Insecure, she will continue to develop programming for HBO and all of its streaming platforms that speaks to a diverse audience. Issa Rae's deal with HBO allows her to be the type of television auteur who, if you turn around for just one second, might have already signed a development deal for the next big thing while you weren't looking.