Covergirl Ditches "Easy, Breezy, Beautiful" Slogan in Rebrand With Issa Rae, Ayesha Curry and More
Their new one pays homage to Toni Morrison.
---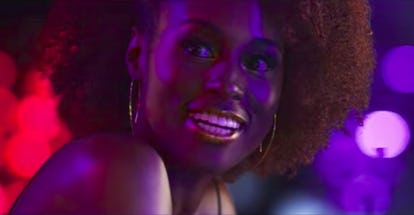 Covergirl
This year, conversations about inclusivity in beauty reached a boiling point as Rihanna made her debut with Fenty Beauty and more established companies attempted to diversify their casting. Among them, Covergirl announced last month that they had tapped Issa Rae as their latest ambassador, and today brings us the first look at her campaign. The Insecure actress' spot in the cosmetic brand's new ad is part of a larger mission to rebrand Covergirl—and part of that means doing away with the once-iconic tagline of the late '90s and aughts: "Easy, breezy, beautiful Covergirl." In place, Covergirl is paying homage to literary great Toni Morrison with the hashtag #IAmWhatIMakeUp.
Issa Rae along with Katy Perry, TV chef Ayesha Curry, Maye Musk—the mother of Tesla's and Silicon Valley's Elon Musk and, most recently, the oldest Covergirl in history—motorcycle racer Shelina Moreda, and fitness guru Massy Arias usher in that message in the first look at the brand's new campaign. Opening with the Toni Morrison quote from her 1992 novel Jazz, "What's the world for you if you can't make it up the way you want it?," the message is that identity is what we shape it into—not what the world or anyone else does.
It's a necessary and refreshing point to make at a time when many still feel unsafe expressing their own identity in a post-Trump administration. In the ad, however, the new lineup of Covergirls find empowerment in expressing theirs, whether it's through makeup as a vehicle or as something they wear just for themselves.
"Traditionally in the category, it had always been women being transformed for very superficial, vain reasons," Katy Alonzo, director of Covergirl's ad agency Droga5, told Fast Company. "In a lot of ways, it was because the category had been stuck in a male gaze. So we wanted to rewrite a lot of those conventions… What we wanted to do, through the talent we chose to work with, is honor who they are, their stories, and the context that beauty plays within their lives." Every other beauty brand, take note.
Issa Rae's Style Glow-Up Has Only Gotten Bolder
Issa Rae attends People's Ones to Watch event at the Line on October 9, 2014, in Los Angeles, California.

Getty Images
Issa Rae attends the Love and Basketball screening during the 2015 Los Angeles Film Festival at Regal Cinemas L.A. Live on June 13, 2015, in Los Angeles, California.

Getty Images
Issa Rae attends the 2015 BET Awards Debra Lee Pre-Dinner at Sunset Tower Hotel on June 24, 2015, in Los Angeles, California.

Getty Images
Issa Rae attends 2016 BronzeLens Film Festival: HBO's Insecure special screening at Georgia Pacific Auditorium on August 26, 2016, in Atlanta, Georgia.

Getty Images
Issa Rae attends the 2016 ESSENCE Black Women in Hollywood awards luncheon at the Beverly Wilshire Four Seasons Hotel on February 25, 2016, in Beverly Hills, California.

Getty Images
Issa Rae visits the SiriusXM Studio on October 3, 2016, in New York City.

Getty Images
Issa Rae attends the 20th annual Urbanworld Film Festival Insecure Screening at AMC Empire 25 theater on September 23, 2016, in New York City.

Getty Images
Issa Rae attends HBO's Insecure Premiere at Nate Holden Performing Arts Center on October 6, 2016, in Los Angeles, California.

Getty Images
Issa Rae attends HBO's Official 2016 Emmy After Party at the Plaza at the Pacific Design Center on September 18, 2016, in Los Angeles, California.

Getty Images
Issa Rae backstage at the Glamour Women of the Year 2016 LIVE Summit at NeueHouse Hollywood on November 14, 2016, in Los Angeles, California.

Getty Images
Issa Rae attends the Hollywood Foreign Press Association and InStyle's Celebration of the 2017 Golden Globe Awards Season on November 10, 2016, in West Hollywood, California.

Getty Images
Issa Rae attends the 2017 Film Independent Filmmaker Grant and Spirit Award Nominees Brunch at BOA Steakhouse on January 7, 2017, in West Hollywood, California.

Getty Images
Issa Rae arrives at the 2016 Ebony Power 100 Gala at the Beverly Hilton Hotel on December 1, 2016, in Beverly Hills, California.

Getty Images
Issa Rae attends The Hollywood Reporter's Annual Women in Entertainment Breakfast in Los Angeles at Milk Studios on December 7, 2016, in Hollywood, California.

Getty Images
Isaa Rae arrives at HBO's Official Golden Globe Awards After Party at Circa 55 Restaurant on January 8, 2017, in Los Angeles, California.

Getty Images
Issa Rae attends the Power of Story: Art of Episodic Storytelling at Egyptian Theatre on January 26, 2017, in Park City, Utah.

Getty Images
Issa Rae attends the 74th Annual Golden Globe Awards at the Beverly Hilton Hotel on January 8, 2017, in Beverly Hills, California.

Getty Images
Issa Rae attends the 48th NAACP Image Awards at Pasadena Civic Auditorium on February 11, 2017, in Pasadena, California.

Getty Images
Issa Rae attends the 48th NAACP Image Awards Non-Televised Awards Dinner at the Pasadena Convention Center on February 10, 2017, in Pasadena, California.

Getty Images
Issa Rae at Essence Black Women in Hollywood Awards at the Beverly Wilshire Four Seasons Hotel on February 23, 2017, in Beverly Hills, California.

Getty Images
Issa Rae attends the 2017 MTV Movie and TV Awards at the Shrine Auditorium on May 7, 2017, in Los Angeles, California.

Getty Images
Issa Rae attends the 2017 Film Independent Spirit Awards sponsored by American Airlines at the Santa Monica Pier on February 25, 2017, in Santa Monica, California.

Getty Images
Issa Rae arrives at the 2017 BET Awards at Microsoft Theater on June 25, 2017, in Los Angeles, California.

Getty Images
Issa Rae attends BET Presents the American Black Film Festival Honors on February 17, 2017, in Beverly Hills, California.

Getty Images
Issa Rae attends the 20th Anniversary Celebration of HBO x ABFF at the Betsy Hotel on June 17, 2017, in Miami, Florida.

Getty Images
Issa Rae attends the 2017 ESPYS at Microsoft Theater on July 12, 2017, in Los Angeles, California.

Getty Images
Honoree Issa Rae attends Black Girls Rock! 2017 at NJPAC on August 5, 2017, in Newark, New Jersey.

Getty Images
Issa Rae attends the Refinery29 Third Annual 29Rooms: Turn It Into Art event on September 7, 2017, in Brooklyn.

Getty Images
Issa Rae arrives at the 69th Annual Primetime Emmy Awards at Microsoft Theater on September 17, 2017, in Los Angeles, California.

Getty Images
Issa Rae attends the Wine Down With Issa Rae event at Hollywood Roosevelt Hotel on November 18, 2017, in Hollywood, California.

Getty Images
A 7-year-old interviews Katy Perry: