A Brief History of Ivanka Trump and Hugh Jackman's Friendship
Ivanka Trump's presence at Hugh Jackman's birthday party was actually not all that unexpected—and Wendi Deng was probably responsible.
---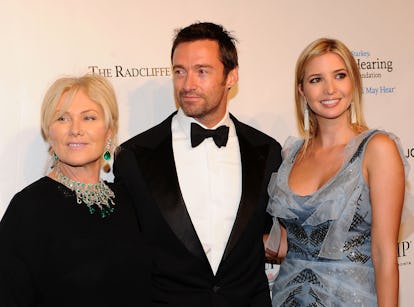 Jamie McCarthy/Getty Images
Last month, Hugh Jackman told Extra that his wife, Deborra-Lee Furness, had planned an extravagant gathering for his impending 50th birthday party—despite his own desire for something a bit more low-key.
"If Deb had her way," he said, "the entire city of New York would be coming to a party." She had her way, it appears: "So the entire New York City is coming," he continued, "and if you're watching this and you're not invited, I'm sorry, because everyone else is coming."
Jackman celebrated a half-century on this doomed planet earlier this month, and the party guests, per Page Six, included such modern luminaries as Cate Blanchett, Nicole Kidman, and Jared Kushner and Ivanka Trump. So, "everyone."
Javanka might be an unexpected addition to such a crowd, but actually, the first daughter and her husband, who happens to be a senior adviser to her father, the reality television host turned fearmonger Donald Trump, and the Wolverine star go way back. ("Some of the liberal Hollywood types were taken aback by the presence of the president's daughter and son-in-law," Page Six wrote. "But a source said, 'There was no snubbing. Everyone was polite.'")
Jackman and Trump have known each other since at least 2010, when they attended the baptism of Rupert Murdoch and Wendi Deng's daughters, Grace and Chloe, in Jordan. (Even before that, they were mentioned in the same Gawker blog post…coincidences.) It might seem like a strange celebrity match—the first daughter and the Aussie actor who performed on Broadway in support of Hillary Clinton in October 2016—but their relationship is more like six degrees of Deng: Deng and Trump are close friends, and Jackman and Kidman are godparents to the Murdoch-Deng children. Here, we look back at the history of the friendship of Trump and Jackman and the eternal hanger-on Kushner.
March 2010: Jackman, godfather to the Deng-Murdoch brood, attends the baptism of Grace and Chloe in Jordan.
He and Trump subsequently accompany Queen Rania on a tour of the country's main tourist sites.
October 2010: Jackman, Furness, and Trump appear on the red carpet together at the Elton John Foundation benefit "An Enduring Vision."
Where's Kushner?
May 2011: In a profile with Harper's Bazaar, longtime Trump friend Flo Furness describes Trump and Kushner as "so ahead of their time."
Because they dine with the Jackmans, as well as the decidedly more on-brand Murdoch and Deng.
2011: Jackman appears at the opening of Trump's fine jewelry boutique in New York.
December 2011: Trump takes in Jackman's Broadway residency, Hugh Jackman, Back on Broadway.
Just returning the favor for his presence at her boutique opening, or something.
November 2014: Trump attends the opening of The River, in which Jackman took over the starring role from Dominic West when it transferred from London.
February 2015: Trump drinks coffee roasted by Jackman's fair-trade brand, Laughing Man Coffee.
Jackman tweets a photo of their room service order, captioned: "My lovely friend @IvankaTrump enjoying a special wkend with Jared. Look what's on the menu! @livelaughingman!" His "lovely friend"!
October 2016: Jackman partakes in the Hillary Clinton Broadway benefit—an engagement Trump did not attend.
June 2018: Trump is spotted in the doorway of Jackman's Greenwich Village apartment.
Deng, now long since divorced from Murdoch, was also there, naturally.
October 2018: Birthday party.
With Kushner.