Ivanka Trump and Jared Kushner Love a Good "Butt-Kicking" Spin Class in the Dark
If you squint hard enough, you just might be able to spot the self-described "Flywheel girl" yourself.
---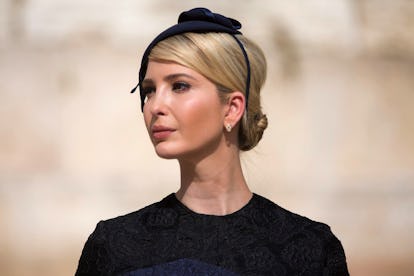 Heidi Levine/AFP/Getty Images
Dating back to as early as 2010, Ivanka Trump has vocalized her enthusiasm and support for the resistance—though not of the political type. Instead, long before SoulCycle took off, she's been a regular at Flywheel—another chain of spinning studios, aka dark rooms where people pretend to ride up and down hills and mountains, with a little help from blaring music and stationary bikes with resistance knobs. Her dedication to the exercise didn't waver during her father Donald Trump's presidential campaign—nor during the family's term in office today, according to a new story in the Washington Post.
Though just three sentences with rare details about Ivanka and her husband Jared Kushner's day-to-day life have stood out in particular, the story primarily details how members of the Trump administration have been dealing with mounting confrontations in the capital, where in fact only four percent of the city's voters turned out at the polls for Trump. (The president's counselor Kellyanne Conway, for example, recently had an altercation in the canned vegetable aisle of the supermarket, whereas the president's senior adviser Stephen Miller got physical and threw $80 worth of freshly purchased takeout sushi at a bartender on the street who gave him the middle finger.)
In keeping with the fact that she's Donald Trump's prized daughter, Ivanka has somehow managed to be immune to such run-ins—at least when she's near her shelter of choice. That would be Dupont Circle outpost of Flywheel, where the Post reports that she and her husband like to attend early-morning classes. The spin classes there are, like most, held in a dark room, though these studios are even more devoid of light than usual. (As one Yelp reviewer noted in 2015: "Warning – it's a dark room and there are steps to get in your assigned row with the bikes. Beware when leaving!!") To Ivanka and her husband, though, that's in fact an added bonus; the Post reports that they prefer to "pedal unobserved."
In case the startling possibility that you may one day find yourself face to face with Ivanka, a self-described "Flywheel girl," in a dressing room, fear not; judging from Kushner's recent quick exit from the establishment, which saw him clamber into an SUV with a baseball cap pulled low over his hat, the couple doesn't like to linger. On the other hand, those who've taken to protesting outside of the couple's home in the Kalorama area of D.C. may be comforted to know that, judging from her past tweets, while inside, it's likely that Ivanka is being "destroyed" and put through "serious pain." (These dispatches have all in fact had quite the cheery tone—perhaps in part because Flywheel has been wont to reply with words of encouragement.)
If Ivanka does turn out to be around, you may get some warning thanks to the studio's rankings board, where, at least as recently as 2017, Trump simply uses the name "Ivanka." Others have been more been a bit more creative with theirs, opting for pseudonyms like "FckTrump." There's no word yet on if any of them have attempted to use the darkness to their own advantage and fumble their way over to her resistance knob.
Related: Ivanka Trump Details Her "Punk Phase" and Love for Nirvana