Ivanka Trump Steps Out in $35 Dress From Victoria Beckham's Target Line
Ivanka Trump ditched high-priced designer duds for a day and donned a Victoria Beckham for Target dress that's now on sale for just $17.50.
---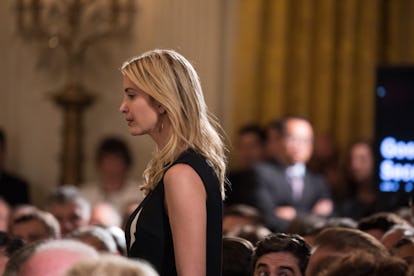 NurPhoto
Ivanka Trump casually exited her Washington D.C. home yesterday morning in a $35 dress from Target, a store normally not associated with lifelong multi-millionaires married to lifelong billionaires.
The dress is part of the Victoria Beckham for Target line and occurs, as it were, just as the family business announced its plans to build a new budget hotel chain in America's heartland. "The intention is to differentiate the chain, called American Idea," The New York Times wrote today, "by featuring artifacts of American culture in the hotels, such as an old Coca-Cola machine in the lobby or American-made sundries in the rooms." Or, to put it another way, the kind of accessible stylishness found at your local Target.
"She's worth millions, but even Ivanka Trump can't turn down a good bargain," gushed the Trump-friendly New York Post. "The black, knee-length dress with a ruffled bottom and calla lily applique is now on the Target clearance rack for $17.50."
Fashion has been one of the primary unspoken modes through which Ivanka and her stepmother have chosen to express themselves this year, and it's become an unlikely battleground for the unlikely administration. Ivanka posted a photo of herself in a $5000 Carolina Herrera dress amidst the chaos of her father's unconstitutional travel ban and came under fire when she tried to promote a $10,000 Ivanka Trump bracelet during a family interview with 60 Minutes.
Melania, meanwhile was criticized by some for wearing nonstop Dolce & Gabbana during the president's recent tour of Europe, including the all-black piece she wore to meet the pope and a floral jacket she wore today to the G7 summit in Catania, the one with the much crowed about $51,500 price tag. (Tom Ford and Marc Jacobs have said they would not dress the first lady but D&G's Stefano Gabbana is an avid fan.)
In the early days of the administration Nordstrom earned the ire of the president's Twitter feed, and no doubt tons of extra business, when it announced it would no longer carry Ivanka Trump's clothing line in stores, which like most of the Trump business is merely licensing. The New Yorker reported that she likely earns "a little less than ten per cent" on that, so it makes sense that she initially sought a high-end clientele for her clothing. Over the years she has been forced to move a bit more downmarket. That left room for highly criticized labor conditions, and last week three activists investigating labor conditions at a facility in China that makes Ivanka's goods were detained by local police. They now face increasing pressure to release them since arresting people for asking the America First first daughter about how she treats the people in her Chinese factory is, well, not a good look.
There is, of course, a zero percent chance that you came across this image of Ivanka's dress today by accident. Paparazzi logistics aside, Ivanka seems, much like her father, aware and concerned with what the public thinks of her. When Saturday Night Live did a parody for a fictional fragrance 'Complicit,' starring Scarlett Johansson as Ivanka, the real Ivanka didn't hesitate to make her reaction public. She went on CBS to tell Gayle King, "If being complicit is wanting to be a force for good … then I'm complicit."
That's not a bad comeback, if you can ignore the inherent negative connotations of the word "complicit."
In any event, maybe the First Daughter's choice of donning more democratic fashion is inspired by another First Lady. Michelle Obama was well known for mixing high-end designer (though, mostly of American province) with more accessible and affordable brands like J. Crew, The Gap, and, come to think of it, even Target. Though, hers was Jason Wu for Target.
Related: Ivanka Trump's Clothes Sold Under New Label Adrienne Vittadini
See What's Trending in W Video: