Jackie Kennedy Onassis Reportedly Pursued Alec Baldwin in the '90s
According to a new book by Jim Hart, titled 'Lucky Jim', Jackie Kennedy Onassis eagerly pursued Alec Baldwin in the '90s.
---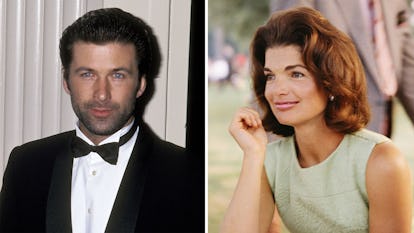 Composite. Getty Images
Nineties fashion and TV may be having nostalgia-fueled moments in the zeitgeist, but the era's dating scene is still full of hidden gems just waiting to be discovered. Such is the case with Jacqueline Kennedy Onassis, who was in her early 60s at the time and had been a widow for around two decades. Meanwhile, Alec Baldwin was a hotshot actor in his 30s as yet unencumbered by his attachment to a different cultural figurehead who would go on to become the president of the United States. Turns out, though, Onassis and Baldwin's divergent life paths didn't stop her from romantically pursuing him, at least according to a new report.
The newly uncovered brief romantic history between Onassis and Baldwin comes courtesy of Lucky Jim, a memoir by Jim Hart that was released this week. Hart, who is the ex-husband of Carly Simon, discusses his and Simon's enduring friendship with Onassis in the book. Specifically, Hart writes of the time Onassis hit him up for Baldwin's digits. Apparently, according to People, Baldwin was a friend of Hart's, and Onassis wanted him to hook her up, asking, "Do you think Alec could be my date for the theatre on my birthday?"
"I was surprised by the openness of the request, but I acted as though there was nothing unusual about it," Hart says. However casual he may have acted, Hart didn't lose sight of the fact that he was dealing with Jackie O, so he unsurprisingly followed through. When Baldwin got the message, "Alec was most shocked of all, but there wasn't a moment's hesitation, even though he had just met Kim Basinger." Given a chance to recover, he was down, responding, "I'm there," and insisting, "Are you kidding? Jackie Kennedy wants to go on a date? Of course."
The postscript to their date isn't clear, but that just gives license for the imagination to run wild. Given Baldwin's Irish-Catholic background, interest in Democratic politics, and very Kennedy-like family tree, the pairing makes more and more sense the more you think about it. Either way, it sure seems as though Baldwin's recent memoir, Nevertheless, was holding out on us.
Don't let your imagination get too far ahead of yourself, though. Baldwin did go on to marry Basinger, and Kennedy's longtime later-in-life partner Maurice Tempelsman survived her.
Related: Alec Baldwin Claims He Was Swindled By a Manhattan Art Dealer
Natalie Portman's Jackie O Wig Helped Her Get Into Character:
Jackie Kennedy Through the Years: A Look Back at the Original White House Style Icon
A smiling Jacqueline Bouvier arrives at St. Mary's Church in Newport, R.I., on the arm of her stepfather, Hugh D. Auchincloss, for her wedding, 1953. Photo courtesy of Getty Images.

Getty Images
Jackie Kennedy on a visit to India in 1962. Her signature pearls and gloves accessorize an apricot dress with bow accent. Photo courtesy of Getty Images.

Getty Images
Jackie looks windswept on a December afternoon in 1969 in a casual black turtleneck. Photo courtesy of Getty Images.

Getty Images
Jackie Onassis pictured receiving a gift from Prince Sihanouk of Cambodia and his wife during a trip to Cambodia in 1967. She dons a teal one-shoulder dress with decorative trim. Photo courtesy of Getty Images.

Getty Images
Jackie Kennedy on a trip to Canada in 1961. The First Lady matches an iconic pillbox hat to her red wool suit. Photo courtesy of Getty Images.

Getty Images
Jackie Onassis attends the Metropolitan Opera at Lincoln Center in 1967 wearing a white 3/4 sleeve gown cinched at the waist by a chunky belt with stone inlays. Photo courtesy of Getty Images.

Getty Images
Jacqueline Kennedy Onassis in a formal pants suit on East 75th Street, New York, 1960. Photo courtesy of Getty Images.

Getty Images
Jackie Onassis on the way to the Metropolitan Opera House House Royal Ballet in 1974. Her printed maxi dress exudes 70's glamour. Photo courtesy of Getty Images.

Getty Images
President and Mrs. Kennedy in West Palm Beach, Florida, 1961. Photo courtesy of Getty Images.

Getty Images
Ms. Onassis arriving at La Cote Basque in 1970. In a stunning red moment, Jackie looks playful in a beautiful ruffled dress that's belted at the waist. Photo courtesy of Getty Images.

Getty Images
Jacqueline Kennedy wearing a checked blue and white high cloche with a matching blue ribbon around the crown as she arrives with the President to greet the Pakastan President, Ayub Khan, Andrews Air Force Base, Maryland, July 11, 1961. Photo courtesy of Getty Images.

Getty Images
First Lady Jacqueline Kennedy walks a pace behind her husband in a monochromatic white outfit, a look that quickly became synonymous with Mrs. Kennedy during her Camelot days in 1962. Photo courtesy of Getty Images.

Getty Images
Jackie Kennedy exits a plane at Laguardia Airport Field in a knee-length leopard coat in 1962. Photo courtesy of Getty Images.

Getty Images
Jackie is pictured wearing her riding outfit at the 17th Annual Horse Show in 1970. Photo courtesy of Getty Images.

Getty Images
Jackie Onassis is photographed in 1970 at The Alvin Theater in New York wearing a black and white cocktail dress belted at the waist with geometric inserts. Photo courtesy of Getty Images.

Getty Images
Jackie is photographed at Heathrow Airport sporting a casual printed blouse and iconic oversized glasses in 1976. Photo courtesy of Getty Images.

Getty Images
Jackie Onassis pictured wearing a green cocktail dress to a dinner at La Cote Basque Restaurant in 1974. Photo courtesy of Getty Images.

Getty Images
Jackie wears a vibrant yellow gown to the Metropolitan Opera House in 1973. Photo courtesy of Getty Images.

Getty Images
Jackie wears a navy suit with a red bowtie while out with her children in 1971. Photo courtesy of Getty Images.

Getty Images
Jackie looks effortless exiting the cinema in a simple khaki skirt and tucked blouse during the summer of 1981. Photo courtesy of Getty Images.

Getty Images
First Lady Jackie Kennedy attends the unveiling ceremonies at the National Gallery of Art in a strapless lavender evening gown and satin elbow length gloves in January of 1963. Photo courtesy of Getty Images.

Getty Images
Jacqueline Kennedy Onassis wears a ballgown with a long sleeved sequin top to a gala at the New York Public Library in November of 1986. Photo courtesy of Getty Images.

Getty Images
Before she was a Kennedy, she was Jacqueline Bouvier. Here, the future Mrs. Kennedy is pictured in a floppy hat and shorts on holiday at the Kennedy compound in 1953. Photo courtesy of Getty Images.

Getty Images
In 1989, Jackie Onassis is sighted wearing a yellow sequin skirt paired with a crisp white blazer and pearls in New York. Photo courtesy of Getty Images.

Getty Images
Jackie Onassis attends her daughter Caroline's wedding wearing a long sleeved mint colored cocktail dress and gloves in 1986. Photo courtesy of Getty Images.

Getty Images