Jacob Elordi Calls Zendaya "The Ultimate Artist"
At a Fendi party celebrating the brand's latest collection, "Solar Dream," the Euphoria actor discussed working with Zendaya and shared his Oscar picks.
---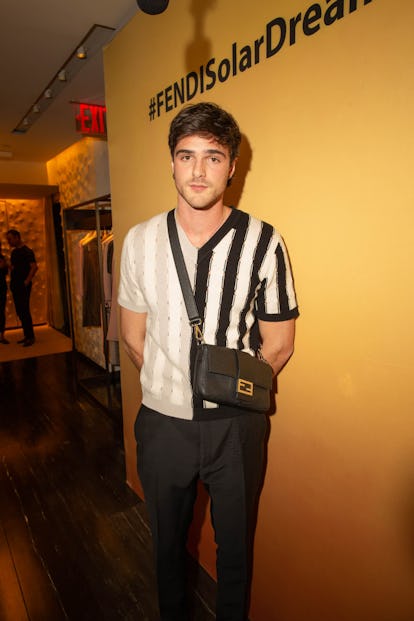 Jacob Elordi took his first step into the fashion world on Wednesday night—and it was none other than director Luca Guadagnino who led him there.
The Euphoria actor attended a Fendi party at the brand's Madison Avenue flagship in New York, thrown in celebration of the latest collection, called "Solar Dream." Elordi admitted it was the mention of Guadagnino's involvement in the spring 2020 menswear collection that sealed his RSVP.
"This is all kind of very new to me," he said, sitting on a couch in the upper level of the store. He gestured toward shelves of men's sneakers and racks of women's floor-length dresses with a gold nail-polished hand. "Sort of figuring out where I stand on it all. I just saw Luca Guadagnino's name [in the e-mail invitation], so that's why I'm here, really. I would like to be somewhere where his name is at. He's a legend. It was an easy yes."
Guadagnino is "one hundred percent" a director Elordi said he'd like to work with, but the Brisbane, Australia native has spent the past few months with another big name in film: Adrian Lyne, whose movie Deep Water he stars in and just wrapped. Euphoria starts filming in four weeks—"I haven't been sent the script yet," said. "I haven't read a thing.")—but in the meantime he's working on a movie he shot with a friend. He describes it as a "a slow-burning in-house drama, I guess. So a comedy."
Elordi is just as tall and handsome in real life as he's looks onscreen—but in addition to good looks, he's got a cheeky, sarcastic, somewhat self-deprecating sense of humor. While he spoke, he ran his fingers through his mullet and messed with the Fendi bag slung over one shoulder.
Perhaps it was due to nerves, because word had started going around the party that Zendaya was on her way. The two were rumored to be dating for months, until confirmation came on Monday, when paparazzi photos surfaced of them kissing, taking selfies, and hanging out in New York City. When asked how he felt about his love life being under a microscope lately, he simply answered, "I don't have a phone."
Members of the press were not permitted to ask Elordi questions about his dating Zendaya specifically, but he did briefly touch on what it was like to work with her on Euphoria.
"It's incredible, you know? She's the ultimate artist," he said. "It's awesome, she's a veteran—it's great working with everyone. Everyone is super fucking professional, and everyone is really good. So every time you get to set, someone's gonna draw something out of you that you weren't expecting. You can't lose, because the people around you—from the grips to the cameramen, to the friggin' costume designers—everyone is bringing 110%, so you have to step up."
When Zendaya did finally arrive to the party, she and Elordi mostly avoided contact. The moment the "Dune" actress made her way upstairs to do her own interviews, Elordi hustled out of the vicinity.
Although Elordi won't be attending the Oscars, he said he's pulling for 1917, Marriage Story, and Parasite, his three favorite major films from this year.
"There's a smorgasbord of films that are out there and you never even hear about, which are just absolutely incredible," he said. "But those would be my three from the ones that you see everywhere, that I thought were particularly moving and they're [by] filmmakers that I love."
As for which one will take home the Best Picture award, he's leaving the answers up to kismet.
"I'm sure that shit's written in the stars somewhere. Someone knows, but I don't know," Elordi said. "I don't watch a lot of—I don't know anything about the awards, really. It's kind of like fashion. Not my business."