A Certain Something
Countess Jacqueline de Ribes's closet comes to the Costume Institute of the Metropolitan Museum of Art.
---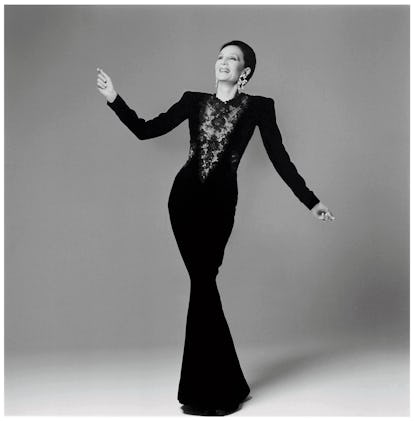 With her knockout gowns and knack for accessories, Countess Jacqueline de Ribes has always known how to make an entrance. Even now, at 86, the French aristocrat and original social swan (whose exaggerated profile prompted Richard Avedon to proclaim, "I feel sorry for near-beauties with small noses!") is still commanding attention for her sartorial flair. "Jacqueline de Ribes: The Art of Style," on view November 19 through February 21, 2016, at the Costume Institute of the Metropolitan Museum of Art, in New York, showcases some 60 haute-chic ensembles from de Ribes's personal archive—from 1959 to the present—as well as a few of her own designs.
Also in the spotlight this month is the designer Gianfranco Ferré, who died in 2007 at the age of 62. Regarded as fashion's "architect," Ferré was most admired for his elaborately constructed white shirts—each more impressive than the last—that would come to epitomize his 30-year career. "The White Shirt According to Me. Gianfranco Ferré," making its U.S. debut November 4 at the Phoenix Art Museum, includes a selection of 27 standouts—from a 1994 tulle design with a corseted waist and muttonchop sleeves to a 2004 silk chiffon number with meticulous origami folds that open across the body like a fan.