A Jewelry Line for Women Who Aren't Afraid to Show a Little Skin
Jacquie Aiche's #JATribe includes proud California girls like Gigi and Bella Hadid, Kendall Jenner, and Rihanna.
---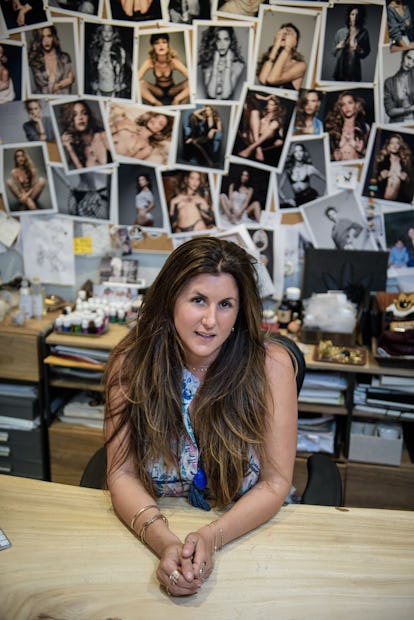 © Laura Layera, all rights reserved www.luluphoto.com
Jewelry designer Jacquie Aiche started her company in 2007, while running a clothing store in Santa Monica. "It got to a point where the clothing just got so boring, I wanted to create something that was more personal, that spoke to the woman that felt special…a necklace or a finger bracelet she never wanted to take off," she says. Her namesake brand has since become a go-to among celebrities, supermodels, and jewelry lovers worldwide.
Growing up in Beverly Hills, Aiche collected rocks, and would paint and sell them to neighbors. Later on, jewelry was her creative outlet, and she started to sell it at the shop. "It became my expression," she says. "Women came back to collect it [even though] they didn't know it was mine in the beginning – I was anonymous. I wanted to hear the truth from clients." To that end, when you search the brand you don't see much of the designer herself, as she has always made it about the girls who wear it.
She counts Rihanna, Emily Ratajkowski, Kendall Jenner, and Behati Prinsloo as fans, and keeps these types of women in mind when designing her collections. This a brand that women and girls alike want to buy for themselves – not the jewelry they wait around to be gifted. In fact, Aiche built her market with invite-only events and private clients, who bought her jewelry from the backyard of her bungalow in Beverly Hills where she still keeps an office in her two car garage today.
It helps that she has some of the sexiest lookbooks in the game. The pages are filled with voluptuous and feminine beauties, mostly partially nude and adorned with diamonds, opals and chains on every surface. "I tell my dad, I am modern-day playboy, I even give you the centerfold!" quips Aiche.
It's an aesthetic that was born out of one of the very first pieces she designed – the belly chain. Ten years ago during the low-waisted jeans movement, the "little sexy body chain was what everybody wanted, and it became a trend. I never in my life thought it would become such a phenomenon," Aiche says. "We were having fun."
Locations: Retailers include Broken English, Forward by Elyse Walker, and her biggest retailer is Saks Fifth Ave.
The Mix: Turquoise, fossils, gemstones, and mixed metals turned into necklaces, finger bracelets, rings, body chains, chokers, bracelets, anklets, and personal fine jewelry. Equal parts Native American and Middle Eastern influences.
Best Sellers: Finger bracelets, body chains, and chokers.
Tribes: Her #JATribe includes California girls who aren't afraid to show a little skin.
VIPs Rihanna, Kendall Jenner, Emily Ratajkowski, Behati Prinsloo, Gigi and Bella Hadid.
Price points: Mostly in the $850 to $5,000 range, though some fine jewelry pieces can go up to $25,000.
Favorite stone: "Tourmaline, because it has so many different properties to it – like me."