Jada Pinkett Smith Reveals Her Family's Surprising Fitness Secrets
The Smiths are proof that the family that works out together really does stay together.
---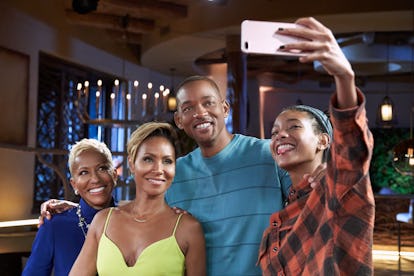 Stan Evans
Jada Pinkett Smith has not always been so candid, but on her popular Facebook Watch series, Red Table Talk, three generations of women in Pinkett Smith's family share frank conversations about a variety of difficult topics including addiction, relationship issues, and even struggles with hair loss.
The new batch of episodes, which premiered Monday afternoon, are off to a spicy start as well. Pinkett Smith and special guest, her husband, Will Smith, both opened up about the story of how they met, and Pinkett Smith admitted that she never saw a wedding with him in her future. "I was so upset that I had to have a wedding. I was so pissed. I went crying down the freakin' aisle getting married," she said, revealing that, at the time, she felt pressured to marry Smith because she was pregnant with their son, Jaden Smith.
At a Red Table Talk event in New York on Monday, Pinkett Smith and her mother, Adrienne Banfield-Jones, discussed filming the show and living in the spotlight, which requires different types of self-care for each member of their family. Pinkett Smith likes to meditate, and Banfield-Jones likes to read and listen to audiobooks, but one thing that all three generations of the family can agree on is their love for working out.
In September, the actress shared on Instagram a picture of herself along with her mother and her daughter, Willow Smith—all three generations of the family—flexing together in the gym. She later shared a video of an at-home exercise routine, captioning the post with, "THIS!!! Whooped my a#@!!! Try it! It's a GREAT routine and u don't need a gym!"
When asked about the video and how her entire family keeps themselves in shape, Pinkett Smith revealed that the woman in the video was actually not her, but a trainer and health coach named Jeanette Jenkins. "Everybody thought it was me, and I was like, Damn, I wish I had that much hair! I put that up because I had done that exercise and I was like, This is hard-core and you don't need a gym," she said. "I don't train with Jeanette, but she's a trainer, and I'm always online looking for dope workouts," she continued.
"[My mom] lives in Maryland, but when we're in town, all three of us work out together," Pinkett Smith said. "Willow makes sure. She's like, 'We gotta wait for Gammy!'"
At 64 years old, Banfield-Jones—or "Gammy," as she is affectionately called by her grandchildren, Willow and Jaden—is in remarkably good shape, and is sharing that love of working out with her granddaughter. "Willow started working out with us this year, and she is really, extremely passionate about it. Jada had to write down her workouts for her before she left," Banfield-Jones said, before telling a table of journalists that her daughter "knew how to change [Willow's] diet to give her exactly what she needs."
Pinkett Smith herself may not need a trainer, but she does double as a bit of a coach for her daughter in the gym. "I started at [Willow's] age, and I've been doing it ever since," Pinkett Smith revealed. "We go hard. Because I've had so many different types of bodies, so I know I don't need a trainer, and I know how to train her for what she wants," she continued. "I know exactly what she needed to get, where she wanted to go."
The Smiths are proof that the family that works out together really does stay together.
Related: The Craziest Things Jada Pinkett Smith Has Revealed About Her Family on Her Facebook Talk Show