The Craziest Things Jada Pinkett Smith Has Revealed About Her Family on Her Facebook Talk Show
Jada Pinkett Smith gets very real on Red Table Talk, her weekly Facebook Watch talk show.
---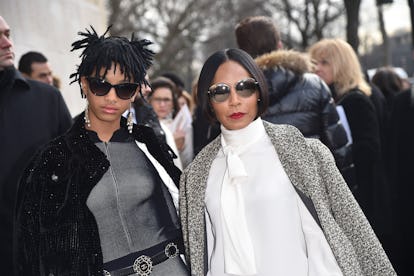 Jacopo Raule
Every Monday afternoon, millions of viewers tune in for a new episode of Jada Pinkett Smith's Red Table Talk, her weekly show on Facebook Watch. Smith's daughter, Willow Smith, and mother, Adrienne Banfield-Jones (or Gammy, as she is affectionately known to Willow and Jada), are cohosts of the weekly intergenerational table chat, covering topics that many would find to be too awkward to discuss with their family at the dinner table, let alone on camera and broadcast for all of Facebook to see.
Smith revels in speaking candidly with her mom and daughter, and between covering fame, grief, mental health, and relationships, she reveals some truly wild facts about herself or her family every single week on Red Table Talk. In previous episodes, Smith has spoken without shame about having some concerns regarding her son Jaden Smith's ex-girlfriends, and her 17-year private feud with Gabrielle Union (only to invite her onto the show to publicly squash any beef between them). Watching this show is like sitting in on a private family discussion you kind of know you have pretty much no business listening to but can't help to be intrigued enough to keep an ear open. Always candid, at times intellectual, and surprisingly addictive, the latest episode of Smith's refreshing family talk show is no exception.
In "Sex Talk! Personal Stories From Three Generations," Smith openly speaks about sex, DM-sliding etiquette, and hookup culture with Gammy, Willow, and Willow's best friend Telana Lynum. The facts revealed, well, other celebrities may have left unsaid. Here, a rundown of all the revelations from Table Talk.
Willow once walked in on her parents having sex.
"My introduction to sex was obviously walking in on you and Daddy," Willow told the table, referring to a time the family was on vacation and she went down to get some juice from the kitchen only to discover Will and Jada instead. Jada, genuinely shocked to discover that this was her daughter's introduction to sex, asked Willow to clarify. "It wasn't like I was seeing everything. It was dark, it was silhouetted," Willow told her mom.
Jada intuitively knew when Jaden lost his virginity.
After doing a rather on-point impression of her dad, Willow asked Jada whether she ever had a conversation with Jaden and their other son, Trey, about sex, and her mom admits that not only did she have "the talk" with both of her sons, but that, because of her near psychic motherly intuition, she knew when they first had sex. Talk about embarrassing. (No confirmation from Jaden and Trey on this, of course.)
Jada was addicted to sex toys in the past.
"We, as women, have been trained that women aren't supposed to enjoy sex, sex is not for women, sex is for men, pleasure is for men," Jada said before explaining that once in the past, after an experiment with abstaining from men, she went through an addiction to sex toys. This revelation (understandably) left Willow and her best friend visibly shook.
In addition to the Jada's wild disclosures, the guests who have been featured on Red Table Talk—Jaden Smith, Lynum, Union, and EJ Johnson in a forthcoming episode about gender fluidity—make for a fully enjoyable talk show. There's still one Red Table Talk guest we've heard about but not yet seen: Will Smith. When the time comes, that will definitely be an episode to write home about.
Related: Jada Pinkett Smith Is Apparently Not the Biggest Fan of Son Jaden Smith's Girlfriends