Jada Pinkett Smith Is Apparently Not the Biggest Fan of Son Jaden Smith's Girlfriends
The actress spoke candidly about her kids' love lives on her talk show.
---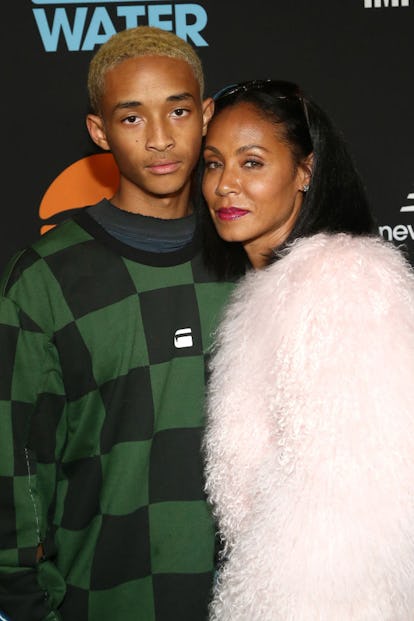 Tommaso Boddi/Getty Images
Jada Pinkett Smith is the latest celebrity mom to step in on her kids' love lives with a public declaration of disapproval.
On Red Table Talk, Smith's Facebook Watch talk show where she gets real about family, fame, and everything in between, the actress spoke about the significant others of both of her children. As far as her daughter Willow goes, Smith stated that she feels each person the 17-year-old has dated has "been spectacular, in all honesty," but her son Jaden's choices have left her "concerned."
This is not the first time Smith has spoken so openly about issues she may have with family and friends on her talk show—she previously revealed that she had a 17-year-long feud with Gabrielle Union, and invited the actress to appear on an episode of Red Table Talk to publicly bury the hatchet. She also invited both Willow and Jaden to join her and her mother on an episode earlier this week, in which they discussed the difficulties of growing up in a famous family. The actress also praised her son's rejection of traditionally masculine gender norms and his decision to wear skirts in the past.
Jaden Smith is currently dating Nashville actress Odessa Adlon (daughter of Better Things creator and star Pamela Adlon), but has previously been linked to actress Amandla Stenberg and Sarah Snyder, the young model who made headlines when she was accused of allegedly pilfering a $15,995 Hermès bag.
Parents can't help but be embarrassing about this sort of thing, but Smith handled the subject of her son's love life with fairness. The Girls Trip actress spoke candidly on her talk show about some of her son's past relationships, saying, "Your kids aren't always going to date people that you love, but I've learned that you really have to just be there and support because that can create a conflict that you can't get around."
Hey, at least she didn't name names. Unlike Selena Gomez's mom, Mandy Teefey.
Related: Gabrielle Union and Jada Pinkett Smith Apparently Had a 17-Year Secret Feud, But It's Over Now