Who Is Jaden Smith's New Lady Friend, Celebrity Scion Odessa Adlon?
The daughter of actress Pamela Adlon was spotted kissing Jaden Smith in Miami on Saturday.
---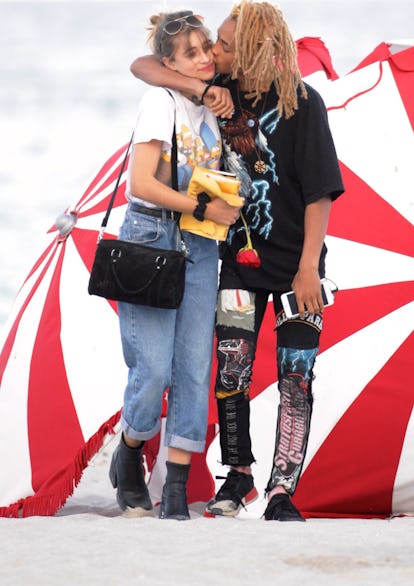 Pichichipixx.com / Splash News
Looks like Odessa Adlon is the latest teenager to accept a rose from woke bachelor, Jaden Smith. The two were spotted kissing on the beach in Miami, Florida on Saturday afternoon; Smith in a shirt featuring a bald eagle flying through lightening and Adlon in a Simpsons tee. They proceeded to wrap their skinny jeans around each other underneath an umbrella before paparazzi killed their vibe.
Seeing that the Smith children wholeheartedly reject labels, we're hesitant to call this duo such outdated terms as 'boyfriend' and 'girlfriend,' but it's safe to say that they are more than just friends. This public flirtation comes just months after Smith's rumored split with longtime actual-girlfriend and now-model, Sarah Snyder.
Since dating Smith, Snyder now boasts over one million followers of her own on Instagram and a modeling contract. But Adlon, on the other hand, doesn't have a public-facing account.
So, who is she?
Well, unsurprisingly we know who Adlon's parents are: Actress Pamela Adlon and screenwriter Felix O. Adlon. Pamela Adlon is perhaps best known for her roles in Californication and Better Things, which she co-created with Louis C.K. and is based on her own experiences as a mother. She's also done voiceover work for The Big Bang Theory, Bob's Burgers, and King of the Hill. Odessa's two sisters, Rocky and Gideon, are also aspiring actresses, with Gideon making recent appearances on American Crime and Louie.
As for Odessa herself, she's currently in pre-production for a TV piloy called What About Barb? (No, not the Stranger Things Barb.) Plus, she's had roles on Nashville and Better Things.
Of course, Smith's parents are none other than Will and Jada Pinkett Smith. His younger sister, Willow Smith also has a developing rumored relationship with the gender-non-binary musician Tyler Cole, who goes by @existentialcrisisboy on Instagram.
Best wishes to both Smith children with whatever they want or choose to call their, er, collaborative partnerships.
Related: Meet the Celebrity Scions Class of 2017
Watch Willow Smith talk about her cinematic crush, below.