Premiere: Brit Singer Jade Bird Searches For "Something American" In Her New Video (Exclusive)
The 19-year-old British singer-songwriter debuts her raw new video, filmed at a converted church in upstate New York.
---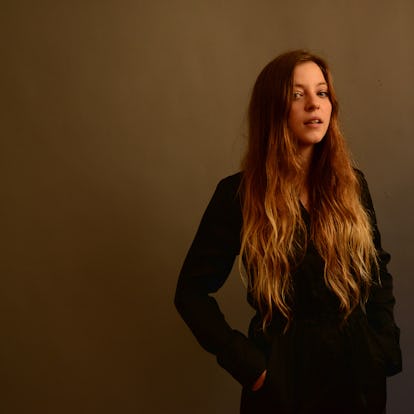 Shervin Lainez
Jade Bird was standing outside a taco shop in Los Angeles when she called me. "Not a bad place to be," she said, laughing. It was just more than a month after the July release of her debut EP, Something American; the new video for the title track premieres exclusively here on W. Bird, a native of the northern English town of Hexham and with the accent to show for it, wrote "Something American" deep in the night around a year ago, she recalled on the phone. She had stumbled down "an internet vortex," she said, and she heard the word "America" in a song—she no longer recalls which—and thought, "Oh, that's a great word, that."
For Bird, it conjured images of Mad Men and gray flannel suits and the oppressive desire for something more, something better; she developed the song around the word and its myriad connotations, framed through high school sweethearts who grow apart as his eye begins to wander towards a woman he perceives to be an improvement on her, Bird's narrator.
"I'm not nice like her, won't wear white like her, don't live life with the pages mapped out," she sings in the second verse. "No, I'm not perfect, but then, no one is—we're all reaching for something American."
Bird's lyrics tell specific stories in the manner of the best country songs, but her tale of romance also grapples with a kind of universal, contemporary anxiety that one can have "a better life, a better Instagram," she explained. "It's kind of a mental concept."
"We're all reaching for that perfect, happy place," she added, "and I, personally, am very cynical. I'm not sure that exists."
"Something American" is also about "the idea of a modern woman or a young girl and their place in society," Bird said. She was raised, for the most part, by her mother and grandmother, who she described as "very strong women"; her parents split when she was younger, and her grandparents on both sides divorced, so she is aware of the instability of relationships. "It's something that's on my mind," she said. "It's sort of worked its way naturally down into my songs."
It's present in "Cathedral," the video for which was released earlier this summer, and it's present in "Something American," whose stripped-down live music video emerged from the same session at a church-turned-recording studio called Dreamland in upstate New York, near where Bird recorded her EP.
Bird eventually got the right cut for the video within just a handful of takes—three, she estimated, because "you just have to play it well; it's not too complicated," she said—but it wasn't without a slight hitch. When she arrived at the church, a ropy black snake slithered across the path in front of her. "I'm like, 'That is an omen of some sort, I just hope it's not a bad one,'" she recalled, laughing. "I've got a bit of a phobia."
Once they had wrapped the shoot, Bird and her band, which comprised guitarist Will Rees of the British band The Mystery Jets, drummer Matt Johnson, who played on Jeff Buckley's seminal Grace, and bassist Jesske Hume, launched into an impromptu cover of Johnny Cash's "I've Been Everywhere." A fitting sequel to "Something American," it turns out, as it lists cities and states across the country.
James Corden reveals the secret to a great karaoke song: