Jaden Smith and Vampire Weekend's Ezra Koenig Collaborate on Netflix Anime Series
Neo Yokio is the place to be.
---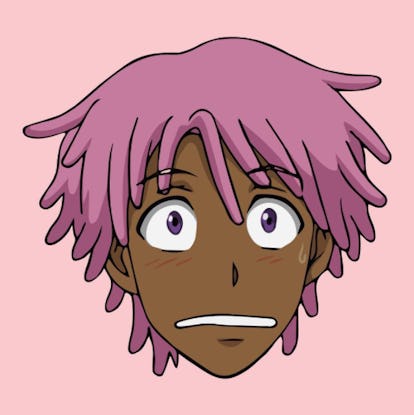 instagram.com/c.syresmith
Multi-hyphenate Jaden Smith has yet another release on deck, and this time it's animated. The rapper, actor and model will be teaming up with Netflix once again on an anime series dubbed Neo Yokio. Smith's Instagram went millennial pink earlier today in support of the project. While Smith didn't share much in the captions of the photos he posted, his cohort Ezra Koenig, best known as the frontman of indie royalty Vampire Weekend, dropped teasers on his own account.
"NEO YOKIO IS THE GREATEST CITY IN THE WORLD. ? to Studio Deen, Production IG, Jaden Smith, Kazuhiro Furuhashi & many more," Koenig tweeted, referencing the director Furuhashi. Koenig also shared a teaser of the show, which appears to be in touch with the fashion world, perhaps unsurprisingly as both he and Smith have ties to it. "We pulled a great look for you," says who is likely a stylist to the show's main character in the clip, "This is definitely on brand."
In another image posted by Koenig, a screen shot from the official Instagram account of the show, you can see a cartoon Cartier watch with the caption "Who cares what time it is when the future's an interminable abyss of wackness?," which is definitely on brand for at least Smith, a known opposer of the very concept of time.
While most details about the upcoming Netflix show are still under wraps, Koenig did reveal more two years ago, when he casually announced the project with a photo of himself next to Jaden on his band's website and Twitter. Apparently, Smith is lending his vocals for the character of a little boy named Kai, who is joined by a robot butler/rocket ship named Charles played by Jude Law. "I was just part of a really eccentric and exciting project that Ezra Koenig, who's the lead singer of Vampire Weekend–he wrote and conceived this animated series that's about to start, I believe on Netflix, called Neo Yokyo," Law said in an interview, quoted on Vampire Weekend's website. "I think Jaden Smith is playing this little boy called Kai in it, and I'm his butler. I'm this kind of huge robot butler called Charles, who is also a rocket ship. And it takes place in a New York that is sort of combined with Tokyo in the future."
Luckily, you won't have to look too far into the future to see Neo Yokio though as the show premieres September 22 on Netflix.
For a 19-Year-Old, Jaden Smith Has Certainly Had a Lot of Interesting Hairstyles
At six years old, Jaden Smith attends the Shark Tale New York premiere with father Will Smith in 2004.

Photo by Getty.
A young Jaden Smith arrives for a taping of the Late Show with David Letterman in 2006.

Photo by Getty.
Attending the The 79th Annual Academy Awards in 2007, the young actor wears his hair in tight curls.

Photo by Getty.
In 2008, Smith attends the Kit Kittredge: An American Girl premiere in New York wearing his hair in voluminous curls.

Photo by Getty.
Posing alongside sister Willow Smith at the Hannah Montana The Movie premiere in Hollywood in 2009.

Photo by Getty.
At the 2010 BET Awards in Los Angeles, Smith pairs his brushed out curls with a pair of black sunglasses.

Photo by Getty.
Attending the Transformers: Dark Of The Moon premiere in New York in 2011, Smith wears his hair in tight braids.

Photo by Getty.
Debuting his freshly chopped buzz cut, Smith attends the 2012 Nickelodeon Kids' Choice Awards in Los Angeles.

Photo by Getty.
Adding a touch of golden blonde frosted tips to his buzz cut, Smith attends BET's Rip The Runway in 2013.

Photo by Getty.
Ditching the blonde highlights, Smith attend the Los Angeles premiere of the Ender's Game in 2013.

Photo by Getty.
At the 2014 American Music Awards in Los Angeles, the actor wears his hair in wild curls topped off with a baseball cap.

Photo by Getty.
Attending the 2015 Harper's Bazaar ICONS Party in New York City, Smith debuts his new freshly shaved do with grown out dreads.

Photo by Getty.
Attending the Fashion Awards 2016 in London, Smith wears his dreadlocks in a tousled high pony.

Photo by Getty.
Going back to blonde, the actor debuted his new do while carrying around his own chopped hair at the 2017 Met Gala.

Photo by Getty.
Watch: Milo Ventimiglia Confirms That Gilmore Girls' Jess Had "Good Hair" and "Dope Jackets"