Jaden Smith's New Music Video Looks Like "Westworld" Season 2
The 18-year-old actor and musical artist released a new music video on Monday for "Fallen," the first single off his upcoming album, Syre.
---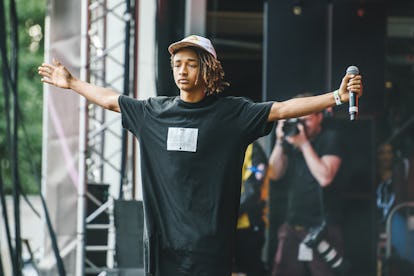 WireImage/Getty
On Monday, the 18-year-old Jaden Smith released a new music video for "Fallen," the first single off his upcoming album, Syre, which looks like it could potentially be the trailer for Westworld Season 2. Set in an old Western town, the video is actually meant to depict Calabasas in 1867, the chic California neighborhood where the Kim Kardashian and Kanye West now reside.
Everything Smith does has layers though, so he proceeds to stumble around the Calabasas desert throwing up a black liquid — presumably oil in reference to the history of the West. He does so wearing a "Flame of Disorder" t-shirt, which he may or may not have made himself, a Suicidal Tendencies punk band patch, a fringed Gucci leather jacket, and rare Nike Mag self-lacing sneakers as a reminder that he is also very, very future.
Co-directed by a young Miles Cable, "Fallen" also features a tribute to Kid Cudi, who debuted the video on his Twitter account, and a cameo by Kylie Jenner's mutual friend Harry Hudson, who has been battling cancer for the past few years. Plus, a recording of a female voice at the end of the video is most likely Smith's girlfriend, the model and Instagram It girl Sarah Snyder, who was on set that day in the desert according to Instagram.
The song itself includes classic Smith-ims like, "sipping Hennessy / reading bell hooks," plus a phone call with a receiver attached to nothing. (He normally prefers to communicate through a box of water.) The video ends with him saying "your homework is due," but seeing as we haven't all graduated from "Mystery School," only time will tell what exactly is up Smith's sleeve.
On Twitter, Smith described his recent musical wave as being of the "Pop Runk," genre, but other than that no specifics about the album or project or whatever it is have been released. Syre will be his second album though after This Is The Album (2014) and his first major project following his starring role in Baz Luhrmann's The Get Down on Netflix.
Watch the video for "Fallen" below.