Beyond Jagged Little Pill: Six Other '90s Albums That Need Broadway Musicals
Alanis Morissette's Jagged Little Pill is becoming a musical for some reason, so why not these other classic '90s albums?
---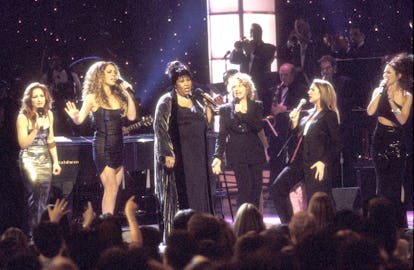 KMazur
In today's most random cultural news, Alanis Morissette's classic '90s album Jagged Little Pill is getting the musical theater treatment, and is being helped along the way with an all-star creative team. Juno scriptwriter Diablo Cody wrote the book, Diane Paulus (a Tony winner for 2013's Pippin revival) will direct, and Tom Kitt will handle orchestration and arrangement (as he did, to much acclaim, for Green Day's American Idiot).
The work will make its debut in May 2018 at the American Repertory Theater in Cambridge, Massachusetts, and, unless it's a complete disaster, will almost assuredly make its way to Broadway sometime after.
However, the play will not be about Morissette's own life, and thus will not shed any more light on the still-puzzling fact that parts of the album were inspired by her relationship with Dave "Uncle Joey" Coulier. Rather, Cody has written a tale about a multi-generation modern family that will touch on "on issues of gender identity and race." No word on whether it will also touch on the issue of the true definition of the word "ironic."
Of course, this will likely not be the only classic '90s album to get the Broadway treatment. As more younger Gen Xers and older Millennials stubbornly age into the sort of people who start to enjoy a night at the theater more than a night clubbing (and, can, actually now afford it), the theater world will likely plunge into more of the decade's musical touchstones for nostalgia-inducing shows. Here are some helpful suggestions.
No Doubt—Tragic Kingdom
We all need to accept the fact that one day a Gwen Stefani-themed musical is probably something that is going to actually happen. You never need to read the tabloids about what's going on in Stefani's personal life. It's all right there, rather directly, in the lyrics, and that sort of lyrical specificity lends itself nicely to narrative musical theater. There's also the obvious fact that Stefani's life has its own musical theater-like quality: random SoCal girl accidentally becomes the lead singer of her brother's garage ska band after tragedy, dates the bassist, breaks up with him and write an album about it. Then the band blows up, Stefani more than the other members, and there's a whole lot of resulting inter-band tensions. You could pick two random people off the street and they'd probably find away to turn to the album into a passable broadway musical.
Just, you know, no bindees this time, please.
Fugees—The Score and Lauryn Hill's The Miseducation of Lauryn Hill
The success of Hamilton almost certainly means more hip-hop musicals will come our way, but there's something of a problem when it comes to the idea of adapting a rapper's life story and discography into a musical: mainly, would you really want to listen to someone who is not the Notorious B.I.G. try to imitate his flow on a Broadway stage for two hours? No, probably not. Everything about that seems wrong. The R&B and reggae-tinged oeuvre of the Fugees and their resulting solo work (Hey, even Pras's "Ghetto Superstar" could be worked in), opens itself up to more possibilities for an entertaining bio-musical. Whether or not the band members would actually sign of on this and agree to a characterization of their story that remains truthful enough to remain dramatically compelling is, perhaps, unlikely, but maybe one day.
Smashing Pumpkins—Mellon Collie and the Infinite Sadness
Does the world really need a '90s alt-rock musical? No, no, it does not, but if there is one classic album from the genre that actually lends itself to the over-the-top world of theater it is most definitely this Smashing Pumpkins double album. This need not be a Pumpkins bio-musical (and, lets be honest, Billy Corgan does not the most sympathetic antagonist make), but the songs lend themselves nicely to some sort of fictional coming of age plot line.
Plus, if we're being honest, we all know this is a project basically crying out for Julie Taymor (as long as her instincts do not lead her to creating an actual canine-fruit puppet character named Mellon Collie).
Spice Girls—Spice and Spice World
Oh, please, y'all know even if this was the worst musical ever made it would still be sold out for like a year in advance. If you wanna take my ticket money / then just transfer from the West End. Plus, Scary Spice needs the work. Posh could do the costumes.
Various Artists—'90s Mania or the Spotify playlist I've made called "Childhood Jams" (AKA The Martha Wash Musical)
Ah, weird thing about the '90s is that it was basically illegal for any mainstream American musicians to make fun, uptempo music for a few years. Even Madonna was dabbling in ballad albums and slowdown trip hop at the time. It was bleak. So any radio station that wanted to play anything that didn't instantly depress every listener had to either dig up tracks from the club or import songs from Europe. Think Black Box, Corona, Robin S., Cece Peniston and La Bouche and so many big room songs with soaring diva vocal moments—AKA basically what everyone really wants out of Broadway anyway and perfect for the jukebox musical format. For narrative inspiration just look to the story of Martha Wash, the singer who recorded vocals for all sorts of these musical outfits only to have them lip synced by skinny fashion models in the music videos. Yeah, it would basically be '90s Dreamgirls, but there's nothing wrong with that.
VH1 Divas Live! 1998
The venn diagram of people who love Broadway musicals and people who would want nothing more than to see a satirical fictionalization of the original Divas Live! concert and album (the one in which, as rumor has it, Mariah Carey and Aretha Franklin butted heads backstage while Shania Twain and Gloria Estefan looked on politely) is pretty much a circle. How the unathorized version hasn't turned up somewhere off Broadway already is a mystery.
Related: How Pop Culture is Tackling Female Rivalry in the Lean In and Trump Era
See What's Trending in W Video: