Is James Bond 25 Cursed? Director Danny Boyle Exits Film Due to "Creative Differences"
Just bring in Idris, because this is getting ridiculous.
---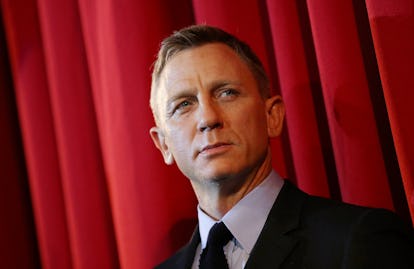 Sean Gallup/Getty Images
For a milestone movie as anticipated as the 25th James Bond film, it sure seems like no one wants to make it. Actor Daniel Craig dragged his heels for years in a game of "will he or won't he?" showbiz melodrama before agreeing to suit up as the titular character once again. Several blue-chip directors either turned down the film or preemptively took themselves out of the running (Sam Mendes, the Oscar winner who directed Skyfall and Spectre, announced he's had enough, while Christopher Nolan has stated he's not up for making Bond Begins). Finally, producers landed on critically acclaimed director Danny Boyle, yet another Oscar winner best known for films like Trainspotting and Slumdog Millionaire. Craig was reportedly pleased with the prestige of it all, and producers let Boyle set up shop, even bringing in his frequent collaborator John Hodge to pen the script (which would have reportedly been somewhat inspired by the Time's Up movement, somehow).
Now, just 14 months before its planned release date of November 2019, producers Michael G. Wilson, Barbara Broccoli, and Craig announced today in a joint statement that Boyle has quit the film due to "creative differences." Boyle had publicly relayed some trepidation about the undertaking before. "I like watching big films but I don't think I'm necessarily good at making them," he once said. "Then I thought, No, you shouldn't think like that." Actually, maybe he should have.
The pairing of the director and the franchise always struck fanboys (and not just of the Bond franchise, but of Boyle's usual cinematic fare as well) as an odd choice. It now appears those concerns were warranted, and if it got to this point it's likely for the best that this version of the film didn't come to fruition.
Still, this is a hell of a lot of creative hand-wringing surrounding the making of a film that, at its heart, is supposed to be a popcorn pleaser about a suave spy. He wears nice suits and drives nice cars. Our spy makes love to a few women, gives specific directions to a bartender about his choice in drink. Then he defeats some other-coded villain before he or she can pull of their dastardly (and often convoluted) plot to wreck carnage on a global scale. Not that difficult. In the Fast and Furious movies, they street-race cars. In James Bond movies, we watch a fuccboi spy makeup for the fact he probably never texts back.
The Daniel Craig era of Bond movies has not brought just tiny swimsuits and blond hair to the franchise, but also a certain sense of prestige and critical acclaim that the series hadn't been associated with before (anyone remember this?). Craig himself has also said he wants his final film as Bond to be a series watershed. "I just want to go out on a high note," he told Stephen Colbert while confirming his return. It all comes at a time when we suddenly expect art house-worthy quality out of our blockbuster (a notion underscored by that peculiar introduction of the "Popular Film Oscar").
But maybe all this expectation of critical greatness is driving everyone a bit mad to the film's detriment. Really, how many ways are there to put a critical sheen on the basic Bond format?
This is a series where future Real Housewife Denise Richards played a nuclear physicist named Dr. Christmas Jones just so Pierce Brosnan could make a dumb joke about Christmas coming more than once a year. Let's not rack some of our finest cinematic minds trying to make it more than that.
Perhaps if producers really want to shake things up and open the doors to new possibility, they should just skip over Bond 25 like a high rise elevator skips over the 13th floor. It seems to be cursed anyway.
Just cast Idris Elba as Bond as the Internet demands and let Kathryn Bigelow direct. Or go a completely different route and give us a female Bond with Charlize Theron. Hell, let Wes Anderson direct and cast Bill Murray as Bond. Shake it up and give us something, because as it stands right now it seems like producers are having a hard time making anything.