James Corden Debuts Christmas "Carpool Karaoke," Starring Harry Styles and Katy Perry
They sing "Santa Claus Is Coming to Town."
---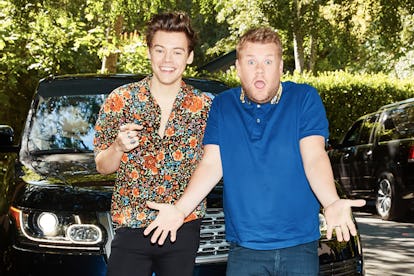 Terence Patrick/CBS
With Christmas just two weeks away, the ever-jolly James Corden brought the holiday spirit to The Late Late Show with a new "Carpool Karaoke" segment featuring some familiar faces. In a star-studded segment—including guests from the past year's car singalongs—they belt out "Santa Claus Is Coming to Town," during which fellow Brit Harry Styles proved you don't need mistletoe to put the X in X-Mas. During the segment, the former One Direction singer and Dunkirk star plants a kiss on the late night host's lips. Naughty and nice.
The clip begins with Corden and band leader Reggie Watts driving (in festive sweaters, of course) to work, and deciding to crank the holiday tunes before going to previously taped segments with all of the big "Carpool Karaoke" guests of 2017. Of that list is Fifth Harmony, Pink, Katy Perry, Ed Sheeran, Sam Smith, Foo Fighters, Bruno Mars, Miley Cyrus, and, of course, Shania Twain fan, Harry Styles.
As their ride ends, Styles and Corden lean in for a brief but tender kiss, after which Corden remarks, "I did not expect that for Christmas." Hollywood, take note, this is the Love, Actually sequel that people want. (Or maybe it's the prequel to the Bill Nighy bit about the rockstar and his manager?)
Finally, Corden wishes the audience a happy Christmas and Reggie Watts adds, "To all a great night." Surely, we're all going to have a great night, with visions of sugar plums and kissing Harry Styles dancing in our heads. That would be the greatest Christmas gift of all.
Related: How Harry Styles Transformed His Wardrobe From Average Teenager to Risk-Taking Solo Artist And Leading Man
11 Celebrity Couples We'd Like To See Get Back Together By Christmas
Let's start with one that may already be in the works. If some very suspect social media flirting is to be believed, Jenny Slate and Chris Evans may have already gotten back together following their split earlier this year.

Getty
Listen, we know Drake still pines over Rihanna. It is time for the bad gal to settle down and welcome him into her life with open arms.

Getty
Jennifer Lawrence broke it off with director boyfriend Darren Aronofsky just before Thanksgiving, so now is the perfect time to reconnect with ex-boyfriend Nicholas Hoult. Their cinematic collaboration in the X-Men films was better received than mother!, at least.

Dave M. Benett
Robert Pattinson's most notorious relationship may have been with Kristen Stewart, but by far his coolest was with FKA Twigs. The two need to reconcile if only for the future R.Patz-starring indie film, soundtracked by Twigs.

FilmMagic
Cara Delevingne may still be credited with background vocals on St. Vincent's latest album, but surely there is still plenty of collaborations to be had between them, especially if Delevingne wants to expand her model-actress title into a true triple threat.

David M. Benett
Earlier this year, Nicole Kidman revealed that years ago she and Lenny Kravitz, father of her Big Little Lies co-star Zoe Kravitz, had once been engaged. This needs to become a reality, if only for the real-life Celeste-Bonnie mother-daughter fan fiction. (No offense to Keith Urban.)

Rick Diamond/Getty Images
At least year's Art Basel Miami Beach, Madonna offered to remarry Sean Penn for $150,000, which would go to her charity Raising Malawi, if he bid that amount on a necklace up for grabs. Penn didn't bite, but maybe it is time to pitch in to a Kickstarter for the cause. Hey, it's for charity.
Tom Green and Drew Barrymore were the lovable, goofy couple of the early Aughts—a fun-loving, drama-free pair that the would could certainly use these days.

Ron Galella, Ltd.
Emo is back in style, and there is no greater poster child of true, angsty love than Pete Wentz and Ashlee Simpson. Simpson may be enjoying her new status as Diana Ross's daughter-in-law, but can Evan Ross really pen a love lyric quite like Fall Out Boy?

Patrick McMullan
Gisele Bündchen and Tom Brady may be the golden couple of the NFL, but back in the day, Gisele was meant to be with another golden boy: Leonardo Dicaprio. Just imagine how much more stylish environmental conventions would be with Bündchen around.

Getty
Justin TImberlake may be happily married to Jessica Biel, and Britney Spears happily invested in her new career as a painter, but truly, there was no greater couple at the turn of the Millennium than these two. Justin, bring the romance back. And 'Nsync, while you're at it.

Ron Galella, Ltd.