Harry Styles Is Impressed With, and Inspired By, Shania Twain
Harry Styles revealed that he takes both musical and fashion inspiration from Canada's queen of country, Shania Twain.
---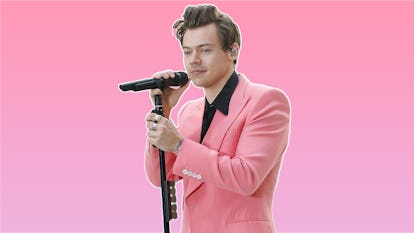 Getty Images
While a certain British Harry has made waves over the last 24 hours thanks to his recent engagement announcement, it's time to take a break from royal news and turn our attention to another British Harry—former teen star and current heartthrob Harry Styles. Styles revealed in an interview with Entertainment Tonight that he takes inspiration—in both music and fashion sense—from the Canadian queen of country music, Shania Twain. It make sense, when you think about it—both have figured out how to spin a cross-genre record into a smash hit, both have a heart of gold when it comes to dogs, both love to take risks and rock a cheetah print print look.
In the interview, Styles calls Twain "amazing." His official declaration of love for the singer in all her cheetah print glory should also serve as a petition for Styles to perform at the next big sporting event—the Super Bowl perhaps—in a big pile of puppies. Until then, we'll have to tune in to Styles' performance at the Victoria's Secret Fashion Show in Shanghai, which airs November 28 at 10pm on CBS. R&B singer Miguel, Hamilton's Leslie Odom Jr. and Jane Zhang are also scheduled to perform as the glittering Angels Bella Hadid and Alessandra Ambrosio take the stage.
Harry Styles' Fashion Style Evolution: See 32 of the Pop Star's Best Looks
Harry Styles attends the "DUNKIRK" premiere in New York City.

Getty
Harry Styles attends "Dunkirk" Premiere at Ocine on July 16, 2017 in Dunkerque, France.

Getty
Harry Styles attends the 'Dunkirk' World Premiere at Odeon Leicester Square on July 13, 2017 in London, England.

Getty
Promoting his new album, Styles wears a red plaid suit out in London.

Getty
Styles stays committed to Gucci in a logo sweatshirt while out in Paris in 2017.

Getty
Styles performs on NBC's "Today" at Rockefeller Plaza wearing a shocking pink suit.

Getty
Harry Styles performs "Sign of the Times" in a Gucci suit on Saturday Night Live.

Getty
Styles shows off his dramatic haircut, but keeps it classic in his fashion choices with a perfect fitting black suit and crisp white shirt.

Getty
For the BBC Music Awards, Styles wore black and white vertical striped pants and a black shirt. Here he is on the red carpet with his bandmates from One Direction.

Getty
Not ever afraid to take a risk on the red carpet, Styles wears a floral Gucci suit with wide-legged trousers.

Getty
Styles greets his adoring fans in a navy spring coat and gray jeans on his way into BBC Radio 2.

Getty
Fearlessly wearing a Gucci geometric print two-piece suit and black leather boots, Styles attended an event in London.

Getty
Styles wears a bold Saint Laurent bomber jacket to perform One Direction's latest single as part of Good Morning America's summer concert series.

Getty
Attending the Capital FM Summertime Ball with One Direction, Styles wears a chevron-printed shirt with a skinny scarf.

Getty
Styles attends the Glam Rock Christmas Party in London in a revealing black shirt and long, striped trousers.

Getty
Taking a major fashion risk on the red carpet, Styles wears a Lanvin striped suit and black boots.

Getty
Performing with One Direction at the 2014 American Music Awards, Styles wears a gold embellished jacket and low-rise jeans.

Getty
Styles, along with the other boys of One Direction, attend the Royal Variety Performance with the Royal family. Styles wears an animal print jacket over a black low-cut shirt.

Getty
Styles goes full rock-and-roll at LAX in all black jeans and t-shirt, accessorized with a blue scarf, wide-brimmed hat, and sunglasses.

Getty
At the launch for One Direction's fragrance, Styles wears a oversized plaid shirt, unbuttoned in his usual manner, tight jeans, and a large hat.

Getty
Seen out with friends (Hi, Ed Sheeran), Styles wears a Calvin Klein sweatshirt and a head scarf wrapped around his famous locks.

Getty
For the 2013 British Fashion Awards, the London megastar shows up in a sheer black shirt, blazer, and a scarf.

Getty
Styles wears a dark wool coat over an animal print shirt and black jeans at the Burberry Spring/Summer 2014 show.

Getty
For the World Premiere of One Direction This is Us, Styles wears a heart print Burberry shirt under a black suit.

Getty
Styles, showing off his tattoos in an unbuttoned shirt, and Miley Cyrus pose together backstage at the 2013 Teen Choice Awards.

Getty
Seen in Miami Beach to film a One Direction music video, Styles steps out in unbuttoned plaid shirt and a tan hat.

Getty
Styles gets buttoned up in a double-breasted suit and patterned shirt at a dinner in London.

Getty
Harry Styles' fashion for a 2012 taping of the Late Show With David Letterman with his band One Direction featured a monochromatic ensemble completed by leather moto boots.

Getty
True to the trends, Styles wears a blazer with pushed up sleeves over a gray shirt at BBC Radio 1 Teen Awards.

Getty
Styles goes casual with black jeans, a gray t-shirt and Converse while hanging out with Nick Grimshaw at the Shoreditch House in London.

Getty
Today, when she's not too busy feeling unimpressed by nude photos of Brad Pitt, Twain can be found in her native Canada, being pulled onto stage by sled dogs at the Canadian Football League's Grey Cup halftime show, where she recently performed her 1997 classics "That Don't Impress Me Much" and "Man! I Feel Like A Woman" in addition to "Life's About to Get Good," from her most recent album, Now.
If the best selling country-pop singer's five Grammys aren't enough for you, just remember that Canada, has incredibly bestowed upon us the female pop icons we all desperately need but probably do not deserve (Shania Twain, Céline Dion, Carly Rae Jepsen, to name a few). We are not worthy.
Related: Shania Twain Riding a Dog Sled is the Most Canadian Moment of the Year
Watch: 6 Stars Read Shania Twain's "Man! I Feel Like A Woman"