Chrissy Teigen, Khloe Kardashian, and More Celebrities React to Prince Harry and Meghan Markle's Engagement
"I woke up WAY too excited about the royal engagement news."
---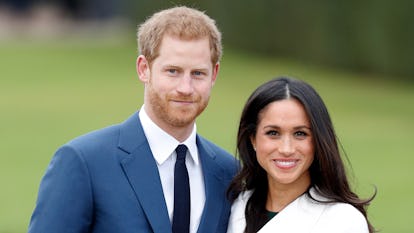 Max Mumby/Indigo/Getty Images
As expected, following Prince Harry and Meghan Markle engagement announcement on Monday morning, royals and commoners alike have shared their excitement over the union. Prince William and Kate Middleton, Prince Charles and Duchess Camilla, and Queen Elizabeth and Prince Philip all released statements congratulating the happy couple, while plebes around the world took to Twitter to mark the induction of a biracial American into the British royal family. Somewhere between these two groups lies the realm of American celebrities — the closest thing we have to royals this side of the Atlantic — who, obviously, were just as excited as the rest of us.
Khloé Kardashian, reality TV royalty, offered well-wishes to the couple with the help of a handful of cheerful emojis. "Congratulations Prince Harry and Meghan Markle! ???❤️??" she tweeted. Chrissy Teigen, ruler of Twitter, seconded NBC News reporter Katy Tur's happiness about the engagement, writing, "Me too ??? I'm invested." And Lin-Manuel Miranda, undisputed king of Broadway, who is currently in London ahead of Hamilton's West End debut next month, gave an insight into the United Kingdom's characteristically understated reaction to the big news. "It's crazy, everyone is dancing in the streets here! (Everyone is politely keeping to themselves, but you can tell they wanna dance)," he tweeted. Ava DuVernay, Leona Lewis, Busy Philipps, and even reality star-turned-social media mogul Spencer Pratt were among the many other celebs who tweeted about Harry and Meghan's romance. Even former President Barack Obama extended his congratulations. Naturally, the current American president has not. Donald Trump's last tirade of tweets was about tax reform.
Markle and Prince Harry's engagement was announced in a statement posted to Twitter on Monday by Clarence House, the residence of Prince Charles and Camilla, Duchess of Cornwall. Just a few hours later, the newly engaged pair sat down with the BBC's Mishal Husein for their first official joint interview, during which they shared the story of how they met, how Harry proposed, and how the Suits star will transition from her Hollywood career to that of a member of the royal family.
In the meantime, Markle is in the process of moving into Nottingham Cottage, Prince Harry's residence on the Kensington Palace grounds, before she and Harry tie the knot in spring 2018.
Related: The 15 Best-Dressed Royal Kids Around the World