Chrissy Teigen Had to School Ivanka Trump About What 'Otherwise' Means
The model corrected the First Daughter in a tweet.
---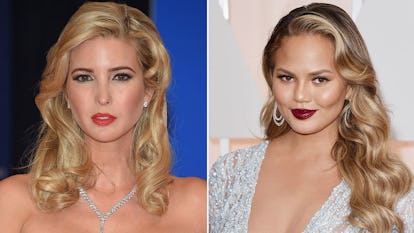 Michael Loccisano, Jason Merritt/Getty Images
If Chrissy Teigen doesn't drag a member of the Trump family on Twitter at least once a week, it just somehow feels like the culture is missing something. Thankfully, she's usually pretty good at keeping up with it.
The latest instance of Teigen's social media political vigilantism comes in response to a recent tweet from First Daughter Ivanka Trump, in which she shared a polished photo of herself with her newest family member. "Cuddling my little nephew Luke…the best part of an otherwise incredible day!" she tweeted.
By all means, it's a cute photo: The baby looks very snugly, and the couch also looks pretty comfy. It wasn't the photo that piqued a lot of people's interest, but rather Trump's strategic use of the word otherwise, which in this context actually indicates Trump wasn't enjoying her chill time with her nephew (ah, the joys of semantics!). Teigen, naturally, was one of those people to point out the error.
"'Otherwise' implies you did not like hangin with this baby," she tweeted in response to Trump. When another Twitter user challenged that particular "otherwise" reading—"doesn't she mean the rest of the day was incredible, and cuddling her nephew was even better"—Teigen doubled down with another grammar lesson. "Overall, is the word," she responded.
For what it's worth, in the past Teigen has been softer on Ivanka than other members of the Trump family. Speaking to Glamour last year, Teigen said she would definitely consider sitting down and talking with her about the now President Donald Trump. "I think Ivanka seems like an incredibly wonderful businesswoman and mother. She has enviable poise and grace in a very difficult position," Teigen explained. "But I'll say this: I love my dad to death. But holy s—, I would not advise you to vote for him for president…. Regardless, I think Ivanka should probably run for office one day." Teigen has since hardened her stance on the First Daughter considerably.
Related: A Brief History of Donald Trump and Chrissy Teigen's Storied Relationship on Twitter—Before the President Blocked Her
The Beauty Secrets of Chrissy Teigen and Other Supermodels: